Veggie Sausage Rolls
When you really need a tray of party-sized, veggie sausage rolls.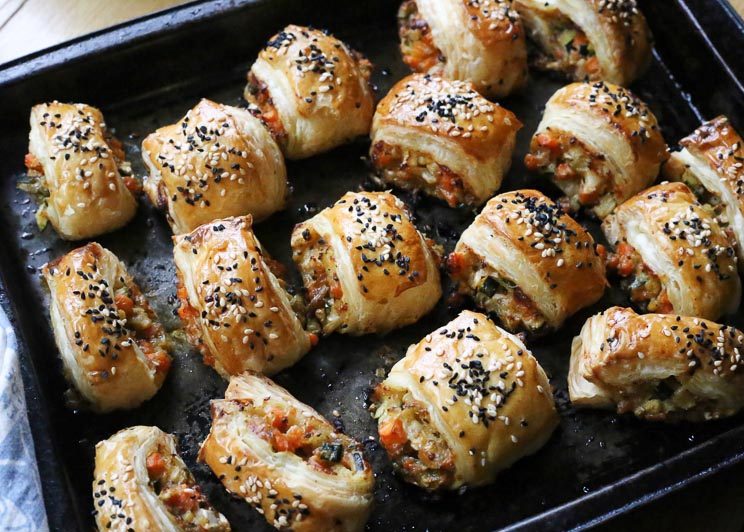 Ingredients
puff pastry sheets
1 Tbsp olive oil
1 onion, finely diced
800g diced veggies – I used 2 med carrots, 1 large zucchini and a 1/4 cauliflower.
(could also include diced potatoes, mushrooms…)
150g strong cheddar, grated
50g parmesan, finely grated
1 Tbsp thyme
1-2 Tbsp seeded mustard
salt and pepper
good pinch cayenne pepper
1 egg, beaten
sprinkle sesame seeds / poppy seeds
Method
I've had to scour the internet to find these beauties – unfortunately I've no distant relative with a famous veggie sausie roll tradition to share with you.  But perhaps I'll be starting my own with this recipe!  (It was found between nauseating advertising and clickbait over here).  These aren't trying to be sneaky I-can't-believe-they're-not-meat sausage rolls.  They are certainly delicious, but the veggies are a dead give away so if you're looking for something more covert try blitzing the veggies – that way they'll be a little easier to slice into shape, and may also tempt any dedicated meat lovers.  But really, a dollop of real tomato sauce on top and everyone will be back for more.
Should make about 30 small rolls.
Veggie Sausage Rolls
Heat the olive oil in a large frypan or saucepan, and gently cook the onion. Add the finely diced veggies and cook together, along with the thyme. When softened and looking totally edible transfer the veggies into a large bowl, season well with salt and pepper, and add the cayenne and seeded mustard. Stir in the grated cheese.
Preheat the oven to 200ºC. Roll out a defrosted pastry sheet and run a knife down the centre to create 2 long rectangles. Run a line of veggie mix down one side, and dab the edge with the beaten egg before folding the pastry over the veggies. Press the edge firmly and roll the whole thing so the seam is underneath. Slice the roll into the size pieces you like and transfer them to a lightly greased baking tray. Using a pastry brush, go over the top with more of the egg mix and sprinkle seeds on top.
Repeat with the remaining pastry and filling, and bake for 20-25 minutes (200ºC).