Pear and almond crumble (great with feijoas!)
Apples, pears, feijoas, rhubarb, quinces… gosh.  Here's to stewing whatever glorious autumn fruit is in front of you and crumbling pure golden comfort all over it.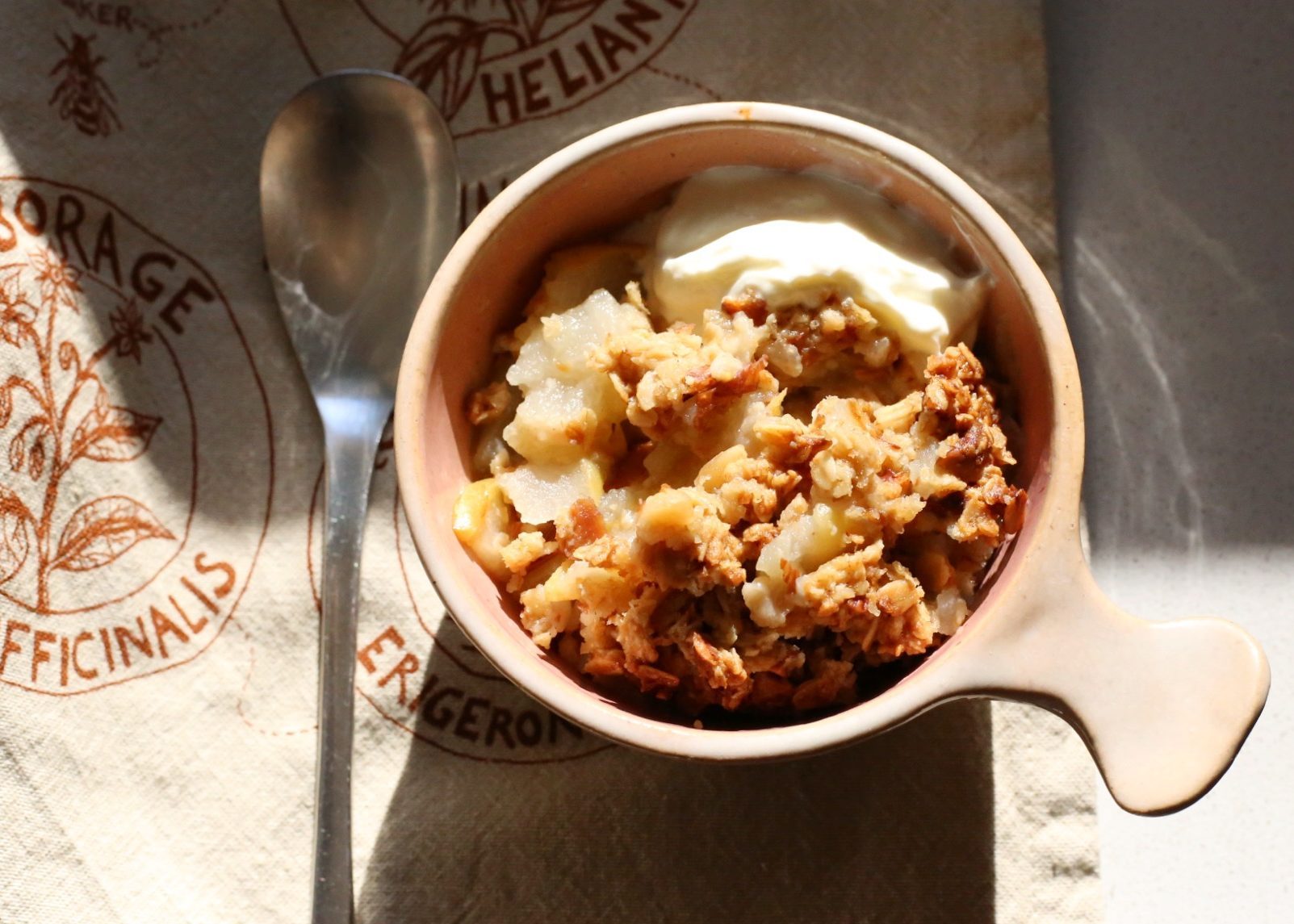 Serves 4
Ingredients
ALMOND CRUMBLE
3/4 C rolled oats (or quinoa flakes)
1/4 C flour
1 tsp ground cinnamon
pinch salt
50g softened butter (or about 2 Tbsp) *or coconut oil
1/4 cup chopped almonds
1-2 Tbsp maple syrup or honey
LIGHTLY STEWED FRUIT OF YOUR CHOOSING eg:
3-4 pears or apples,
2 pears and a few feijoas peeled and chopped,
2 apples and 2 stems rhubarb, chopped into 1 inch pieces,
2 apples and some poached quinces you've prepared earlier…
Method
I feel like I grew up making and eating crumble, there was always some sort of fruit stewing on the kitchen stove.  Make a batch with any fruit you like  –  apples and the feijoas that are dropping off the bushes at the moment are a great combo, as are plums and rhubarb, or poached quince and pears and a handful of frozen blueberries from the freezer.  This here was a simple little 2 pears 2 apples number  –  a warming dessert for three with a little left over for breakfast with yoghurt.  Because crumble is even better for breakfast.

Pear and almond crumble
Preheat oven to 160ºC.
Peel apples (I don't bother peeling pears, and you could leave the apples as they are, too) and slice the fruit into a small saucepan. Add a good splash of water, maybe a couple of tablespoons, and simmer over a medium heat for about 10 minutes or until they have just softened. Feel free to sweeten the fruit if you like, depending on your taste and the fruit you're using, though a combination of slightly tart fruit and sweeter buttery crumble is my favourite. You could also add a little zest of a lemon to the pot, speaking of tartness.
Meanwhile combine the dry crumble ingredients in a bowl and mix. Cut the butter into smaller chunks, and rub into the oats with your fingers. When the ingredients have come together in a fairly chunky, loose but definitely everything-is-nice-and-buttery manner then incorporate the maple syrup or honey and it's done.
Transfer the fruit to a small baking dish, and top with the crumble. Bake for about 30 minutes until the crumble is golden brown and the fruit is bubbling happily up the sides of the dish.
Great with your favourite yoghurt or kefir or ice cream, and also delicious the next day for breakfast.
*if you have quinces, lucky you!  We have a recipe for poaching them, so you can then add them to something like this (or check out our other quince recipes for making paste or perhaps a slow cooked veggie tagine).
Hints and Tips
Gluten free – check your oats are processed free from gluten, or to be absolutely certain use only quinoa or buckwheat flakes and suitable flour.
Replace the butter with coconut oil for a vegan crumble.
Add coconut flakes or nutmeg, optional!