Cream of Broccoli Soup
Please give a warm welcome to the lovely heads of broccoli which graced our vegetable boxes this week. This vibrant green soup is easy to make, hearty and will hopefully turn any broccoli sceptics into broccoli lovers. Great served with toasted croutons or bread and garnished with a sprig of fresh thyme.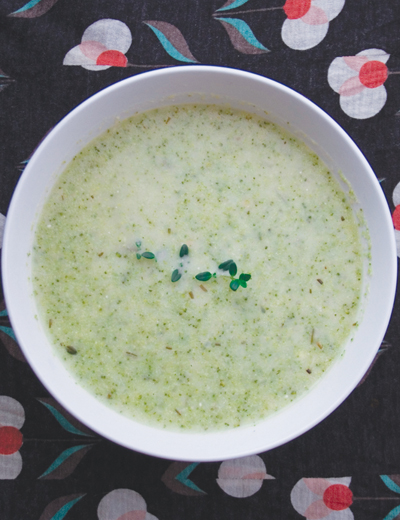 Serves 4
Ingredients
2 Tbsp butter
1/2  onion, diced
2 garlic cloves, minced
2 medium broccoli heads, chopped
3 cups vegetable stock
1 tsp dried thyme
1 tsp dried rosemary
salt and pepper, to taste
2 Tbsp flour, sifted
1 cup grated tasty cheese
2 Tbsp cream cheese
extra grated tasty cheese, to serve
Method
In a large pot, melt butter over a medium heat, add onion and garlic, and cook for 5 minutes or until onion is clear.
Add broccoli, vegetable stock, thyme, rosemary, salt and pepper. Bring to a boil, reduce heat, cover and simmer for 10 minutes or until broccoli is cooked. Remove from heat and give a rough blend.
In a small separate bowl mix flour with two tablespoons of water until smooth. Slowly whisk into soup.
Add cheese and cream cheese, whisking until melted and thoroughly combined.
Serve topped with extra grated cheese.
Hints and Tips
For an extra vibrant and healthy soup add handfuls of fresh baby spinach and/or peas during the last few minutes of cooking time.