Asparagus Spring Salad
Simple, delicious and ever adaptable with the goodies in your spring deliveries or the backyard patch.  Get your spring salad on, and get thee to the park!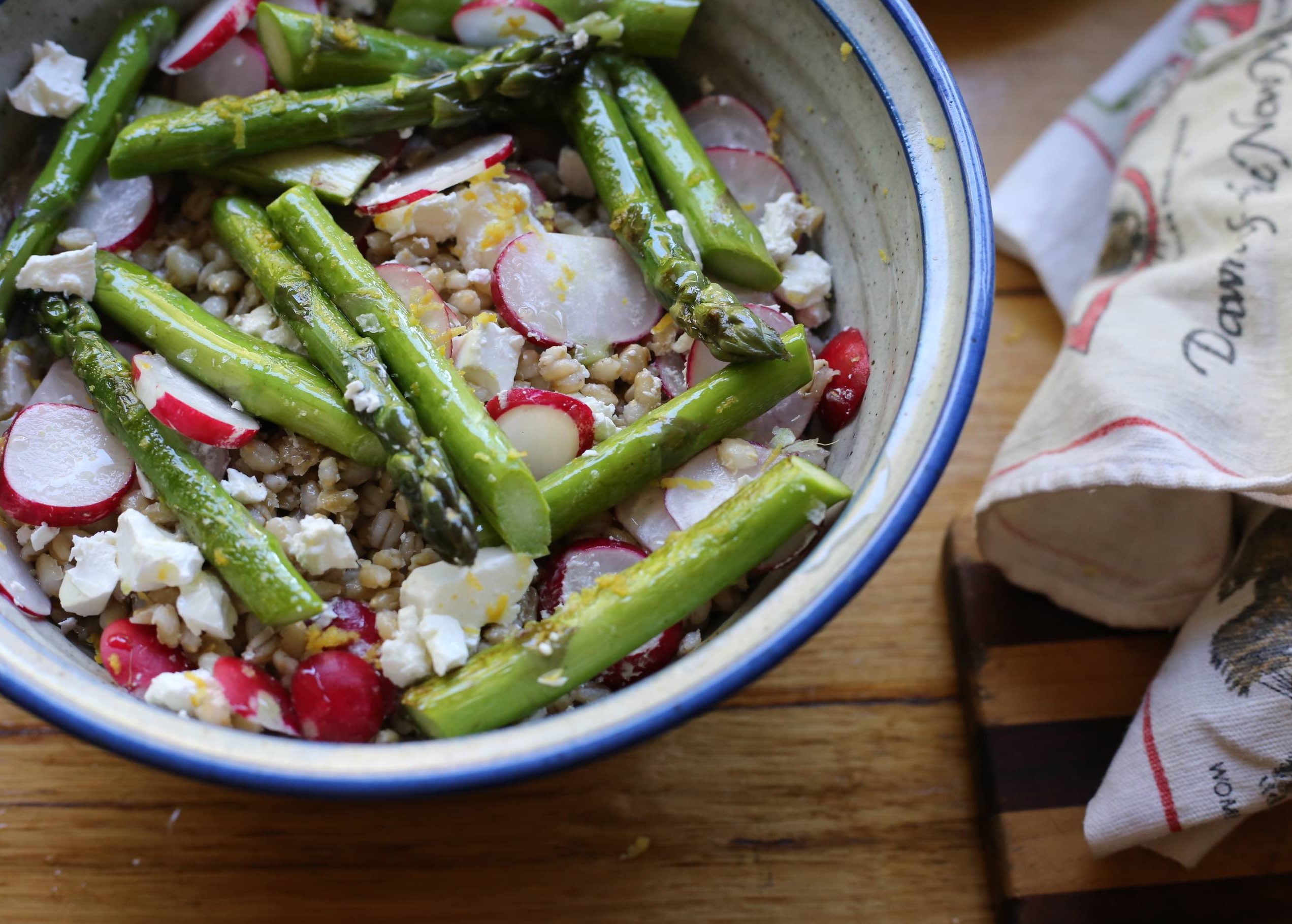 Serves 3-4
Ingredients
1-2 bunches asparagus, ends trimmed
250 gm pearled spelt or barley or both
half bunch radishes
goat's cheese to crumble
dressing:
2 tbsp olive oil
juice and zest of a lemon
1 clove garlic, crushed (optional)
salt and freshly cracked black pepper
Method
A simple, hearty salad for spring.  Stick with radish and asparagus, or go all out … snow peas, fresh sunflower sprouts, blanched broad beans if you have some!  I've used whole spelt and barley grains in this, but again it's a very adaptable base to make your own with what's at hand.
You may like to soak your grain of choice in water and a tablespoon of something acidic before cooking (yoghurt or lemon juice or apple cider vinegar) to help increase digestibility and nutrition. Soak them for an hour or two, even 24 hrs before if you plan your meals that far ahead.
Asparagus Spring Salad
In a saucepan, cover the grain well with lightly salted water and bring to the boil. Simmer for 20 – 25 minutes until tender and chewy. Drain any excess water. While the spelt/barley is cooking slice your veggies and combine the dressing.
You might feel like using the asparagus raw, or grilling briefly. I cooked the asparagus in a hot, lightly oiled pan for a minute or two, shaking them around a couple of times. Alternatively you could wait until the spelt is almost ready, then place them on top to steam until their green colour just brightens. Slice asparagus and combine everything together. Dress generously, thankful for spring.