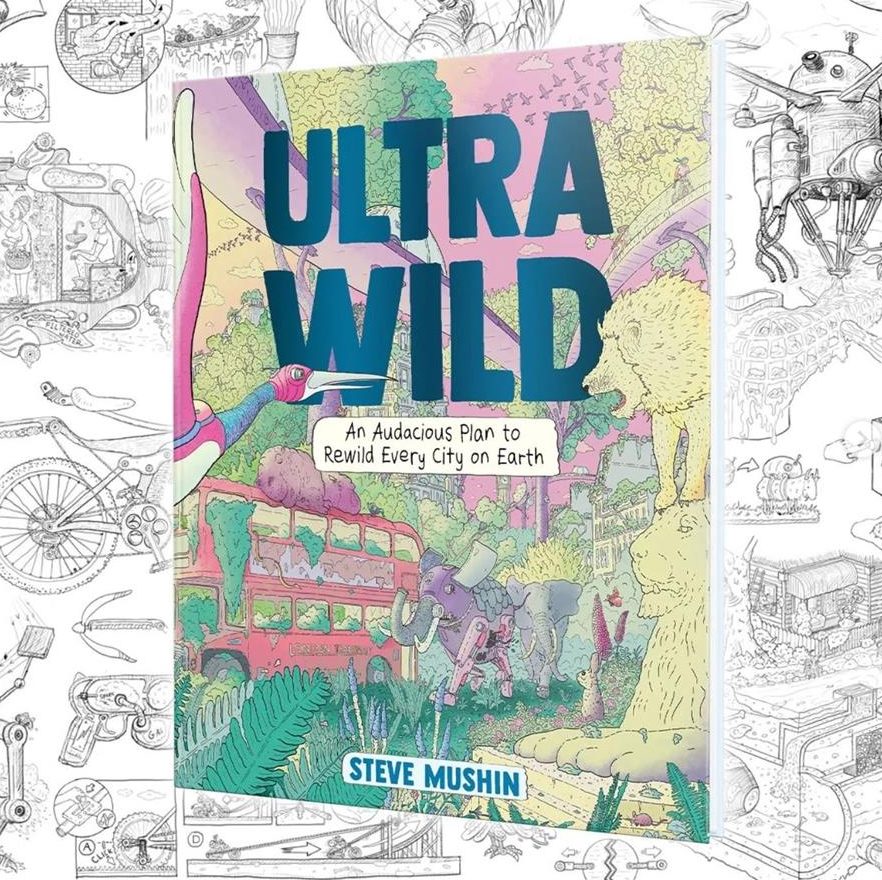 Ultrawild
To the best of my research, every project in this book, however bonkers, is theoretically possible, so writes industrial designer and inventor Steve Mushin's of his book, Ultrawild, a wonderfully outlandish celebration of the power of creative thinking to help navigate the climate and ecological crisis.
Mushin's journey of invention takes us into cities that have been "ultrawilded" by megafauna-inspired walking composting toilets, house-sized 3D printing robot chickens and aquaponic sewer subs.
Imagine something along the lines of The 13 Storey Treehouse co-authored by Professor Tim Flannery and Willy Wonka, where the weirder and wilder the idea the better – something that Mushin points out is scientifically proven to be more likely to provide solutions to complex problems.
Mushin, who previously worked at CERES designing solar engines, aquaponics farms and the giant millipede that resides in CERES' play space wanted the book to be very frank about the climate and extinction crises
"Kids are aware from early age about climate, you can't pretend to them it's not real."
To balance the seriousness of the issue Mushin got as ludicrous and silly as he possibly could – this is where the methane-powered poo cannons come into their own.
You may have heard of a decade long creativity study that found 98% of five-year olds were creative geniuses capable of divergent thinking but tragically by the time they reached 25 only 2% had retained their creativity.
Somehow Steve Mushin's inner five-year-old is alive, well and inviting us to join him on a joyfully weird, yet deeply serious mission to help solve the climate and extinction crises.
Mushin's first challenge is helping us rediscover our creative powers in a world where our every mistake is potentially documented and shared on social media.
"People can be very guarded. This book is about helping us not feel dumb about having ideas."
To this end Mushin gleefully shares his many mistakes and missteps as he invents; particularly those that involve blowing himself up in explosive toilets or accidently being eaten by his reintroduced lions.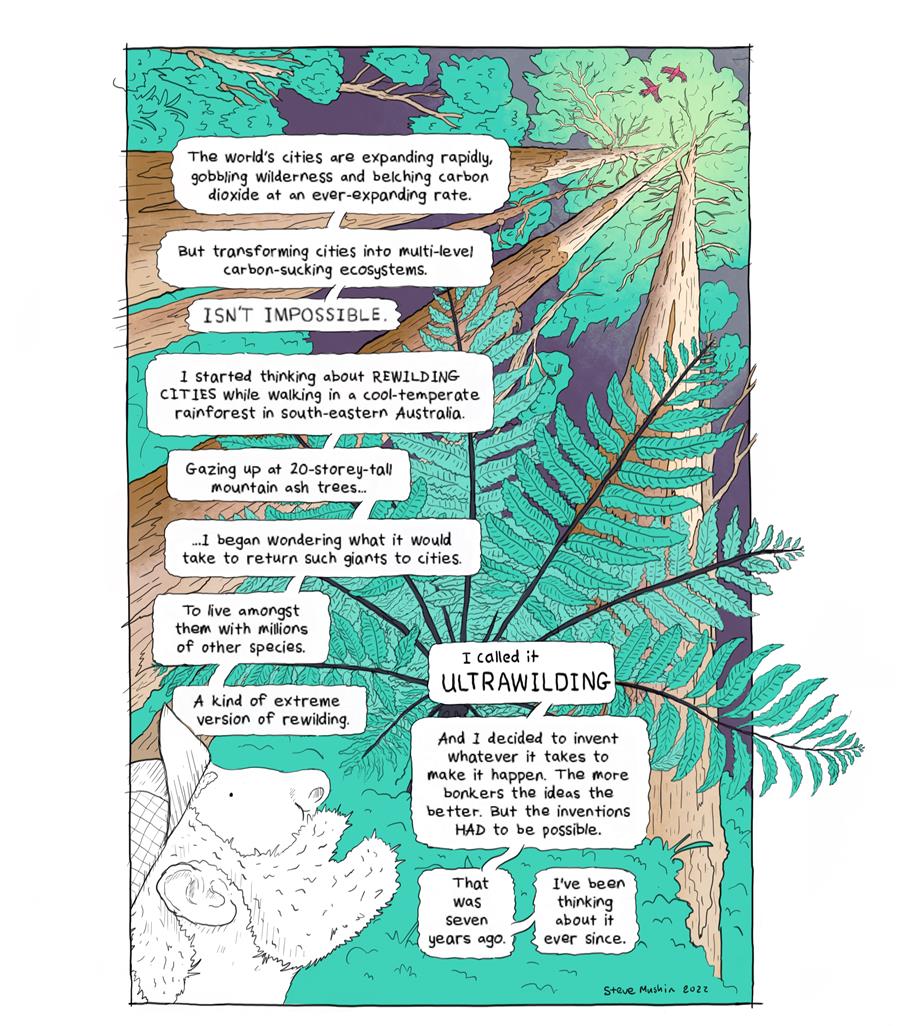 Mushin began this book with a sense of hubris; many of his ideas were already well-formed through work he'd previously done. He gave himself a six month deadline.
The deeper he delved into the climate crisis, however, the more Mushin felt he needed to do the project justice. Enlisting the help of leading scientists and engineers he wanted his ideas, no matter how unbelieveable, to be actually doable.
Years passed as Mushin and his expert team created more than 100 incredible laugh-out-loud ultrawild inventions accompanied by an amazing array of facts and backstories.
It was all going along swimmingly until it wasn't.
Mushin, who is one of the most relentlessly optimistic people you'll ever meet, simply stopped writing. The ever-increasing weight of a worsening climate and daily extinctions was crushing him.
"I thought with the planet in such a precarious place I couldn't write this book that made light of these terrible things we were facing."
Not working for months Mushin came close to abandoning his book.
Mushin skillfully weaves this vulnerable and so familiar sense of hopelessness into Ultrawild as a key part of the creative process.
A giant termite mound (an actual termite mound in the Northern Territory) finally helped Mushin find a way out of his introspection.
"Understanding that nature is so capable and powerful gave me more scope for hope than I ever thought possible."
This subtle reordering that places people within Nature not in charge of fixing it is perhaps Mushin's greatest revelation.
It does not, however, quell Mushin's inventive drive – there is still so much for us to do to give Mother Nature the room she needs to work.
Mushin ends Ultrawild by extending an invitation to play, to imagine and to be deeply silly with him in the service our Earth and its ecosystems.
To help with that Fair Food is giving away a copy of Ultrawild to the first five emails we receive with the word "ULTRAWILD" in the subject line – info@ceresfairfood.org.au
Have a great week
Chris