Sharon's chocolate challenge
Sharon Brindley, a Yamatiji/Noongar woman, grew up on Bunurong country on the Mornington Peninsula. But a lot of her childhood was spent out in the bush with her grandmother East of Kalgoorlie.
It was here that she learned how to live off the land, how to eat honey ants, how to cook kangaroo & bardi grubs and how to use many of the local Native plants.
Food always remained a touchstone for Sharon and later as an adult suffering depression and anxiety she started Shaz's Takeaway as way to drag herself back into the world.
As she cooked her confidence returned and Sharon had an idea; she wanted to incorporate the Indigenous ingredients she had gathered with her grandmother and feature them in her everyday cooking.
In an industrial estate in Mornington Peninsula Sharon started her Indigenous eatery the Cooee Café. Serving kangaroo lasagne and lemon myrtle slices Cooee was a hit, winning The Best Bites People's Choice Awards in 2020.
But then COVID came and Cooee Cafe ground to a halt.
A cancelled $30,000 catering order almost broke Sharon, but with the help of family and support from Indigenous Business Australia she pivoted, launching a chocolate business called Jala Jala Treats.
Jala Jala means "very good" in the Wajarri language. The logo featured Sharon's totem, a green turtle.
For Sharon the challenge was finding the balance between the chocolate and her Davidson's plums, lemon myrtle, wattleseed and finger limes without letting either the chocolate or the Indigenous flavours dominate.
Sharon sourced her ingredients from other Indigenous owned businesses, she wanted people to know who they were supporting when they bought an 'Indigenous' product.
Currently she says less than one percent of Native food businesses are First Nations owned.
Jala Jala turned out to be very good indeed. In its first year Sharon sold two and a half tons of chocolate, it's now exported into Singapore and Malaysia with New Zealand and the US next.
Starting this week you can find Sharon's chocolate at Fair Food; There's
Finger Lime Dark Chocolate which matches super-citrusy Native Finger Lime with sweet bitter dark chocolate…
and
Davidson Plum White Chocolate which balances tangy Davidson plums with a sweet white chocolate.
You can find them both here.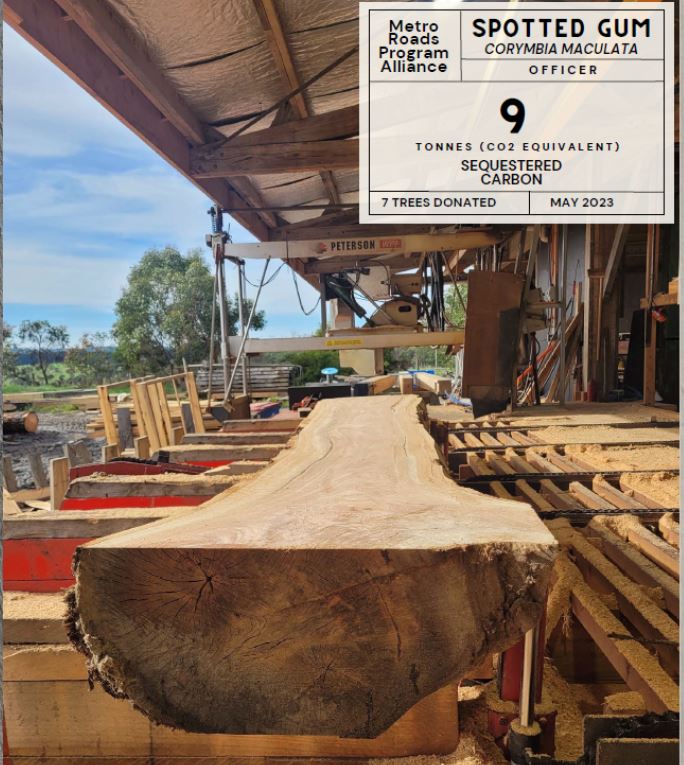 Vote Fair Wood
CERES timber social enterprise Fair Wood is a finalist in the TMRRW Awards.
It's a people's choice so we're asking you to vote for our urban sawmilling project that saves trees that would have otherwise been mulched and ended up in landfill.
The bonus is you'll also go in the running to win a four-day Tasmanian adventure with Intrepid Travel.
You might remember Fair Wood got into urban sawmilling to help landholders mill their fallen trees after the storms of 2021.
With a global timber shortage and the need to keep native forests locking up carbon we need to find new sources of timber.
Fair Wood's urban forest pilot is currently salvaging trees on six active sites across Melbourne and is turning them into high value timber for building houses and furntiture making.

Cast your vote for Fair Wood here.

Have a great week
Chris
Oh and if you're coming back from the long weekend on Tuesday afternoon there's nothing better than finding a Fair Food delivery on your doorstep and not having to go shops.