Vegan Zucchini Fritters with Tahini Sauce
Zucchini glut? We've got you covered.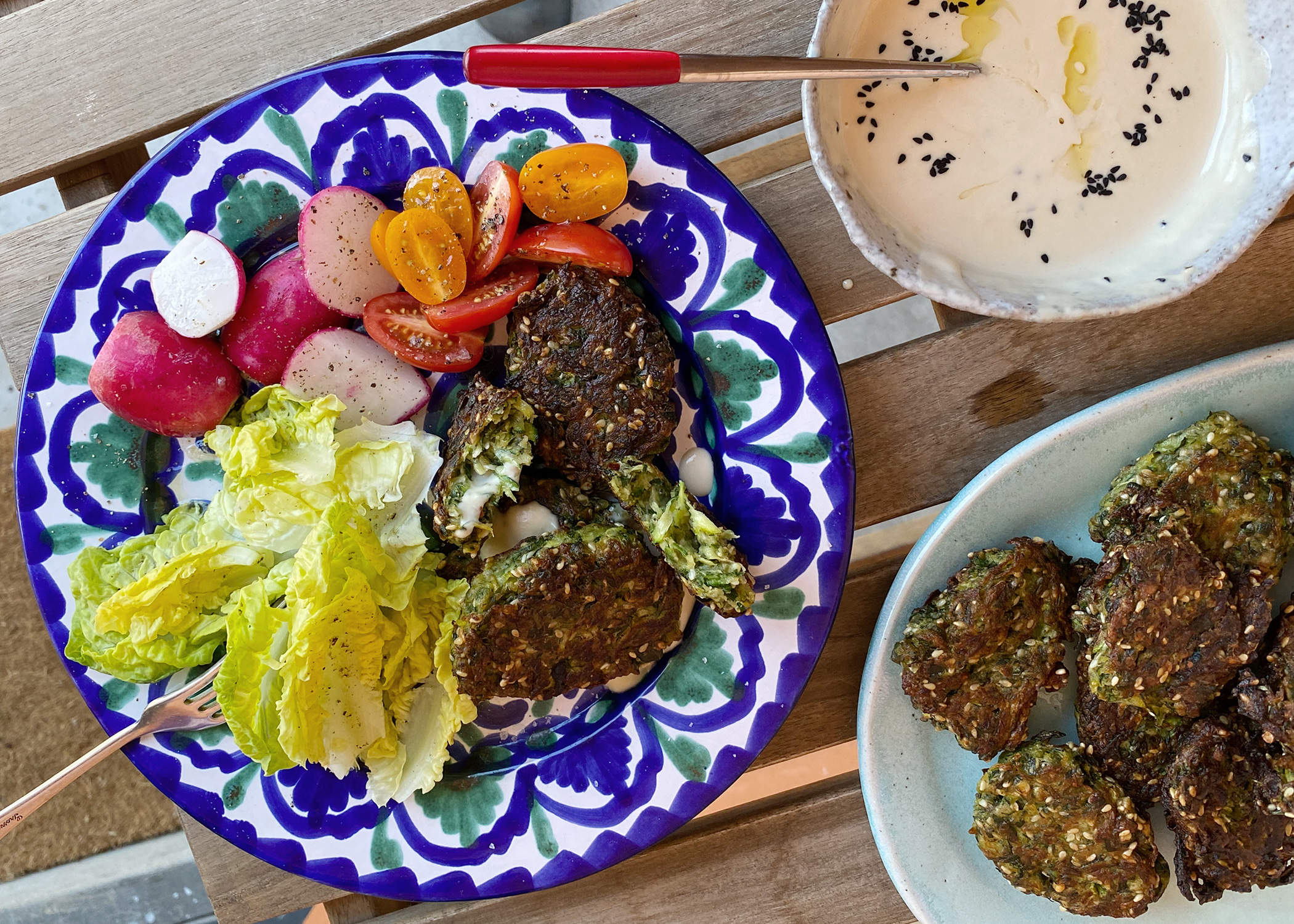 Ingredients
Fritters: 
2 medium zucchini (about 500g)
1/2 cup flour – you could go GF flour
1/4 cup nutritional yeast, if you're not vegan or can't get a hold of nutritional yeast, substitute with your fav cheese – halloumi, cheddar, fetta, all good shouts
1 tsp chilli flakes
1 tsp pepper
2 tsp salt
1/4 cup sesame seeds
Small bunch of parsley, chopped
Small bunch of dill, chopped
1/8 cup olive oil
Neutral oil for frying
Tahini Sauce:
1 garlic clove – can be omitted
1/2 cup tahini
1/2 tsp salt
1/2 cup of water, or more as needed.
Method
These fritters are everything you want them to be. Crispy on the outside, creamy on the inside and the best little platform for sauce and salad, or to pop in a wrap or have with grilled meats – whatever floats your tummy boat! Best of all, they use up that glut of zuccs that's coming our way. Make a double batch and keep them in the fridge for lunches and snacks! This recipe is by Yolanda Whelan a local vegan cook we love, check her out!

Vegan Zucchini Fritters
Grate the zucchini and squeeze out as much water as you can with your hands. If you have large zucchinis to use, sprinkling a little salt will help.
In a large bowl, mix all of the ingredients aside from the olive oil,  until well combined.
Pour in the olive oil and mix well. You're after quite a thick consistency, if it seems a little wet add a touch more flour.
Cover the bottom of a large frypan with neutral oil and bring to medium-high heat.
Use a tablespoon to spoon the mix into the hot oil and fry on each side until dark golden. Turn the heat down slightly if it's cooking too quickly, it should take a minute or two on each side.
Place the cooked fritters on a piece of paper towel to absorb excess oil and continue cooking until you've used up all the batter.
Tahini Sauce
Mix minced garlic and lemon together and let stand for 10 mins. Then add the tahini and salt and mix until well combined – the sauce will begin to thicken. Slowly drizzle in water and stir continuously until you reach a creamy loose consistency.  Garnish with nigella seeds if you have some!