Spinach rarebit with oven roasted tomatoes
I like to think of this dish as the grownup version of cheese on toast. It makes for a satisfying lunch, or pair it with a green salad for those nights when all you feel like for dinner is a good old cheese toastie.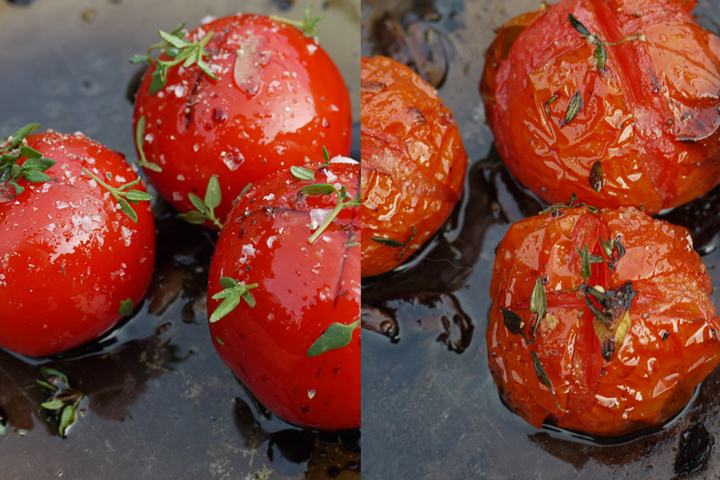 Serves 2
Ingredients
2-4 small-medium sized vine ripened tomatoes
2 tbsp balsamic vinegar
1 tbsp olive oil
1 clove garlic, thinly sliced
2 sprigs thyme, leaves removed from stalk
1 large handful of spinach leaves
1 tsp wholegrain mustard
1/2 cup grated cheddar
1 tsp milk
2 thick slices of Rye bread
salt flakes and black pepper, to taste
Method
Preheat oven to 180º C. Score a cross in the bottom of each tomato and place bottom side up in a small roasting dish. Pour over balsamic and olive oil and scatter over garlic and thyme leaves. Season with salt flakes and freshly ground black pepper and roast for 20 minutes.
Wilt spinach leaves in a small pan, remove from heat and, once cool enough to handle, squeeze out excess moisture and roughly chop. Combine spinach, mustard, cheddar and milk and season with salt flakes and pepper.
Divide spinach and cheese mix among bread slices and place under a 200º C grill for 3-5 minutes, or until cheese has melted and bread is toasted. Remove from grill and top with roast tomatoes.