Soba salad for all seasons
Take it to a picnic, the office, or whip it up after work – just make enough for leftovers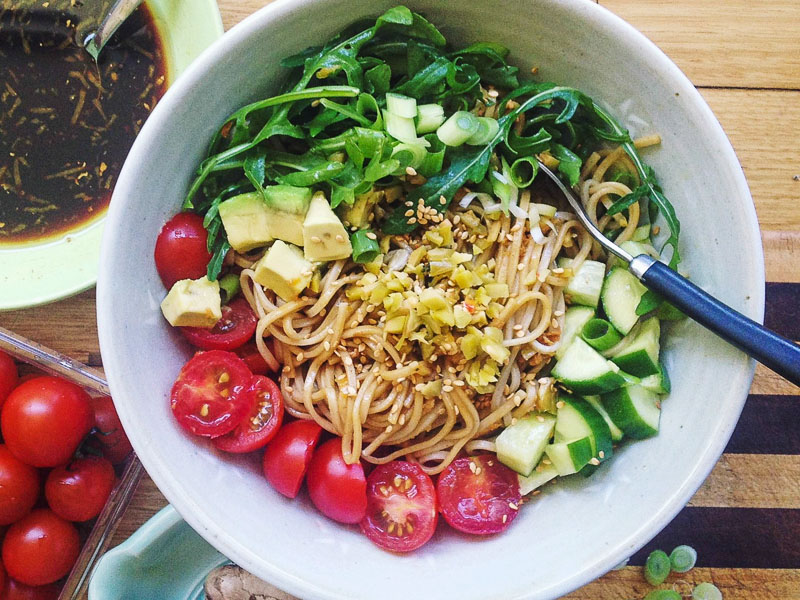 Serves 4-6
Ingredients
300g soba noodles

1 cucumber, sliced

handful of ripe tomatoes, sliced

4 spring onions, sliced

1 avocado, sliced

100g salad leaves

1/4 cup sesame seeds, toasted

100g green olives, chopped
dashi dressing

1 10g sachet dashi granules

1 cup boiling water

2 tsp honey

pinch salt

2 tbsp brown rice vinegar

2 tbsp tamari or shoyu

1 tbsp toasted sesame oil

1-inch cube fresh ginger, grated or chopped

1 tbsp of lemon juice and all the rind
Method
Soba noodles in the pantry are very handy – with a good dressing they're a very tasty base for a light salad or main event, even if you only have a carrot and a couple of eggs for an omelette. It could be fried tofu or eggplant, finely shredded cabbage or zucchini, lots of green herbs, or steamed broccoli. In this instance it's an all-in for hot weather, with juicy cucumber and cherry tomatoes.
Feel free to double the dressing recipe – you may want more swimming in the bowl or for adding to another meal. It's also delicious without the dashi, so don't let that stop you.

Soba salad for all seasons
Start with the dressing, dissolving the dashi granules in a medium bowl of the boiling water, and then stir in the salt and honey while the water is warm. Add the remaining ingredients and set aside after a few taste tests to double check the flavour.
Cook the soba noodles in plenty of boiling salted water for 4-5 minutes or until they're just tender. Drain the noodles with a quick refresh under the cold tap. If you want to blanch asparagus or green beans, pop them in the soba water for the last minute before you drain and rinse.
In a large mixing bowl, combine the soba noodles, and most if not all of the dressing. Toss well and transfer to a large platter or individual bowls with all the delicious extras and a sprinkle of toasted sesame seeds and chopped green olives on top.
Hints and Tips
*This is gluten free only if using 100% buckwheat soba noodles, and tamari.
For Springtime, include other seasonal veg like blanched broad beans, green beans or asparagus.