Rice Paper Samosas (Oven-baked)
These oven-baked vegan Rice Paper Samosas are dairy free, gluten free and flavour-packed little triangle packages of colour and spice.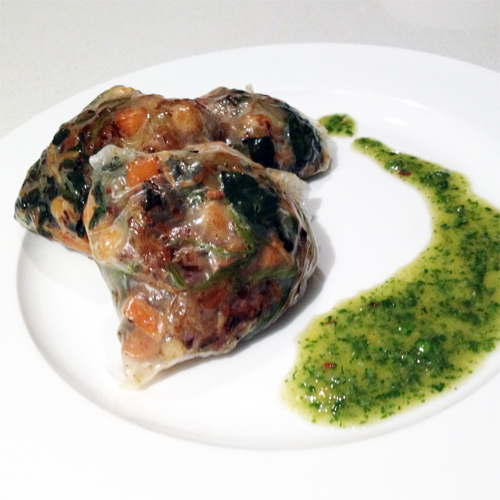 Serves 4-6
Ingredients
8 round rice paper for spring rolls (22cm)
Filling
Heaped tsp coconut oil or oil of choice
1 medium onion, diced
2 cloves garlic, minced
1 tsp minced ginger
¾ tsp sea salt
½ cup raw cashews
¼ cup desiccated coconut
3 medium carrots, diced
1 ½ cup diced zucchini, pumpkin or other veg
1 cup chickpeas
2 cups firmly packed fresh spinach, chopped
Spices
1 Tbsp cumin seeds
½ Tbsp mustard seeds
½ tsp. turmeric, ½ tsp. coriander
¼ tsp cardamom
1/8 tsp cinnamon
cayenne (to taste)
Sweet n' Spicy Coriander Chutney
2 cups firmly packed coriander leaves (no stems)
1 clove garlic
1 tsp minced ginger
2 dates or 2 heaped tsp jam of choice
1 fresh chilli (or cayenne pepper to taste)
¼ cup freshly squeezed lemon or lime juice
2 Tbsp organic olive oil
Salt to taste
Method
These oven-baked vegan Rice Paper Samosas are dairy free,  gluten free and flavour-packed little triangle packages of colour and spice. The coriander chutney is simply beautiful as a fresh tangy accompaniment to these light 'n' crispy but wholesome  and warming delights. The best part? You can get everyone involved in wrapping them up, which can get a bit messy but is still good fun, and a great way to get little people involved in cooking healthy, fresh and colourful food. It's not easy to wrap up rice paper samosas, but trust me, you do get better at it the more you make!
In a skillet over medium heat, toast cashews until lightly golden. Remove from heat, roughly chop, and set aside. In the same skillet lightly toast coconut until golden, remove from heat & set aside.
Dice all veggies to the size of peas. Heat coconut oil in a frying pan. Add the cumin and mustard seeds. When mustard seeds begin to pop, add onion, remaining spices & minced ginger.
Cook a few mins & then add the garlic. Cook a bit more & then add carrots. Stir to coat with spices, cook a few mins, add zucchini, pumpkin or other seasonal veg, and chickpeas. Remove from heat and stir in spinach, coconut, cashews and salt to taste.
Pour a couple inches of hot water into a large shallow dish. One at a time, place a rice paper wrap in the water and let soften, just until it becomes pliable. Do not let paper become soggy or the rice paper will split. There should still be some pattern visible.
Place rice paper on a clean, flat surface. Using a very sharp knife slice the circle in half. On both halves, place a generous scoop of the filling. Fold the bottom corner about a third of the way up the round side of the half, followed by the top corner to meet the base of the fold you just made, creating a triangle. Fold the round edge up onto the top of the package to seal it. Repeat until you've used up the filling.
Brush Samosas with a little melted coconut oil and place on a non-stick baking tray coated in a little veggie oil in a 200°C oven for 10 minutes. Flip and bake for another 10 minutes until lightly browned and crisp.
Using the pulse setting, blend chutney ingredients to serve with hot and crispy Samosas. Yum!
Recipe adapted with thanks from My New Roots.
Hints and Tips
To adapt for different seasons, change the coriander chutney to a mint chutney, or a spiced tropical fruit chutney in Summer.
Likewise, with the veggies, use what's on hand, Simply ensure whatever you choose is diced nice and small so the Samosas are easy to put together.
Happy eating!