Potato and Chickpea Curry with Winter Greens
Some would describe this as a pot of delicious gold.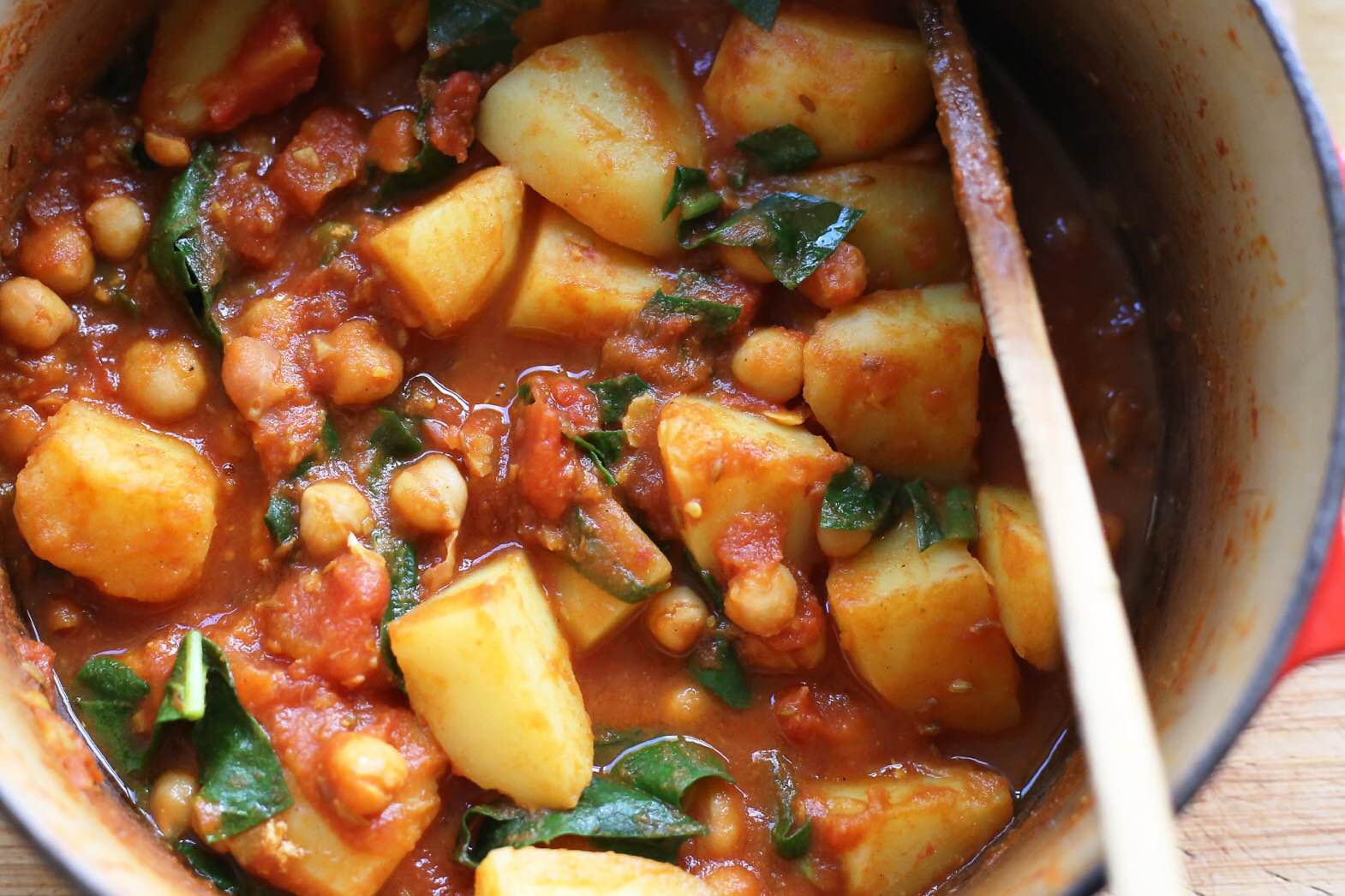 Serves 4
Ingredients
1 C dried chickpeas, soaked overnight (or one tin, drained and rinsed)
2 or 3 potatoes, diced and par boiled
1 Tbsp ghee or vege oil
1 onion, diced
1 clove garlic, finely diced
knob fresh ginger, grated
1 1/2 tsp ground coriander
1/2 tsp turmeric
1 tsp cumin seeds
1 tsp chilli powder or flakes
1 tsp garam masala
extra chillies if you're inclined
salt
pinch of sugar
1 tin tomatoes or 3-4 fresh tomatoes, roughly diced
3/4 C water (use cooking water from chickpeas)
silverbeet or spinach greens, shredded
squeeze of lemon
fresh coriander
Method
They're doubly comforting aren't they, chickpeas and potatoes. This little number is great with pre-cooked potatoes from a previous meal, and when you're in the mood for a curry that's mild but warming. Of course it's a classic combo otherwise known as Chana Aloo, though I'm not sure this is legit enough for that title. Adding the silverbeet might be too much. Anyway, you're most welcome to leave a comment with your own adjustments! When I made this I didn't have the fresh coriander, so you'll have to imagine it on top. But it's still such a tasty one and even better the next day. If you're using dried chickpeas, cook up plenty for other meals or spicy snacks, or stash them in the freezer for when the comfort of curry is required. Delicious.
Drain the overnight-soaked chickpeas. Refresh with cold water, add a bay leaf and cook for 30-40 minutes or until they're soft but still holding their shape. A pressure cooker will allow you to cook dried chickpeas in about the same time from woe to go, or use a can of tinned chickpeas that have been drained and well rinsed.
Heat the ghee and fry the onion until it softens, then the garlic and ginger. Stir that for a moment, then add the spices and when they smell good add the tomatoes with a pinch of salt and sugar. Simmer it all together for a few minutes.
Next up, stir in the par-boiled potatoes and the chickpeas. Add about 3/4 C water (use the cooking water from chickpeas if you can, adding more if needed) and simmer for 5-10 minutes or until the potatoes are done. The shredded greens won't take long to wilt, they can be stirred though at the end.
Add a squeeze of lemon over the lot plus that fresh coriander. Serve with rice,  yoghurt and warm flat bread.
Hints and Tips
1 cup of dried chickpeas will make about 2 cups once cooked.