Pesto Quinoa Salad
A colourful, warm and hearty pesto quinoa salad that makes a great veggie-packed lunch or dinner.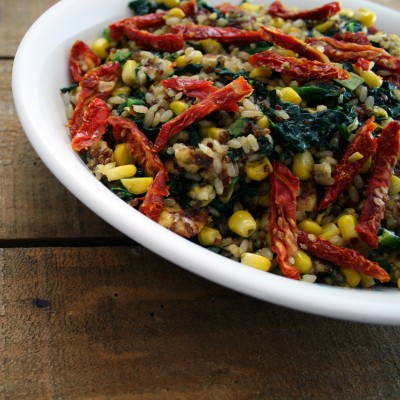 Serves 4-6
Ingredients
Dash of olive oil
Pinch of sea salt
1 shallot, diced
1 cup quinoa, cooked
2 cups brown rice, cooked
1 cup canned corn (or fresh in season)
1 1/2 cups kale or other green, finely chopped
2 cups firm tofu or haloumi, grilled
1 heaped Tbsp basil pesto
1/3 cup pumpkin seeds, toasted
1/4 cup semi sun-dried tomatoes, chopped
Method
A colourful, warm and hearty pesto quinoa salad makes a great veggie-packed lunch or family dinner.
In a small saucepan with a lid, combine, wash and drain your quinoa and brown rice (they will cook more or less at the same rate).
Fill the saucepan with water, submerging the grains with about 5 cups of water (or about 2 centimetres on top of grains). With the lid on, boil the quinoa and brown rice on low-medium heat for about 25-30 mins.
Whether you're using tofu or haloumi, cut the block into cubes. In a big skillet or deep frying pan, heat a little oil and then fry the tofu or haloumi cubes until browned and/or crispy.
Add a little more olive oil if needed and salt, then stir in the shallot and cook for a minute or two.
Stir in the kale, and then the quinoa, rice and corn, and cook until hot and sizzling.
Remove the skillet from heat and stir in the pesto and pumpkin seeds.
Turn everything out onto a platter or serving plate, and top with the semi sun-dried tomatoes.
Hints and Tips
When in season use fresh corn and cherry tomatoes. If you cannot get shallots, feel free to use brown or red onion, or spring onion.