Mushroom stroganoff
Mushrooms are amazing. This is delicious.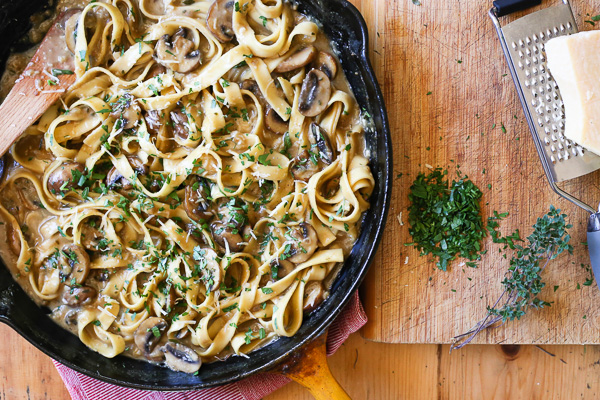 Serves 4
Ingredients
olive oil (or other vegetable oil)
1 onion, diced
500g mushrooms
3 cloves garlic, chopped
2 tsp fresh thyme, stems discarded
3 Tbsp flour
3 1/2 cups vegetable stock
200g thick pasta ribbons
1/2 C milk or non-dairy alternative
parsley to serve
hard cheese (ie Parmesan) to serve
Method
I don't know how legit this is in terms of a real stroganoff, considering is uses neither beef nor sour cream and it cooks the pasta directly in the pot (how unconventional on all fronts!), but as a veggie and vegan friendly dinner it is hearty and delicious, and well worth a share. Mushrooms are amazing and they're also on special this week, so consider giving this one-pot stroganoff a go for a midweek winner. Super comforting and easily vegan with almond milk and egg-free pasta.

Mushroom stroganoff
Heat a good glug of oil in a large skillet or heavy-based pot over medium heat. When warm, cook the onion until soft and turning slightly golden. Add the sliced mushrooms and continue cooking and stirring occasionally until they too are cooked and golden brown.
Add another glug of oil (about a tablespoon), plus the chopped garlic and thyme leaves. After a couple of minutes, add the flour and stir to coat everything. Next add the stock and milk and let the pot come back to the boil.
Add in the pasta to cook in the pan, in all those delicious mushroomy juices. Make sure it is covered with liquid – I broke up my tagliatelle so it was easier to keep them from sticking together. Just watch them as they cook, it'll need the odd stir, and potentially another dash of stock or water to keep it all loose until the pasta cooks. Once al dente, season to taste with a little salt and pepper and serve garnished with parsley and grated cheese.