Millet Fried 'Rice'
Delicious and simple millet fried 'rice' with omelette, tofu and spring veggies.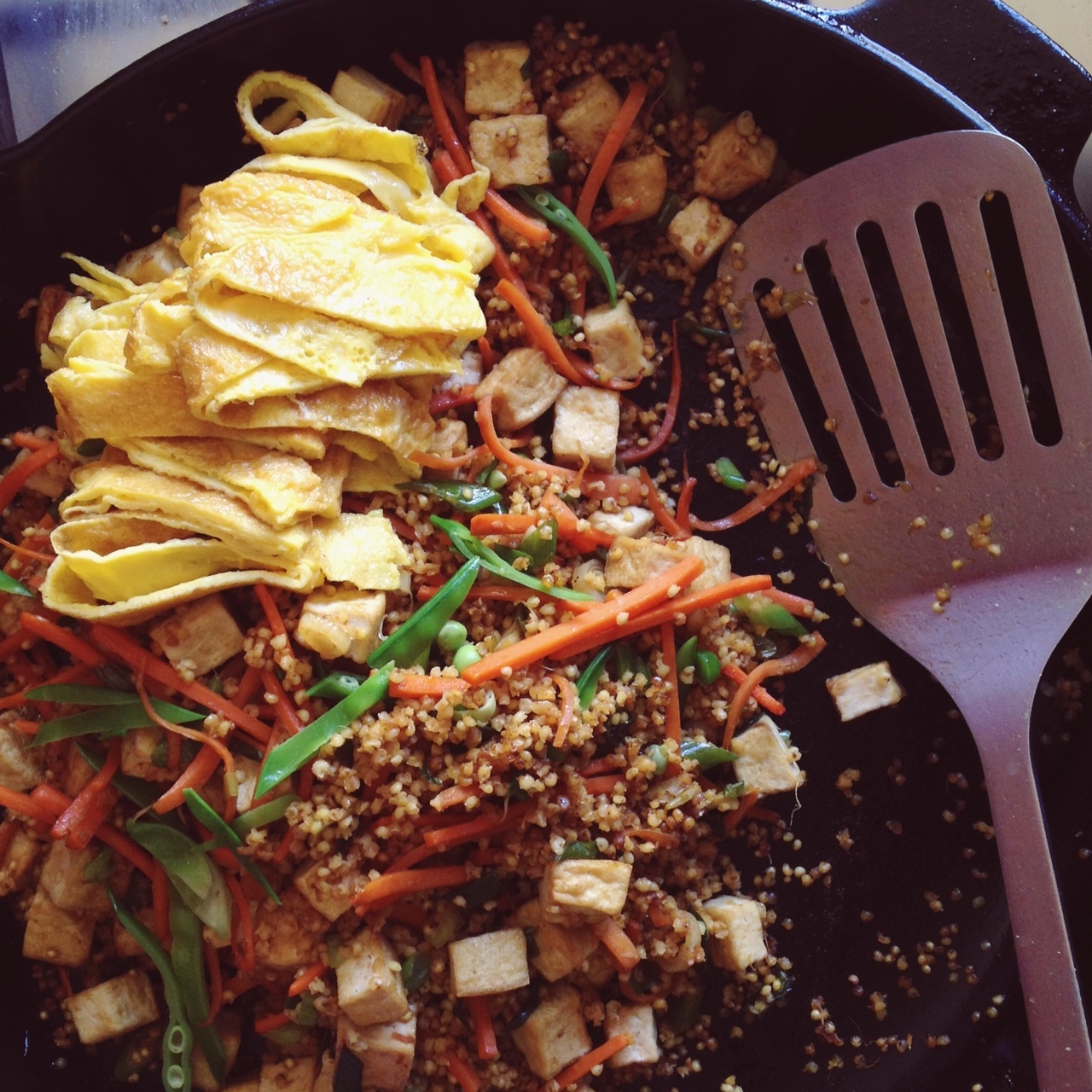 Serves 4
Ingredients
1 1/2 cups millet, rinsed and soaked if possible.
4 1/2 cups water
2 tbsp ghee (or coconut / vegetable oil)
2 tbsp toasted sesame oil
3 eggs, beaten with pinch of salt
375gm firm tofu (this may be too much if not serving 4)
1 inch piece ginger, grated
2-3 cloves garlic, minced
1 carrot, julienned or finely diced
1/2 bunch spring onions, sliced
1 tbsp tamari
1-2 cups additional crunchy greens (optional)
coriander (optional)
Method
Sharing a recipe for fried rice does seem a little odd, I admit. It's another one of those easy meals that you could make a dozen ways, often a lazy 'left overs' solution. Apart from ginger/carrot/spring onion combo, it's a fairly blank canvas to match your current vegetable situation, using different spring greens at hand (pak choy, snow peas, asparagus, broadies, brocolli, green beans). But I just can't help myself! These trusty meals are the heart of a home kitchen, and offer valuable cooking hints that help build ease and creativity. In this case, it's the genius of millet instead of rice, and the excuse to make some beautiful ghee, a 250gm block of organic butter now waits happily in a big vegemite jar for the next month of curries and stir fries. It also reminds me that a thin omelette fried with toasted sesame oil is a wonderful thing. Recipe adapted from Heidi Swanson's book Super Natural Cooking. Hope you enjoy – Liz
In a large saucepan, combine the millet, water and a good pinch of salt, and simmer for around 15-20 minutes until it's soft but not falling apart. Drain off any excess water and set aside to cool. You can prepare the millet a day or two ahead, or just make sure there's leftover millet from a previous meal.
Cook your omelette in the pan first. Heat a scant tablespoon of ghee and the same of toasted sesame oil in a large skillet or wok over a medium high heat. Once hot, pour in the eggs and swirl the pan to create a nice even cover. Let it cook for half a minute until just set, then fold it over itself once or twice and transfer to a plate. Once that's cooled a little you can slice into strips.
Wipe any remaining egg from the skillet, return to the heat and without adding any more oil fry the diced tofu for 4-5 minutes, until browned. Transfer tofu to the egg plate and scrape out the skillet again so no crumbs start burning in the last leg.
Crank the heat a little more and add the same again of ghee and sesame oil. Stir in the ginger and garlic for a moment, then add the carrots and spring onions and any additional greens. Keep stirring for a minute so those veggies just soften. Add the millet, browned tofu and tamari, and cook another minute or so, testing the seasoning. You may need to add more tamari or sesame oil, or even a splash of lemon / lime juice. Top with the egg, and some coriander or fresh sprouts if you have some handy.
Hints and Tips
Making your own ghee (or clarified butter) is quite simple and very satisfying, especially with beautiful organic unsalted butter. By removing the milk solids from the butter it can be safely heated to a high temperature, and is a wonderful flavour. I can recommend Heidi Swanson again to direct your ghee making adventures (101cookbooks.com), as well as Sally Fallon in her legendary book Nourishing Traditions.