Cheesy Broccoli and Leek Pasta Bake
A perfect mid-winter comfort meal.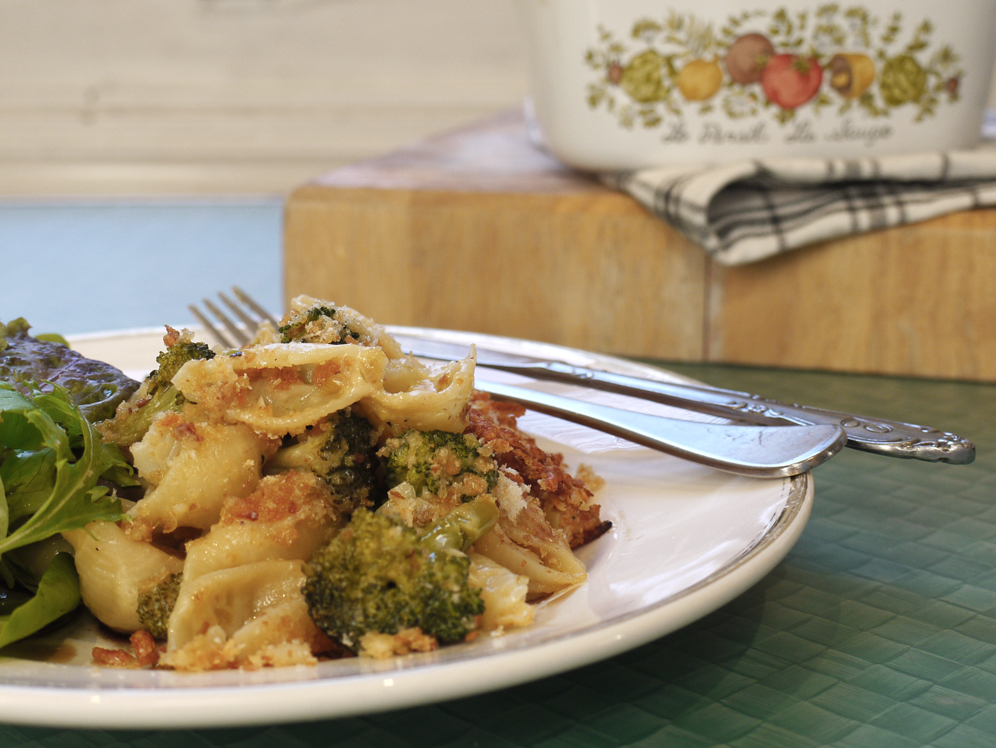 Serves 4
Ingredients
2 cups small dried pasta shapes such as shells, macaroni, spirals or bowties
2 medium heads broccoli, cut into small florets
olive oil
1 tablespoon butter
1 clove garlic
few sprigs of thyme, leaves removed
1 medium leek, halved and sliced
1 tablespoon wholegrain mustard
1/2 teaspoon grated nutmeg
1 cup creme fraiche
1 cup grated melting cheese such as gruyere
1/2 cup grated parmesan
1/2 cup breadcrumbs
Method
Preheat oven to 180 degrees Celsius.
Bring a large pot of salted water to the boil, add the broccoli and cook for 3-5 minutes or until tender.
Remove with a slotted spoon and set aside. Bring the water back to the boil, add pasta and cook until al dente. Drain and set aside.
Warm a large pan over a medium heat and add a splash of olive oil and the butter. Add garlic, thyme and leek and cook, stirring for 3-5 minutes or until garlic is fragrant and leek becomes soft. Add broccoli and cook a further minute or so. Deglaze the pan with a splash dry white wine if you happen to have some nearby.
Turn down heat to low, add mustard, nutmeg, creme fraiche and 1/2 cup of Gruyere or other melting cheese. Stir to form a smooth cheesy sauce and season with salt flakes and freshly ground black pepper to taste.
Remove from heat and transfer to a medium sized casserole or baking dish.
In a small bowl mix remaining grated Gruyere, Parmesan and breadcrumbs. Sprinkle topping over the pasta mix and bake for 20-25 minutes until golden.
Serve with a side salad and toasted pine nuts for some extra crunch and protein.