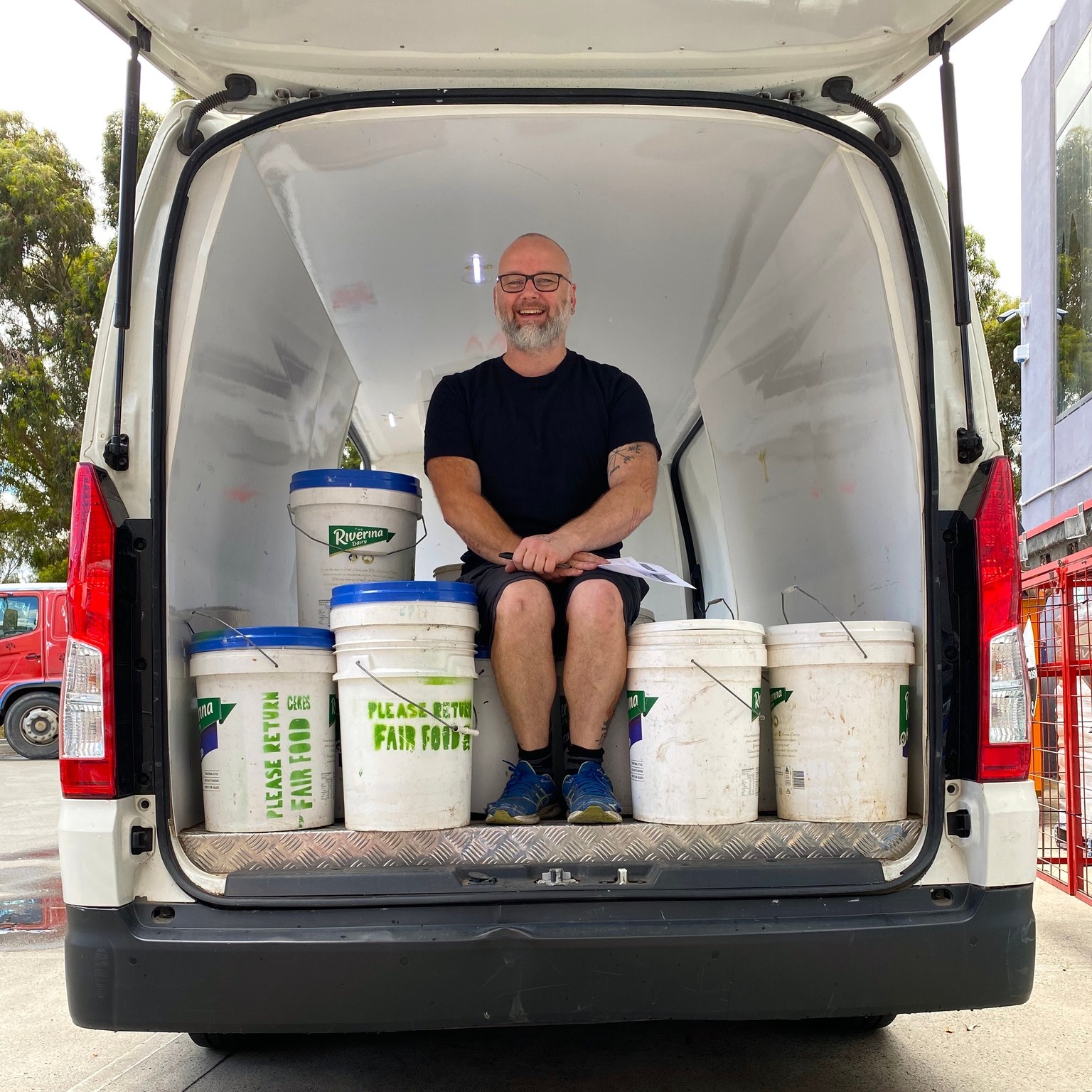 Can work be fairer?
Deliveroo closed this week.
The food delivery industry is littered with casualties – Menulog has ominously started laying-off staff, remember Foodora, well express grocers Send, Quicko & Voly haven't lasted long enough for us to even get know their names.
Delivering food is a tough business.
While we're willing to pay over-the-mark for some things; cinema popcorn, smartphones, and yoga mats, when it comes to paying for delivery we harbour an intense dislike that borders on pure loathing.
Studies say once we register the price of an item the psychological effect of having to pay a new, higher price to cover delivery, invokes a rage-inducing sense of injustice. So much so that tests have shown we prefer free delivery over being given an even bigger discount on our item.
And as we discover we like getting more and more things delivered it seems we will do almost anything to avoid paying someone to collect, package and deliver all our things.
Back in the late 2000's tech entrepreneurs recognised this wicked problem and got to work ideating on a solution.
Like most genius breakthroughs the key to the problem was deceptively simple – in the end all it took was rewriting one word of code in the world's industrial relations systems.
The result, as shown in this recreated pitch deck slide below, was fuel for a delivery revolution.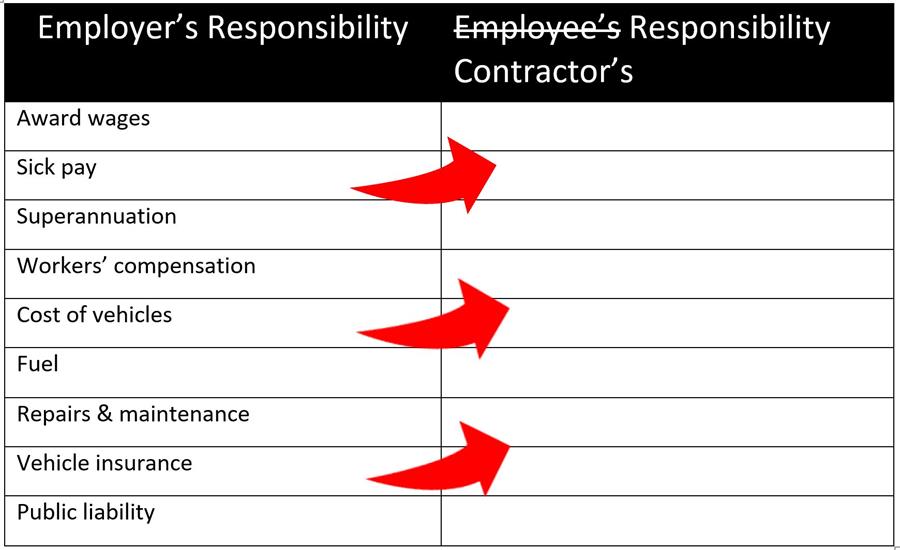 This new way of doing delivery was rebranded, "the gig economy", where going to work would be like starring in a new show every day!
To add to the showbiz-vibe the biggest celebs in the world; Snoop Dog, Kim Kardashian, Katy Perry, The Wiggles, Simon Cowell, even Harold from Neighbours were hired to share their own intimate experiences of having takeaway food home delivered.
The glamour of it all, the glorious convenience coupled with our pathological hatred of delivery fees numbed our curiosity as to what was going on behind the curtain.
The house lights finally came up however, when five food-app delivery drivers died on Sydney roads over a couple of months in 2020.
Suddenly, we saw, not only the impact of our desire for cheaply delivered dinners, but also the risks poorly paid drivers were taking to make a reasonable wage.
When Matthew Denman, Uber Eats general manager, appeared before the NSW Government's Select Committee on Job Security and was asked if he was aware that Uber was paying its contractors below the minimum wage he replied, "I'm aware of that, yes Senator".
The restaurant industry has been well and truly disrupted by the delivery-app giants. The grocery industry is next on their list.
Woolies has launched Metro60 a 60 minute grocery delivery service for just $5 using Uber drivers, DoorDash has opened DoorMart offering something similar.
With Australia's leading express grocer Milkrun reportedly losing an average of $13 a delivery it's clear that to make these new businesses profitable someone will have to pay.
Convenient and delicious home-delivered food and groceries are a wonderful thing – but if we don't look after the people who bring them to our doors, then it just becomes ashes in our mouths.
CERES Fair Food provides our drivers with award wages, sick leave, superannuation, workers compensation, vans, fuel, maintenance, insurance and free fruit and veg.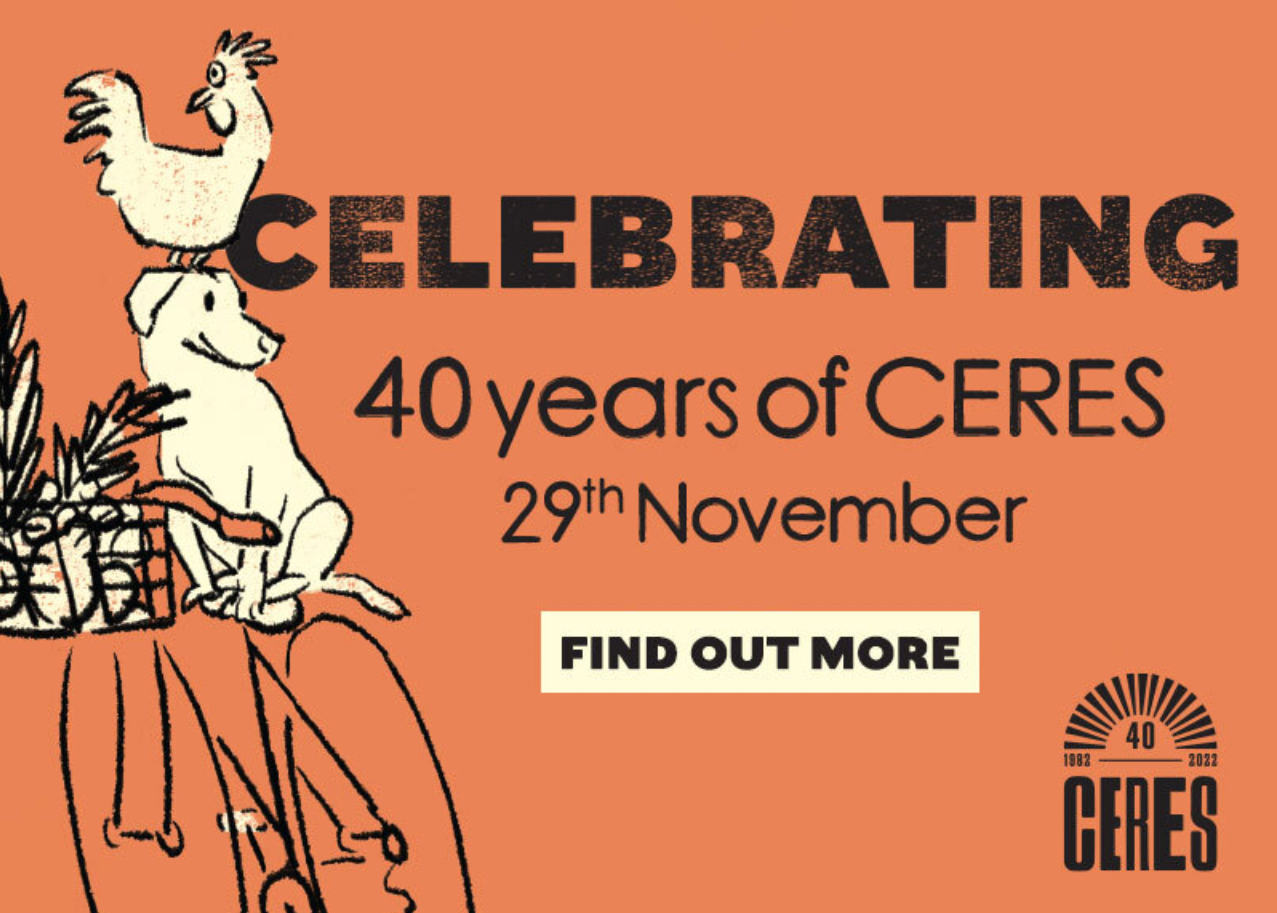 CERES Giving Day
Being brave and taking risks has given CERES life over the last 40 years.
As we reflect on the efforts of volunteers, staff and the public, we also reflect on the generosity of donations and the big ideas they've empowered.
November 29 is our inaugural Giving Day – raising funds to grow for the next 40 years. 
Donations go to a fund for the future invested in ethical ventures by our friends at the Inner North Community Foundation.
Every year 4% of the fund is granted back to CERES, giving the next generation the opportunity to be brave and take the live-giving risks that will take us into the future.
Have a great week
Chris