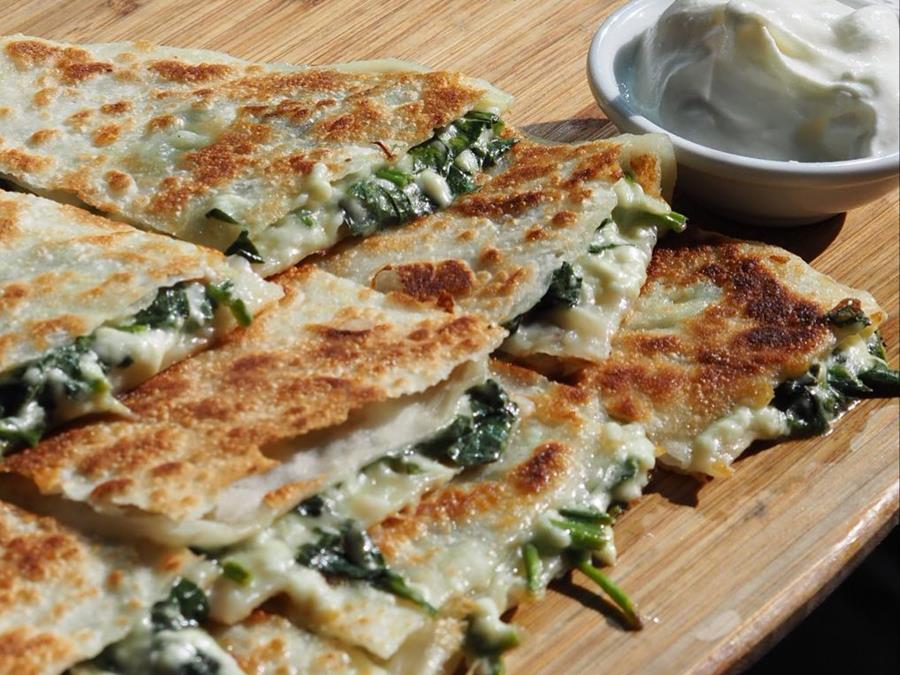 All the göz
Late in the week Richelle Carroll, Fair Food's grocery buyer, calls in a worried tone.
"Are you going to write about gözleme on Sunday?"
"Yeah, I thought I would," I reply.
"Oh dear… I better order 150 for Monday."
Hangs up.
Gözleme's become a thing.
The light, crispy, gooey spinach and cheese pastries have been selling out faster than we can get them in.
So what's the göz on gözleme?
Starting at the beginning, gözleme is a Turkish pastry filled with spinach & feta (ıspanakli) or mince and fried onion (kıymalı), lightly brushed with oil and cooked on a grill plate until crispy.
Forever looked down upon as simple farmer's food, it's only been in recent years that  gözleme's magic has been discovered by chefs. 
Like hommus, gözleme's origins are argued over endlessly. Even its etymology is contested.
In some versions gözleme means compartment, in others embers, the version I like best is the one where göz, which means "eye," comes from the dark spots on the pastry as it browns up – the eyes.
Ten years ago at the South Melbourne Market, Taylan Gonullu, started his own gözleme stall.
Wanting to set-up a permanent shop in the city, Taylan partnered with his mother, Nez, a gözleme master.
Leaving a 30 year hairdressing career, Nez Gonullu put her scissors down and took up her oklava, the thin Turkish rolling pin used to work gözleme dough.
Göz City was go.
Nez Gonullu says the key to good gözleme is a very, very fine pastry – so fine, she explains, it's almost see-through.
Nez's hand-rolled pastry and Taylan's playful fillings got people talking.
At lunchtimes lines began to stretch out the door. One shop lead to another and everything was going well…until the pandemic came and all the city workers went home.
The Gonullu's pivoted; they bought a vacuum-packer and were soon delivering frozen gözleme for their eager customers to cook themselves.
Just as before word spread about Nez's pastry, sales recovered and Göz City survived the lockdowns.
Cooking Nez's gözleme at home is simple – just defrost, coat lightly with oil and pan fry both sides on a medium heat for a few minutes until crunchy (Richelle says a sandwich press also works a treat).
If you'd like to try some you can find it here
And if you're hungry in the CBD you can see Nez expertly wielding her oklava at Göz City in Little Collins Street and also Madame Brussels Lane.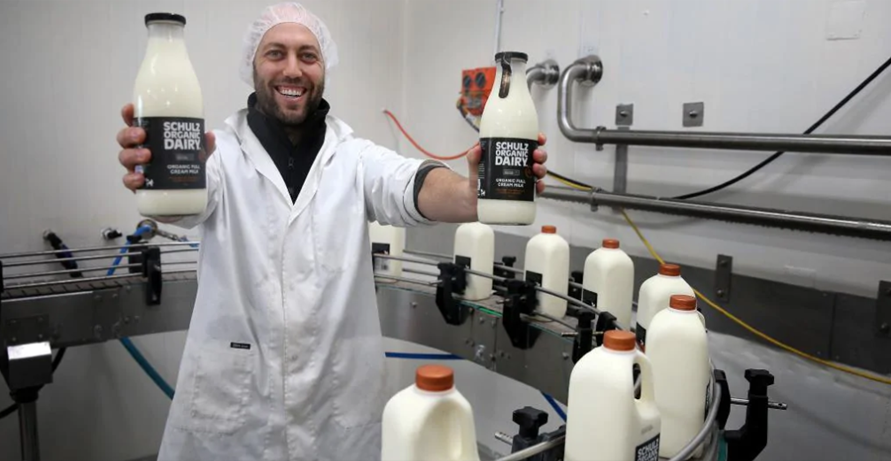 Minus a million milk bottles
It's four years since Simon Schulz (that's him there) launched his milk in refillable glass bottles.
By the end of this year Simon estimates the one millionth Schulz glass milk bottle will be filled.
Though that's not actually a million glass bottles, with an average return rate of 86% the beautiful thing about milk in glass is that the bottles are washed and refilled over and over – seven times on average.
Not needing to make one million plastic milk bottles means not needing to manufacture over 36 tonnes of plastic.
You may remember milk in glass came about when Simon launched a crowdfunding campaign for the gear he'd need to produce 3,000 glass bottles a week.
The campaign really took off; over a thousand people raised enough money for Simon to produce 5,000 bottles per week!
Very proudly, CERES Fair Food was one of the original group of retailers who helped trial and then roll out Schulz's milk in glass.
Four years later milk in glass has been so fully embraced at Fair Food that we discontinued 1 litre milk in plastic bottles because no one was buying it.
If you'd like to celebrate with a bottle this week you can find one here
Have a great week
Chris