Al Bardon's Steri-Matic 7000
Years ago when we learned the cardboard boxes that we packed our groceries in generated more carbon emissions than the vehicles that delivered them it was a big wake-up call.
Using well over ten thousand boxes a month we've always made a big deal of getting everyone to return their boxes, coolers and ice bottles to be reused or recycled.
During the first lockdown when we couldn't take our cardboard boxes back because of COVID-19 everyone was understandably very upset.
I imagined there had to be some kind of off-the-shelf UV box sterilisation device we could buy, but days of Googling, emailing and calling revealed that shelf to be very bare.
At a dead-end we decided to make a box steriliser of our own. And I knew perfect person to build it.
Al Bardon had previously built a complicated mezzanine at Fair Food's first warehouse and had played a key role putting together CERES' prototype commercial aquaponics system.
Describing what we wanted in very rough terms, Al took it in rubbing his chin, said something like, "Yeah, reckon I could do that." Then went off and got on the phone.
After a couple of dead-ends Al found an ally in Gordon Jansen at Australian Ultraviolet in Brisbane.
Gordon, an amiable Kiwi with years of technical knowledge and UV experience, got very excited and threw himself into the project.
Many conversations later Gordon and Al settled on a design that would perfectly time each box's UV exposure through the unit in order to kill the COVID virus.
The next hurdle was a world-wide shortage of UVC tubes; Gordon announced there would be a two month wait for ours to arrive from the States.
In the meantime Al began searching for a conveyor, but not just any conveyor, he needed a beltless model his UV lights could shine up through. More dead-ends followed.
Several weeks passed when I got an excited call. Yelling down the line from a used machinery yard in Laverton, Al reported he had found the perfect solution.
Al's solution turned out to be a huge stainless steel conveyor unit out of a food processing plant that had bars instead of a belt – perfect for letting UV light up onto the bottoms of our boxes.
Bringing home the shiny monster on a car trailer Al got to work building an enclosure that would house the sterilisation chamber.
Lookingreminiscent of an airport hand-luggage x-ray machine the Bardon Steri-Matic 7000 was finally put into production a couple of weeks ago (that's Fair Food Production Supervisor, Mo, feeding a box into it in the pic above).
The Bardon Steri-Matic 7000 has also been keeping everyone safe cleaning our coolers, ice bottles, clipboards, phones, laptops and anything that doesn't like being put through a dishwasher or being sprayed with sanitiser.
The result means we want you to leave your Fair Food cardboard boxes, coolers and ice bottles out for collection more than ever – which is one of the easiest and biggest contributions we can all make to reducing our grocery carbon footprint.
A big thanks goes to the Lord Mayor's Charitable Foundation for their help funding the Bardon Steri-Matic 7000.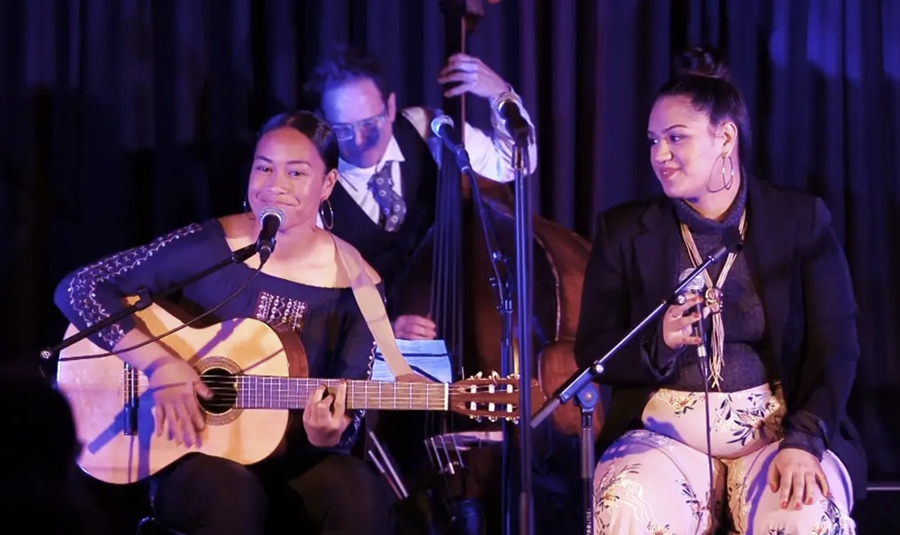 Foxy and Ta – Live from the Packing Floor Six
The other day we hosted our last of this season's Live From the Packing Floor.
Stage Four meant Cook Island duo Foxy and Ta couldn't come to the Fair Food Warehouse – so they sang to us from their lounge rooms in Broadmeadows and Beveridge and what a treat it was.
If you missed Foxy, Ta and their dad, Clerk, you can see a beautiful recap video that also features scenes from the packing floor and Joe's Market Garden.
And if you're left wanting more check out the whole show here – I've had these songs in my head and heart all week.
Because of the lockdowns artists of all stripes have lost gigs, but unlike many industry sectors performers and film makers have be unable to get Jobkeeper.
Live from the Packing Floor has been a series of six gigs live-streamed from the Fair Food warehouse supporting local musicians and film makers
It's Fair Food's way of showing solidarity with our brother and sister artists who have lost their livelihoods during COVID-19 as well as sharing the music we've all been missing.
You can catch the work all of our musicians and film makers here.
Have a safe week
Chris