Serves 4
Ingredients
1kg zucchini
4 tablespoons extra-virgin olive oil, plus more for drizzling
Salt and pep
375g ricotta
Zest from 1 lemon
Pinch of chilli flakes
Handful of parsley
1 to 1.5 cups favourite tomato sauce, such as this one or you could use  this pre-made one.
Parmesan, for serving, optional
Summary
Ah, we've reached that time again, the PAZOYND (that's put a zucchini on your neighbour's doorstep) time. With the likelihood of receiving a zucchini this week higher than usual, we've gone for a recipe that uses a lot. This dish isn't hard to make and everything about it is forgiving. We see these little coils as ravioli with zucchini for pasta and no fiddly sculpting. If squash isn't your thing, try using eggplant – heck, maybe you could even involtini a carrot? 
Zucchini Involtini
Preheat the oven to 220° C and line two baking trays with baking paper.
Trim zucchinis, then lay each on it's side and slice into 1/2-cm thick slices—these don't have to be that perfect.
Arrange the slices on the prepared trays. Drizzle with the olive oil and season with salt and pepper. Roast the zucchini for 20 – 30 mins, flipping half way, until they are pliable and beginning to brown. Remove trays from oven but keep it fired up.
To make the filling, in a medium bowl, stir together the ricotta, lemon zest, chilli and parsley, season with salt and pepper.
Spoon tomato sauce into a shallow baking dish – we used a pie dish. The bottom of the dish should be covered in a thin layer.
Place a dollop (about 1tsp) of filling at one end of each of the zucchini slices. Roll the slice into a tight coil and place it seam-side down in the dish on top of the tomato sauce.
Transfer to the oven and bake until the sauce has reduced slightly and is bubbling, and the rolls are lightly golden on top, 20 to 25 mins.
Remove pan from the oven and shave Parmesan over top if using – delicious with a simple green salad on the side.
Recipe by Alexandra's Kitchen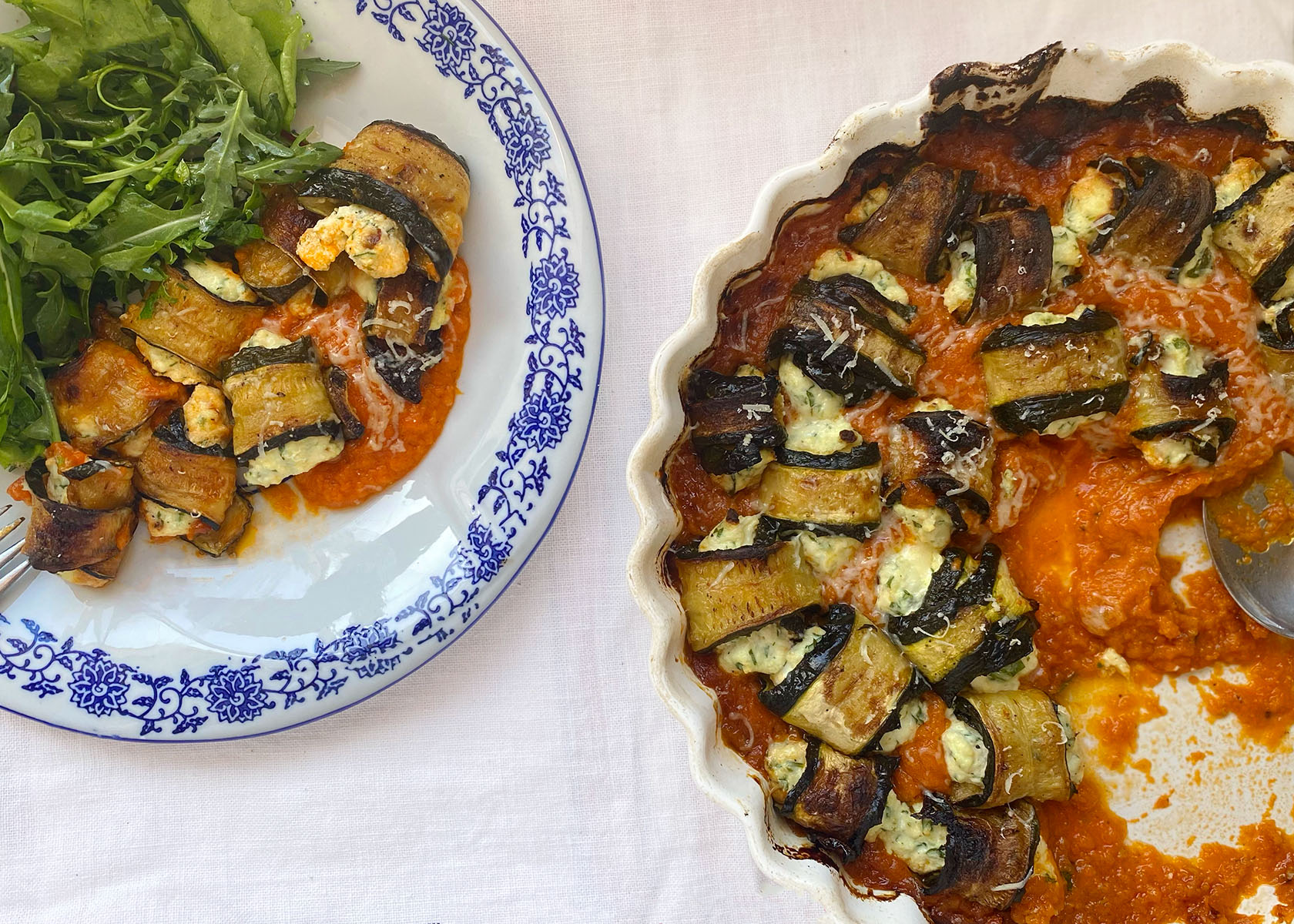 Video how-to: