White bean salad with haloumi, asparagus and seared cherry tomatoes
This spring salad will serve 2 people as a light meal or 4 as an entree. As the weather warms up and the days get longer swap the pan for a bbq and try the tomatoes, asparagus and Haloumi grilled instead.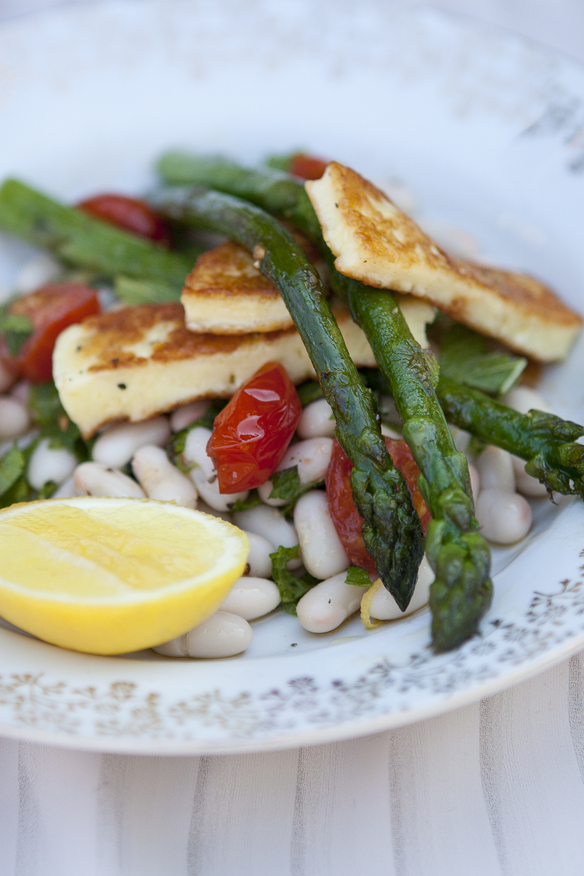 Serves 2
Ingredients
1 1/2 C of cooked white beans (or a 400g can, rinsed and drained)
1/4 C roughly chopped fresh mint leaves
1/2 tsp lemon zest
1/2 Tbsp freshly squeezed lemon juice
2 Tbsp extra virgin olive oil
6 asparagus spears, woody ends removed
6 cherry tomatoes, halved
100g haloumi cheese, drained and sliced
TO SERVE:
Method
In a large bowl combine beans, mint leaves, lemon zest, lemon juice and 1 tablespoon of olive oil and toss to combine. Divide among 2 serving plates.
Place asparagus and cherry tomatoes on a large plate, coat with ½ a tablespoon of olive oil and season with salt flakes and freshly ground black pepper.
Heat remaining oil in a large pan over a medium heat. Add sliced haloumi and fry for a couple of minutes, turning halfway through, until golden on either side. Remove haloumi from pan and place onto a paper towel to drain. Add asparagus spears and cherry tomatoes to the hot pan and cook, turning occasionally, for 4-5 minutes or until asparagus is bright green and just beginning to char.
Place a few haloumi slices, asparagus spears and cherry tomato halves on top of each portion of white beans, and serve with a lemon wedge to the side.