A Really Good Vegetable Lasagne
Layer, layer, layer like a really good compost pile. Not too pretty but absolutely delicious.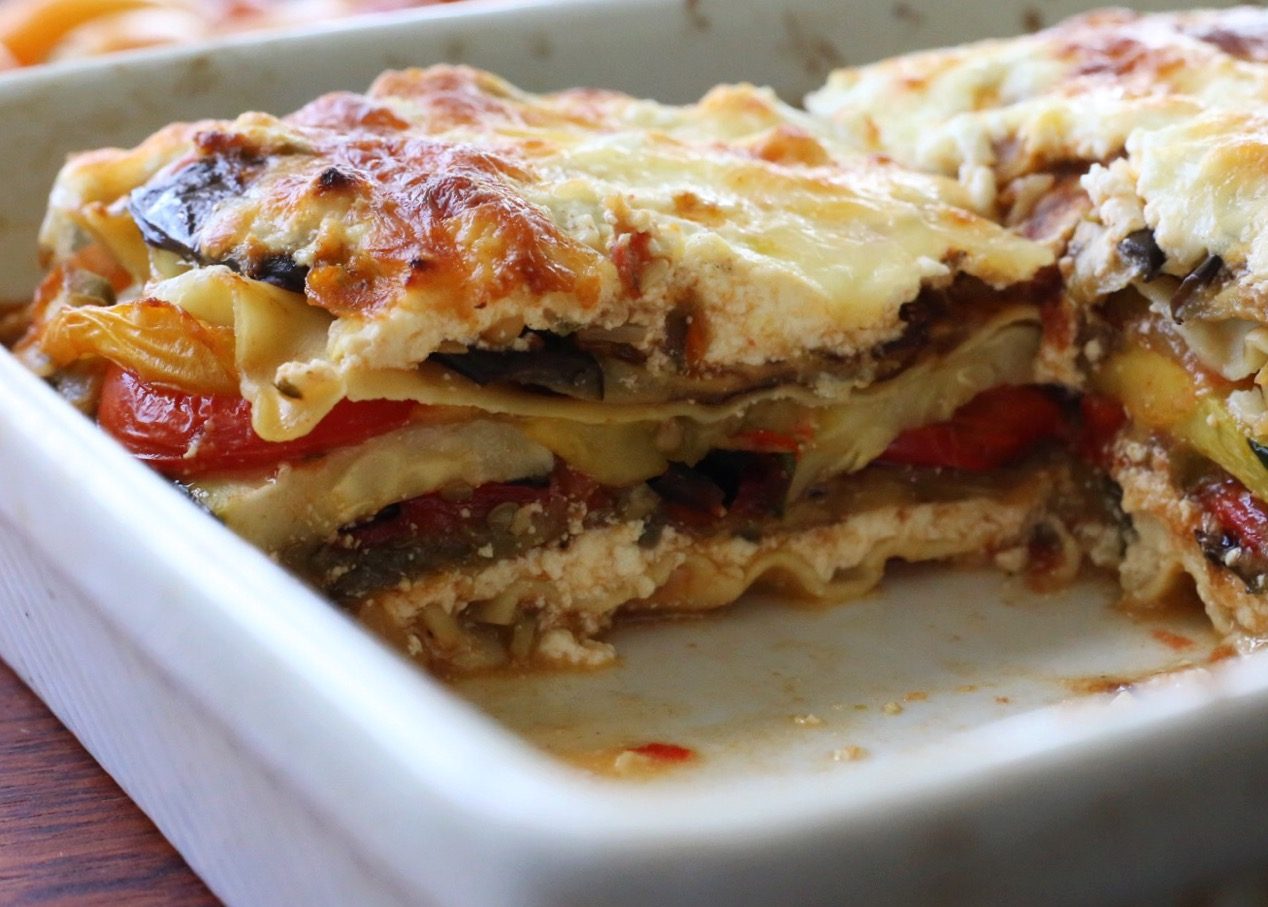 Serves 4-6
Ingredients
lasagne sheets, fresh or instant
200g mozzarella cheese, or parmesan
SPICY TOMATO SAUCE (Arrabiata)
3 tbsp olive oil
1 medium size onion, finely chopped
3 cloves garlic, chopped
1 fresh chilli, medium, finely diced
1 C pitted olives
2 tbsp capers, drained
4 C ripe tomatoes, diced (or equivalent)
handful fresh basil
salt & pepper
GRILLED VEGETABLES
use what you have here, such as:
2 zucchini
1 eggplant
1 red capsicum
small wedge pumpkin
handful mushrooms
greens eg. kale, spinach, silverbeet
LEMON RICOTTA
500g fresh ricotta
rind and juice of 1 lemon
small handful basil, sliced
salt and pepper
Method
When one of our customers wrote in telling us they'd found a recipe for the World's Best Vegetable Lasagna, we thought gee that's a big call. But after giving the recipe a bash with some tasty Autumn veggies, we do agree it's totally delicious and definitely worth sharing here. Mostly on account of the lemon ricotta (what a genius idea, sorry bechamel) and that great tomato sauce with olives and capers. A pretty fabulous lasagne, really. Here's our adapted version for the season.

Really Good Vegetable Lasagne
Make the sauce. This (along with cooking some veggies) can be made ahead of time, possibly even in a large quantity for several different meals). Heat olive oil in a large pot. Add onion, garlic, and chilli and sauté for 2-3 minutes. Add olives, capers & fresh tomatoes, and cook a couple minutes more before adding the rest of the ingredients. If you're out of fresh tomatoes, replace with a couple of tins or small bottles of crushed tomatoes. Cook for 10 minutes, lower the heat and let simmer for a half-hour or more with a lid on.
Grill or bake whichever veggies you have to use – zucchini, eggplant, capsicum, mushrooms, kale, pumpkin etc. Slice evenly and coat them with a little olive oil and salt, lightly roasting them under the grill or in a griddle pan or on a tray in the oven. As a guide, try 1-2 zucchini, 1 eggplant, 1 capsicum and a half bunch of silverbeet or spinach (this doesn't need roasting) for a medium sized lasagne.
Mix ricotta ingredients together in a bowl.
Preheat the oven to 175°C. Cover the bottom of a baking dish with a thin layer of tomato sauce, then add a layer of lasagna, a layer of lemon-ricotta, then grilled vegetables, fresh greens, then cover with a layer of that delicious tomato sauce. Repeat 2-3 times. Top the last layer with the rest of the vegetables, the tomato sauce, the lemon-ricotta and the grated mozzarella cheese. Bake in the oven for 40-50 minutes, until crispy golden on top.
Recipe adapted with thanks from Green Kitchen Stories.
Hints and Tips
If you would like a gluten free option, use gluten free instant lasagna sheets.
Note from the team: if you would like a lactose-free or low-lactose option, make your own ricotta. It's easy! Use a litre of lactose-free milk, bring almost to the boil (about 98 degrees Celsius), take off the heat and immediately add 50ml of white vinegar. Give a quick stir, then let the curds and whey separate for approx. 20 mins.
Once the ricotta + liquid has cooled and separated, use a mesh colander to drain the whey liquid. Then process with the recipe.
To keep the recipe low in lactose, use a hard & mature cheese like parmesan instead of mozzarella.