Tofu peanut satay
Grab some fresh peanuts and transform your veggie box basics in to a coconut satay sensation.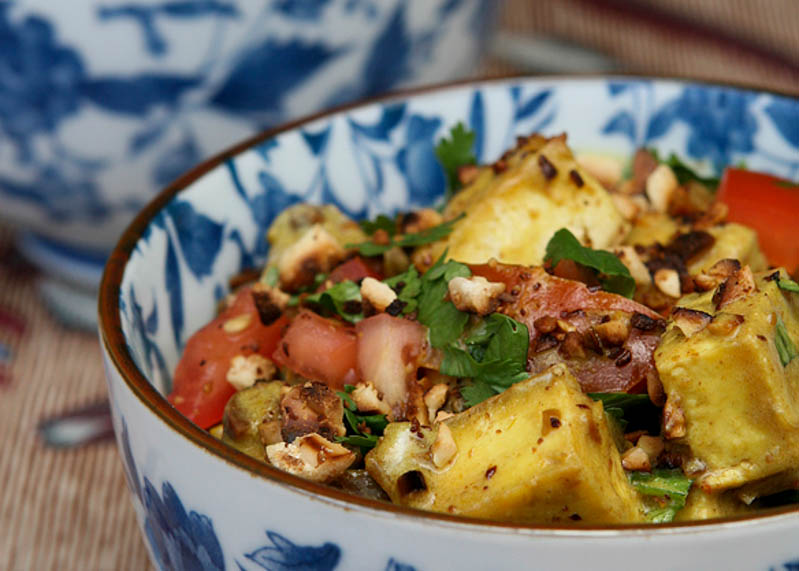 Serves 4
Ingredients
SAUCE:
1 ½ cups peanuts, skins removed
3 Tbsp oil
5 cm stalk lemon grass
1 small onion, finely diced
3 garlic cloves, minced
2 ½ cm galangal or ginger, minced
1 Tbsp ground coriander
½ tsp cumin seeds
1 tsp chilli powder
¾ Tbsp turmeric
½ Tbsp raw sugar
½ Tbsp sweet chilli sauce
2 cups coconut cream
VEGETABLES:
2 Tbsp oil
250g firm tofu, cubed
2 tsp salt
1 onion, diced
1 carrot, sliced
1 red capsicum, sliced
2 tomatoes, diced
½ cup chopped fresh coriander
TO SERVE:
cooked basmati rice
Method
This Malaysian style satay curry is a wonderfully flavoursome, vegan friendly dish you can easily create at home.  Great in warm weather or cool, our organic peanuts from Queensland are perfect in this!  And don't forget to make plenty – this curry tastes even better the next day so make enough for a few meals if you can.


Recipe contributed by Martha Goes Green


Peanut tofu satay


Preheat oven to 200°C.
Roast peanuts in a baking dish for 10-15 minutes or until dark golden. Place peanuts in a food processor, and blend for a few seconds. Try to keep peanuts fairly chunky.  A mortar and pestle will work too.
Remove outer leaves from lemon grass and thinly slice stalk. In a large wok, heat oil and cook onion and garlic until onion is clear. Add lemon grass, galangal, coriander, cumin and chilli powder, and cook over a medium heat for 5 minutes, stirring  occasionally.
In a small bowl mix together turmeric with 3 Tbsp of water to form a paste. Add turmeric paste, ground peanuts, raw sugar and sweet chilli sauce to the wok and cook for another 5-10 minutes, stirring frequently to prevent sticking. Add coconut cream, bring to a boil, reduce heat and simmer for 5-10 minutes.
In a small pan, heat 1 Tbsp of oil over a medium heat, add tofu, sprinkle with salt and fry for 3-5 minutes on each side or until golden.
In a large separate wok, heat remaining Tbsp of oil over a high heat. Add onion, carrot and capsicum and fry for a few minutes until vegetables begin to soften. Reduce heat, add curry sauce and simmer for 5 minutes until fragrant. Add tomatoes, coriander and tofu.

Serve on a bed of basmati rice.