Sardines On Toast
Salt, pep, lemon, that's the only rule here.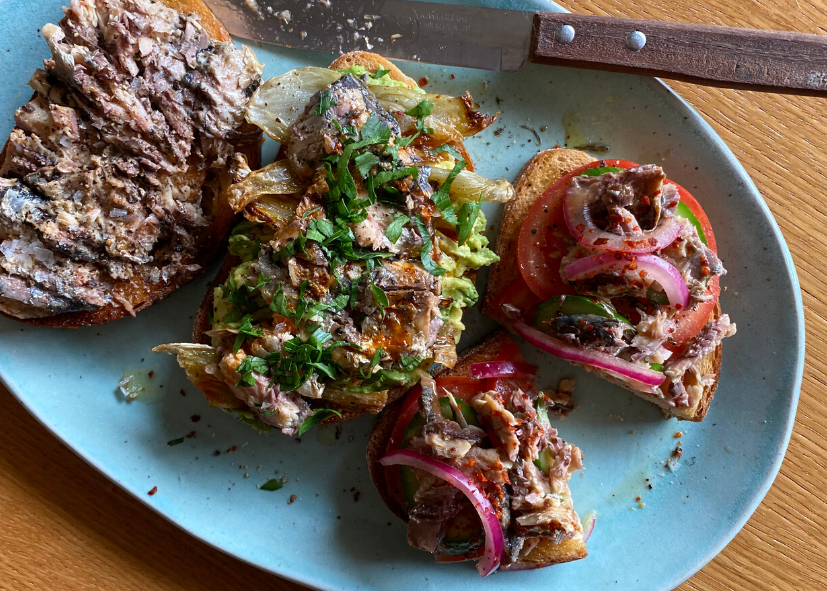 Ingredients
A loaf of dense bread, rye or wholemeal sourdough works a treat
Option one:
Olive oil
Garlic
Tomato, halved
Sustainably caught sardines
Salt and Pep
Lemon
Option two:
Olive oil
Garlic
Tomato, halved
Avocado
Fennel, roasted
Sustainably caught sardines
Aleppo chilli flakes, chilli oil or regular chilli flakes
Parsley
Salt and pep
Lemon
Option three:
Olive oil
Garlic
Tomato, halved
Tomato, sliced
Lebanese cucumber, sliced
Sustainably caught sardines
Pickled red onion or any pickle you have lying around!
Salt and pep
Lemon
Method
If you've got a can of sardines in your pantry, then you've got yourself a super satisfying meal. Toasting is the only amount of cooking you have to do for this recipe*, making it perfect for those hot days when turning on the stove sounds ludicrous.
At Fair Food, we stock Fish4Ever (yes, we love the name) sardines. They are sustainably caught in England and processed in Spain, where they're packed with organic extra virgin olive oil and lemon for that classic bright, salty taste. Knowing the fish we consume is caught with the planet in mind feels good and tastes even better.
*roast the fennel on a cool day and keep it in the fridge for a sweaty one.

Sardines on toast
Toast the bread, then drizzle with olive oil. Cut a garlic clove in half and using the flat side, rub all over the toast. Do the same with a halved tomato, rubbing in all the juicy flavour. From there it's really just a game of assemblage with each flavour option.
Please be creative, grab new ingredients and play around. We like to imagine each piece of toast as a vehicle for salty, fatty, crunchy, acidic flavours to have a party on.
If you'd like to see a video of how we assemble our sardines on toast click here.
If you find a new exciting flavour combo let us know in the comments!!!