Sago Gula Melaka (Sago Pudding)
Sago Gula Melaka is a traditional Malaysian dessert which combines translucent sago balls with rich coconut cream and sweet palm sugar syrup. Topped with mango or banana it makes a for a decadent hot weather dessert.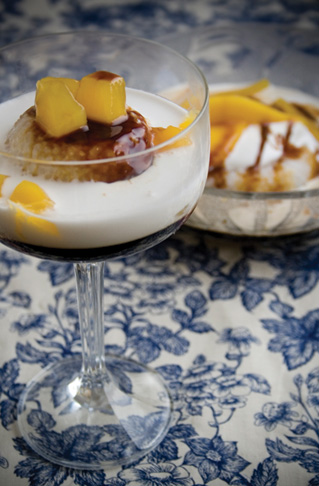 Ingredients
puddings
6 cups water
2 whole star anise
1 cup pearl sago, rinsed, drained
1/2 cup coconut cream
palm sugar syrup
200g granulated palm sugar
2⁄3 cup water
to serve
1 1/2 cups coconut cream, chilled
mango or banana
Method
In a large pot, bring water and star anise to a boil. Gradually stir in sago, ensuring it doesn't clump. Return to a boil, reduce heat and cook for 10-15 minutes or until sago is mostly translucent, stirring frequently.
Drain, remove star anise and rinse sago with cold water to separate grains. Use a wooden spoon to stir and remove excess water. Transfer to a bowl and stir through 1/2 cup of coconut cream. Pour into 4 lightly greased jelly moulds and refrigerate overnight. In a small pot, stir together palm sugar and water. Bring to a boil, and simmer for 6-8 minutes or until sugar has dissolved and has begun to thicken. Strain through a fine sieve to remove grit, allow to cool and refrigerate overnight.
Once ready remove pudding from moulds and serve with chilled coconut cream, palm sugar syrup and top with mango or banana. Enjoy your sago pudding!
Hints and Tips
*This recipe requires overnight preparation.