Serves 4
Ingredients
1kg tomatoes, if cherry keep whole, if large quarter
1 large red capsicum
2 onions – yellow or red, roughly chopped
1 small garlic head, halved crosswise
8 sprigs thyme
1 red chilli, optional
Salt and pepper
1 cup full-fat coconut milk, soy cream, or heavy cream
2 cups vegetable stock, plus more as needed
Bunch of basil or parsley or both
Chilli oil, to garnish, optional
Summary
Dump a bunch of Autumn's best offerings in a roasting tray, forget about it for 30 minutes, come back, blend it all up, and voila, dinner is ready! The whole head of garlic, roasted until buttery tender adds such a nice touch; sweet and creamy, not overpowering, just right. I suppose we'll mark this the beginning of soup season 🙌
Roasted Tomato Soup
Preheat oven to 220 ˚C
Drizzle some oil into a couple of large, deep baking dishes. Add in the tomatoes, capsicum, onion, garlic (cut side down) and thyme. Drizzle more olive oil on top, plus a big sprinkle of salt and pepper. Bake for 25 to 35 minutes, until the tomatoes are slightly charred.
Let cool for 5 minutes. Remove and discard the thyme. Squeeze garlic cloves out of their skins and discard skins. Transfer the rest of the ingredients to a deep pot along with the coconut milk, vegetable stock and half the basil/parsley. Using a stick blender, blend to desired consistency.
Taste and adjust seasoning if needed.
Serve with more chopped herbs, a drizzle of chilli oil and some buttered toast or a cheese toastie!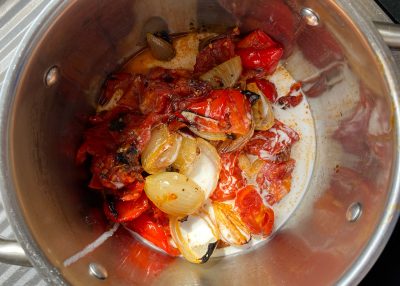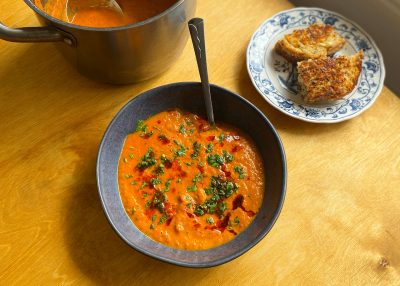 Recipe adapted from Carolina Gelen