Rhubarb Upside-Down Spice Cake
The warming spices combined with the jammy, tart rhubarb make it the perfect winter tea cake.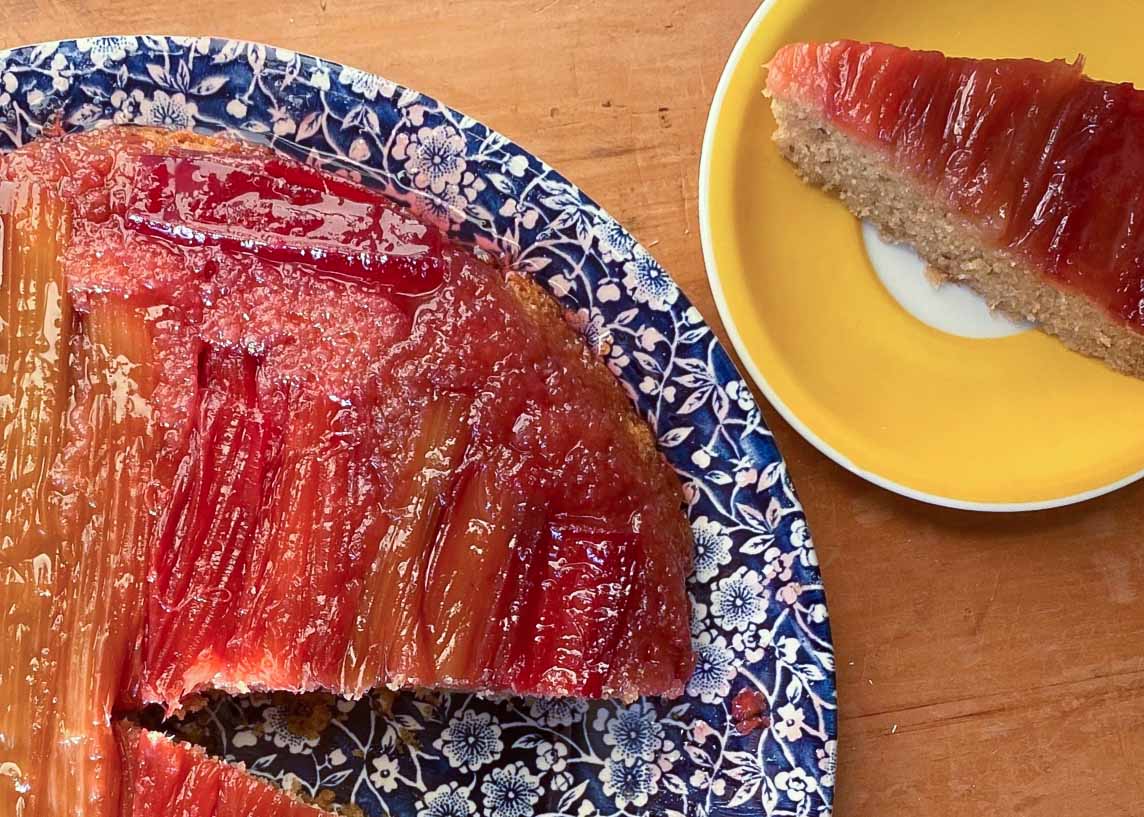 Ingredients
Topping:
About 450g  rhubarb, trimmed
140g caster sugar
Finely grated zest from medium lemon
55g unsalted butter
2 pinches of salt

Cake :
85g unsalted butter, softened
125g light or dark brown sugar
25g granulated sugar
2 large eggs
1/2 teaspoon vanilla extract
2 teaspoons baking powder
1/4 teaspoon fine sea salt
1 teaspoon ground cinnamon
1/2 teaspoon ground ginger
1/8 teaspoon ground cardamom
A few gratings of fresh nutmeg
1/2 cup oat milk mixed with one teaspoon of lemon juice (this is a buttermilk substitute but you can use the traditional stuff if you prefer)
1 cup plain flour
½ cup almond meal  (you can sub this for plain flour if you prefer)
Method
This upside-down spiced rhubarb cake looks super impressive but is very easy to make – no fussing with frosting! The warming spices combined with the jammy, tart rhubarb make it the perfect winter tea cake. If you don't have an ovenproof frypan you can bake this cake in a 25cm cake tin – just make the topping first and transfer it carefully to the bottom of the lined tin. 

Rhubarb Upside-Down Spice Cake

Preheat the oven to 175°C.
For the topping: In a 25cm ovenproof frypan, trim your rhubarb to lengths that will fit across the bottom in one direction, i.e. some short and some taller (you may find you have enough for a double layer). Remove rhubarb and cut each stalk lengthwise into thin (about 1/2 cm thick) ribbons. If your rhubarb is already quite thin, you might just want to halve each piece lengthwise.
Sprinkle sugar into the frypan and add lemon zest; use your fingers to mix the zest into the sugar; the grit of the sugar will help release the most flavour from it. Add butter and salt and heat frypan over medium until the butter has melted, stirring frequently. Add rhubarb and cook, turning gently to keep the lengths intact, for 3 to 4 minutes, until it has softened slightly and released some of its liquid. Remove from heat and set the frypan aside.
For the cake: In a large bowl, beat butter and sugars until light and fluffy. Add eggs, one at a time, beating until combined, then vanilla. Sprinkle mixture with baking powder, salt, and all the spices and beat well to thoroughly mix them in. Add oat milk and lemon mixture, beat to combine; the mixture will have a curdled texture but don't worry, it's all going to even out. Scrape down the bowl and add flour and almond meal; beat only until it disappears.
Check your rhubarb base to make sure all the pieces are in the order you'd like them to be; nudge around any that are not, then dollop cake batter over rhubarb mixture in spoonfuls and smooth top as best as you can – don't fuss with it too much as it will even out by itself in the oven.

Bake cake for about 35 minutes, until a toothpick inserted deep into the cake (but not the topping underneath) comes out batter-free. Transfer cake (still in the frypan or cake tin) to a cooling rack and let cool for 5 minutes, then run a knife around the edges to loosen. Place a larger plate upside down over the skillet and use two hands to flip the cake out onto it (you may need to engage a second person or pet for moral support but believe us, it can be done alone). If any rhubarb is stuck in the pan or slides down the side, just return it to the top of the cake.
Serve warm or at room temperature. Cake keeps for a couple of days at room temperature and up to a week in the fridge.
This recipe has been adapted from the brilliant Smitten Kitchen's Rhubarb Upside-Down Spice Cake