Rhubarb and Pear Tart
Temptingly effortless, adaptable and leaning heavily on the fruit side of dessert.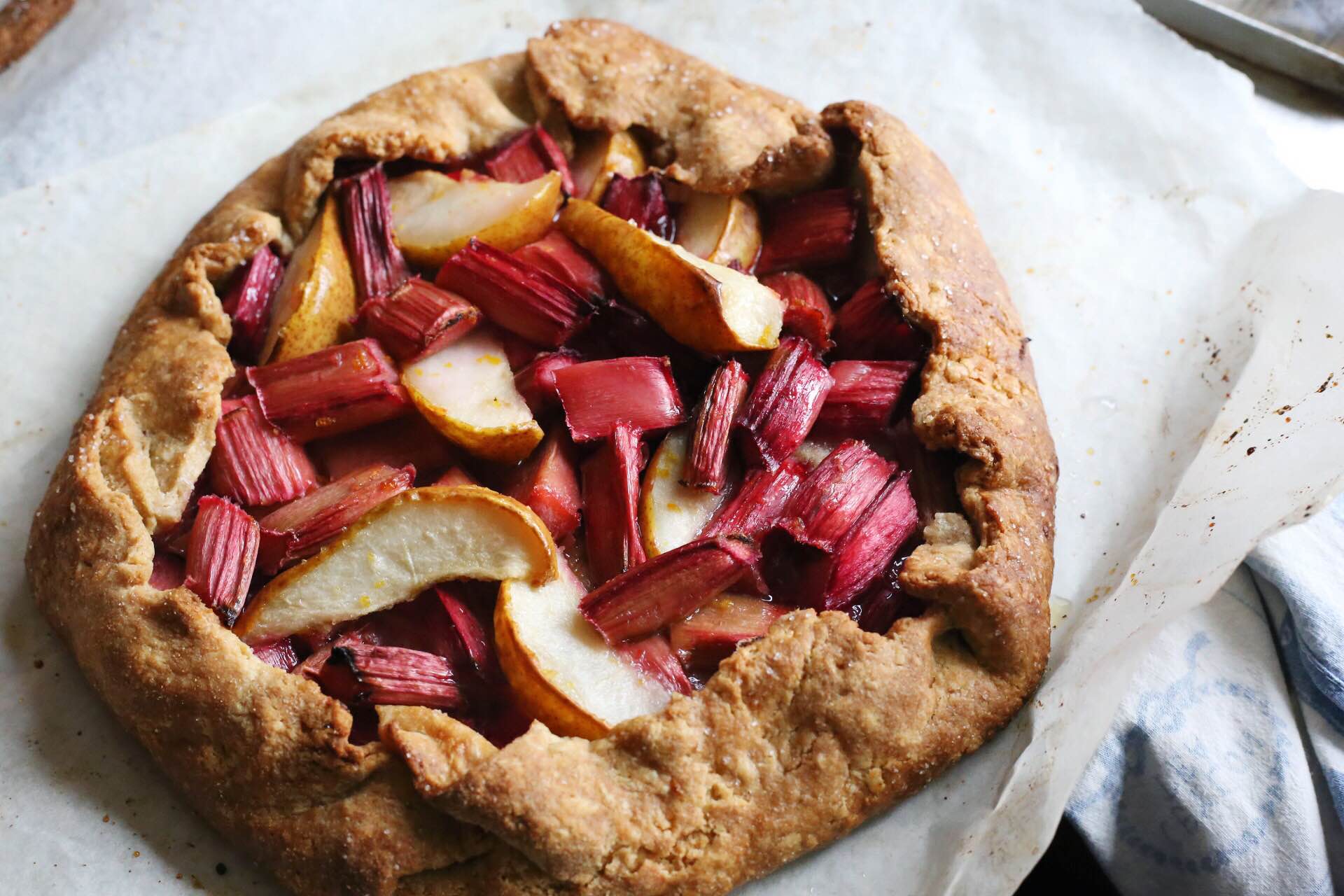 Ingredients
1 batch of sweet shortcrust pastry
3-5 stems rhubarb, cut into inches
1-2 pears, sliced as you wish
2 Tbsp sugar or maple syrup
rind of an orange (optional)
1 Tbsp caster sugar for the top (optional)
Method
It may come as no surprise that I am not at all a natural baker. I don't really bake real cakes, there are others in my life who have that passion and so I stick to the savoury things I love. Yet my sweets repertoire is slowly growing and I blame my exposure to things like this that are temptingly effortless, adaptable and leaning heavily on the 'fruit' side of dessert.  And if there's one thing I learnt from my apple pie baking Nan (no, it's not the only thing), it's how to rub butter into flour with my fingertips. So if you're a bit like me perhaps this will hit the sweet spot – make a flaky pastry, pile some winter fruit in the middle and impress yourself!
There are plenty of online recipes for making pastry, and given my admission above I'll trust you to find one that suits you, maybe try this basic version I used, or this one with egg. But let my dear Nan's wisdom remain – keep the flour light in the bowl (aerate by pulsing in a food processor or letting the mix fall from a height when you rub between your fingers), keep the butter (and hands) cold, and don't play with it or knead it mindlessly to bring it together – just press to form a ball, wrap and pop it in the fridge for an hour or a day.
Rhubarb and Pear Tart
Preheat oven to 200ºC.
Wash and slice the fruit into roughly bite sized pieces. Combine in a bowl until the pastry is rolled out.
Line a baking tray with baking paper. Throw some flour on the bench and roll out the pastry into a reasonably thin circle. When you're happy with it, use the rolling pin to lift it on to the baking tray. The sides may flop over the edge, but they'll be folded over the fruit so it's all okay.
Sprinkle the sugar and orange rind on the fruit and mix through, including any other additions you may fancy, like ground ginger or nutmeg. Pile in the middle of the pastry, and without working the dough too much fold the edges over to nestle gently around the fruit. You may need to slice or cut some pastry away so it's not too bulky and overlapped. You might like to sprinkle an extra tablespoon of sugar over the whole lot, just for good measure. If you do have pastry scraps, they can be rolled out again to make a couple of little ones or bake the scraps as they are with a dollop of jam on top.
Bake for 15-20 minutes at 200ºC, then turn it down to 180ºC for another 30 minutes or until it is nicely golden and the juices are sizzling deliciously.
* Brush the still-warm cooked pastry with apricot jam, for extra gloss and impressiveness.
** Make use of any bake-able fruit, this doesn't need to be a rhubarb at all. A pile of spiced apple, stone fruit or summer berries…