Red Quinoa and Fennel Salad with Lemon and Mint Dressing
This high protein and tasty salad is a celebration of the array of fresh vegetables available this summer: crunchy fennel and capsicum, hydrating cucumber and lemon, juicy corn and freshly picked mint from the herb garden.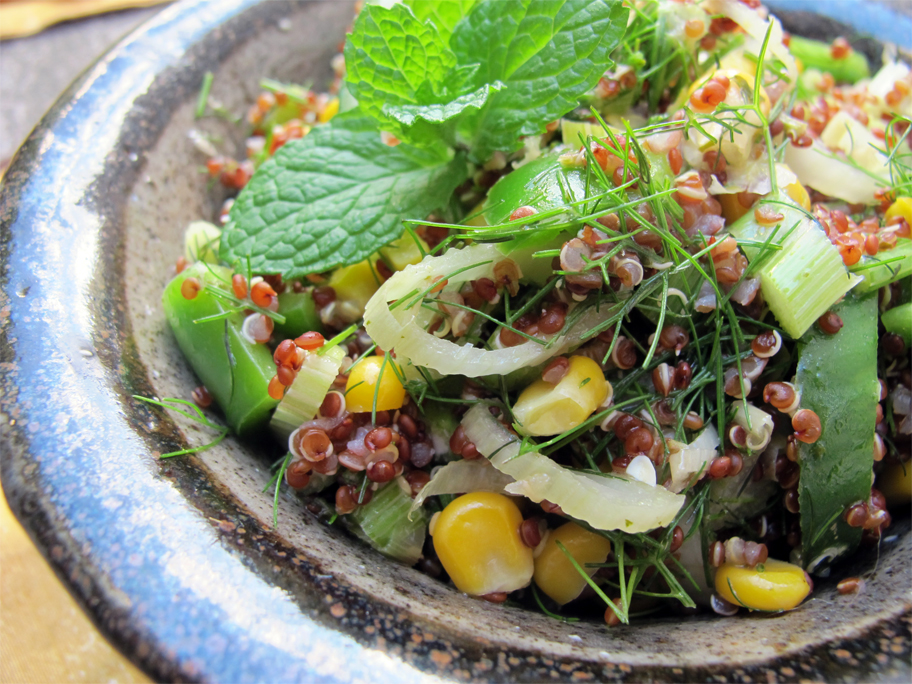 Ingredients
1/3 cup olive oil
juice of one small lemon
juice of one lime
2 tablespoons of chopped fresh mint
salt and pepper, to taste
1 cob of corn
1 cup red quinoa
2 ½ cups water
1 fennel bulb with stalks and fronds, thinly sliced
1 medium cucumber, sliced diagonally
1 green capsicum, chopped
extra chopped mint (optional)
avocado (optional)
Method
To make the dressing, put olive oil, lemon juice, lime juice, mint, salt and pepper into a screw top jar and shake to combine and thicken. If you have time, this is best made a few hours beforehand to allow flavours to develop.
Shuck the corn (remove husks and snap off base).  Use a sharp knife to cut off kernels. Set aside.
Rinse quinoa and place in a medium sized pot with water and a pinch of salt. Bring to a boil, reduce heat, cover and simmer for 15 -20 minutes or until water has been completely absorbed and the germ ring has separated from seed.
During the last five minutes of cooking quinoa (just before the ring separates), add corn kernels to a steamer and steam above quinoa for five minutes. Alternatively, skip this step if you prefer raw corn.
Allow quinoa and corn to cool.
In a large bowl, combine remaining ingredients, pour over salad dressing and mix through. Top with extra chopped mint or avocado.
Hints and Tips
Cooked red quinoa holds its shape much better than white quinoa, therefore is ideal for salads. It also has a slightly stronger, nuttier taste and can be bought from most health food stores. However, white quinoa, brown rice, couscous or even pasta can be used if more readily available.