Plum and Pistachio Galette
Semi-translucent, deeply red and sweet; plums are the jewels of February and here we create a sort of crown for them to sparkle in.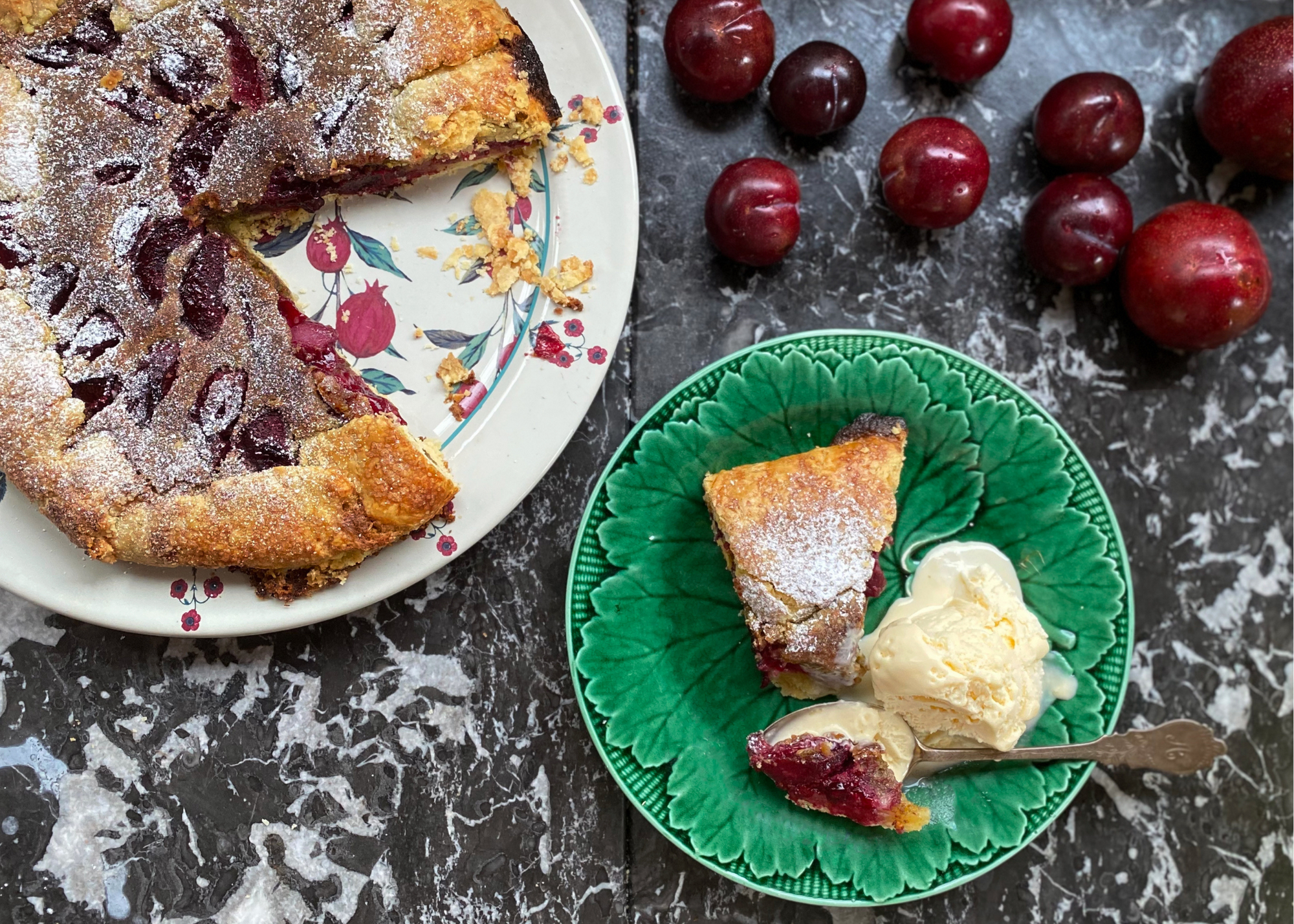 Ingredients
Pastry:
2 cups plain flour
Pinch of salt
170g cold unsalted butter, cubed
1 tablespoon apple cider vinegar
1/3 cup ice water
Frangipane:
100g unsalted butter, room temperature
1/2 cup caster sugar
2 large eggs
1/3 teaspoon ground cardamom
3/4 cup toasted pistachios or almonds, blitzed into a fine crumb
Plums:
About 8 large red plums, pits removed and sliced – we only had smaller plums, so we used 14.
2 tablespoons raw sugar
Juice of 1 lemon
1 teaspoon vanilla paste
Tiny pinch of salt
1 egg whisked for egg wash
2-3 extra tablespoons of raw sugar for encrusting the pastry
2 tablespoons of icing sugar, for dusting
Good double cream or vanilla ice cream, to serve
Method
Semi-translucent, deeply red and simultaneously tart and sweet; plums are the jewels of February and here we create a sort of crown for them to sparkle in. Don't be frightened away by the pastry; galettes are relaxed tarts that celebrate rough edges and filling blowouts. Thanks to Clementine Day, for sharing this recipe. Clementine is a local cook and writer – we recommend signing up for her newsletter, it's full of delicious things.

Plum and Pistachio Galette
Serves 6-8
Pastry: in a large bowl combine salt and flour. Add butter and toss to coat. Using your fingertips in quick pinching motions, squish each cube of butter flat and then continue pinching until you've got a nice yellow mealy crumb.
Add cider vinegar and half the ice water and toss around with a fork until it just comes together, you can add more water until you get the right consistency. You don't want it too wet, it should *just* come together if you squeeze it between your hands, loosely holding shape.
Tip out onto a clean bench and pat together until it forms a flat round disc. A knead or two here is okay to help bring it together.
Cover with plastic wrap and refrigerate for 2 hours.
When the 2 hours is up, remove pastry from the fridge and preheat oven to 200 C
Fillings: For the plums, slice plums and toss with raw sugar and some lemon juice, vanilla and a little pinch of salt. For the frangipane,  cream butter and sugar in a medium-sized bowl using a wooden spoon. Add eggs one at a time and mix well to combine. Add blitzed pistachios and ground cardamom, combine again. Set aside.
Assemble the galette: Directly onto a piece of baking paper, roll out the pastry to about 35cm diameter. We like to put a piece of baking on top of the pastry as well as below – it ensures the rolling pin doesn't stick. The beauty of this galette is that it's not meant to be perfect, splits around the edge of the pastry are okay and will actually help when it comes time to enclose the fillings.
once you've got the desired shape/width, carefully transfer pastry to a baking tray and remove the top layer of baking paper.
Spread pistachio frangipane over the pastry leaving 5cm border all the way around.
Top with your sliced plums, leaving any juice sitting at the bottom of the bowl of plums behind.
Fold in the edges of the pastry to encase the filling, brush the outside of the pastry generously with a whisked egg and sprinkle over raw sugar. Use your fingertips to help gently press the sugar onto the pastry if you're having trouble getting it to stick.
Bake in the oven for 40-45 minutes, turning halfway if your oven isn't particularly good at cooking evenly, like ours.
Give it a few minutes upon removing it from the oven before slicing into it, and dust generously with icing sugar. Serve with a good dollop of double cream or vanilla ice cream and enjoy with the people you love.