Mini Asparagus and Mint Frittatas
Perfect for a quick snack or served with a salad for a light meal.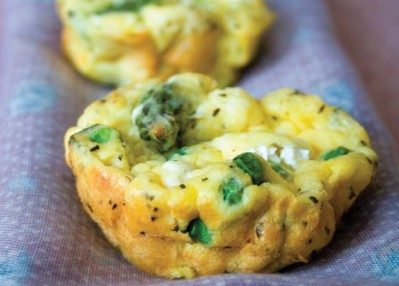 Serves 6
Ingredients
1 bunch asparagus
1/2 Tbsp oil
8 eggs
1 cup green peas
¼ cup self raising flour, sifted
2 Tbsp roughly chopped fresh mint
1/2 cup grated tasty cheese
200g feta cheese, cubed
1 tsp salt
black pepper, to taste
cooking spray, to grease
Method
Preheat oven to 180°C.
Snap woody ends off asparagus, discard ends and cut stalks into quarters.
In a small pan, heat oil over a medium heat and cook asparagus pieces for 5 minutes or until bright green and tender.
In a large bowl whisk together eggs, add cooked asparagus and remaining ingredients and stir through.
Grease a 12-hole muffin pan with cooking spray, spoon mixture evenly into each hole and bake for 15-20 minutes at 180'C, or until cooked through. Enjoy your mini asparagus and mint frittatas!