Lentils with roast veggies
A pot of lentils, some roasted winter veg and creamy goat's cheese.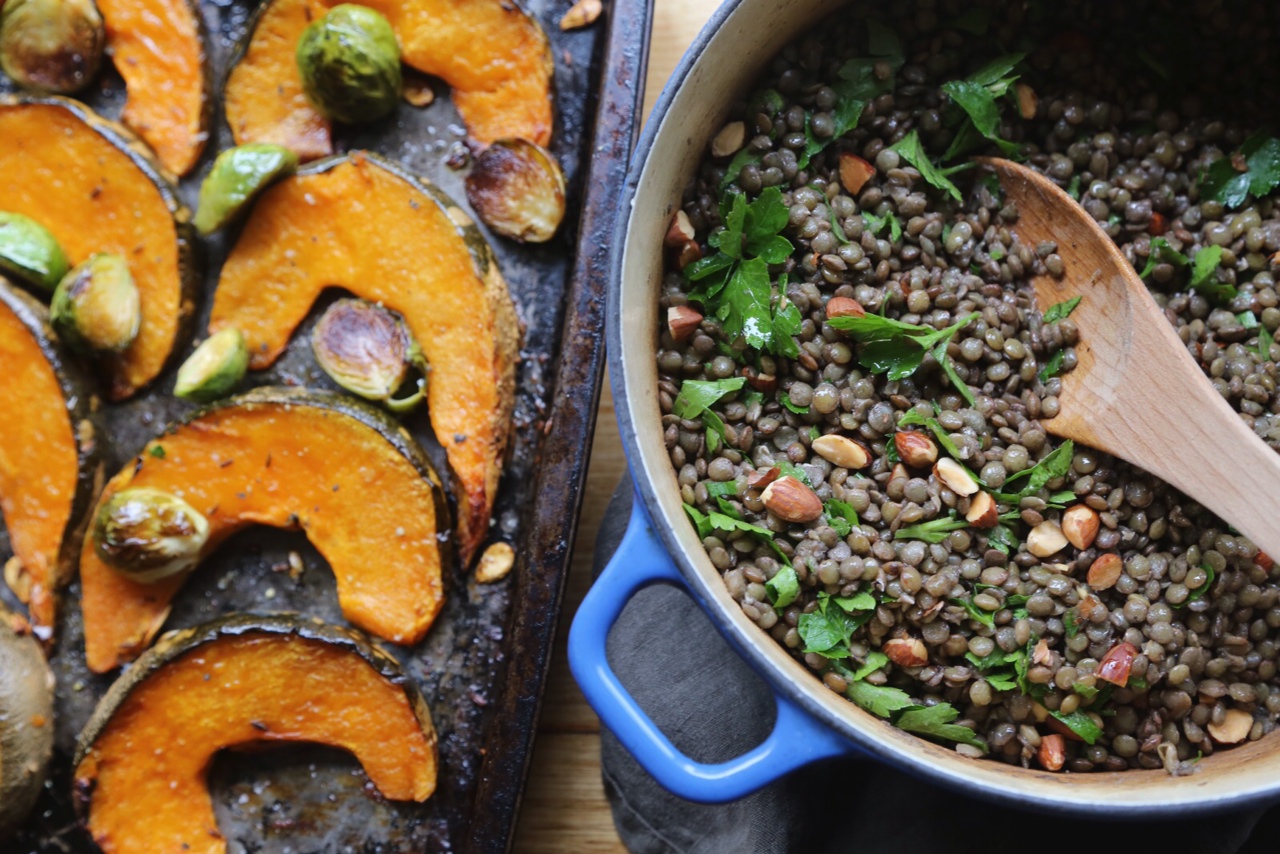 Serves 3-4
Ingredients
2 C puy (or persian red) lentils
1 clove garlic
1 bay leaf
handful parsley, chopped
roasted almonds, roughly chopped
pumpkin, skin washed and cut into wedges
brussel sprouts, halved
olive oil
1/2 tbsp cumin seeds
1 tsp cayenne powder
salt and freshly ground black pepper
marinated goat's fetta to serve
Method
Nothing fancy going on here, but something like this (usually topped with a significant dousing of Meredith goats cheese) often appears on our table during the week. You can use Mount Zero persian red lentils here, they're very similar to the French style puy lentils, cook in about 20 minutes and hold their shape for salads and simple meals like this.
Frequent variations:
Preserved lemons (rinsed and sliced) with herbs, nuts and fried haloumi on top.
An extra generous pile of mint and green herbs, or dressed salad leaves on the side.
Spinach stirred in to wilt while the lentils are warm, and some seasoned yoghurt drizzled on top.
Give the lentils a quick rinse and cover generously with water. Around 2-3 times their own volume is ample. Add a pinch of salt, a clove of garlic (smashed and skin removed), and a bay leaf. Bring to the boil and simmer for about 20 mins, until the lentils are just soft and still holding their shape. Drain and coat with a little drizzle of olive oil.
Meanwhile, roast up some veggies. For these pumpkin wedges and brussel sprouts, I coated them all with olive oil and added salt flakes, cumin seeds and a little cayenne powder. Of course use your own spice combination as the mood takes you. The sprouts don't need as much baking time, so I roasted the pumpkin for about 20 minutes, then took them out and turned them over, adding the brussel sprouts to the tray and coating them with oil in the pan. Back in for another 15 – 20 minutes, until desired caramelisation is achieved.
Stir parsley and chopped almonds into the lentils, season and serve with the veggies and, OK, a few decadent chunks of marinated goat's feta.