Double pea, mint and radish salad
More peas, more happiness.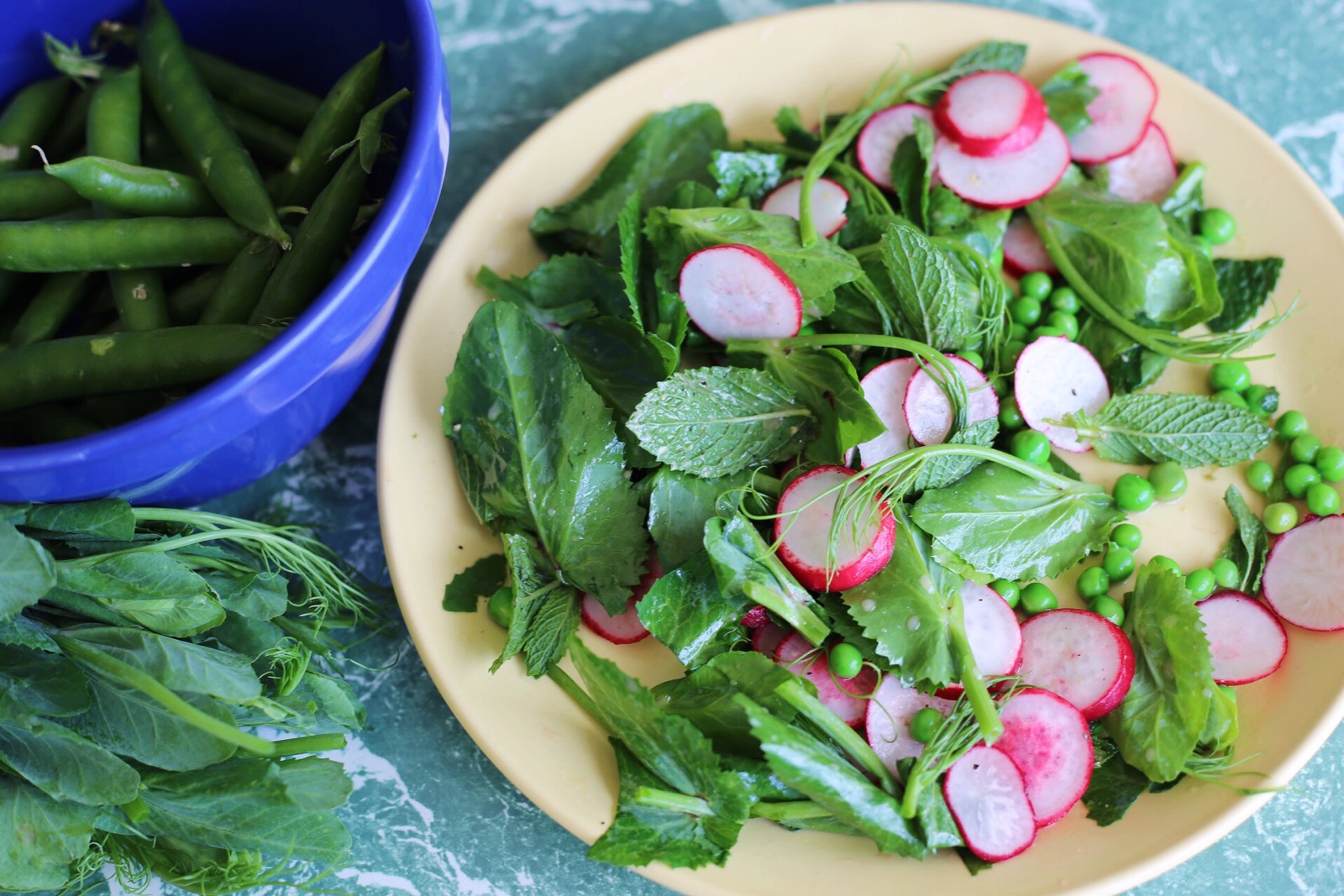 Serves 2-4
Ingredients
1 C fresh peas
1 bunch pea sprouts
handful of radishes, about 6
several sprigs of mint
*optional – snow peas or lettuce leaves
2 Tbsp extra virgin olive oil
1/2-1 Tbsp vinegar (apple cider or red / white wine)
1/4 tsp dijon mustard
pinch of salt and freshly ground pepper
Method
True, we're still in that hungry gap before the warm season crops go crazy. But when you have ample spring greens, fresh radishes and plenty of herbs you don't need to be a superstar physicist to see that these happy friends can make you up a salad, quick smart. Apart from blanching the peas and slicing some radishes, this recipe is really just wedding them together with a mustard vinaigrette. Hardly a recipe at all, but here it is. Swap in snow peas and buttery lettuce, throw in chunky potato quarters or a soft boiled egg and that's a spring lunch done. 
Double pea, mint and radish salad
This kind of salad will make itself, even on a picnic blanket with a jar of dressing and a sharp pocket knife for the radishes:
Pod and blanch the peas briefly in a shallow pot of water, just for a minute. When they're done drain and rinse them with cold water so they don't keep cooking. Wash and thinly slice the radishes.
Combine the dressing in a lidded jar and shake well until the mustard is integrated. Taste test and adjust the quantities to suit you – I like mine vinegary so have estimated a range for you! Usually its roughly 1 part vinegar to 3 parts oil.
In a bowl, tear up the pea sprouts into bite-sized pieces, add the mint leaves and the radish, and the juicy peas. And any other lettucy greens you are using. Dress with the vinaigrette just before eating.
– – –
It's easy to beef this up into something more substantial – go with those leftover potatoes (resistant starches for the win), a couple of soft boiled eggs, or perhaps avocado or goats cheese. You could add this to a pre-cooked batch of grains like barley or spelt. All of the above, or none – it's very flexible like that.
(If you are picnicking, take the dressing separately to combine it just before you dine).