Creamy Pasta with Braised Leek and Fennel
Comforting creamy pasta with slow cooked leeks and fennel. Green snow peas add a little winter crunch.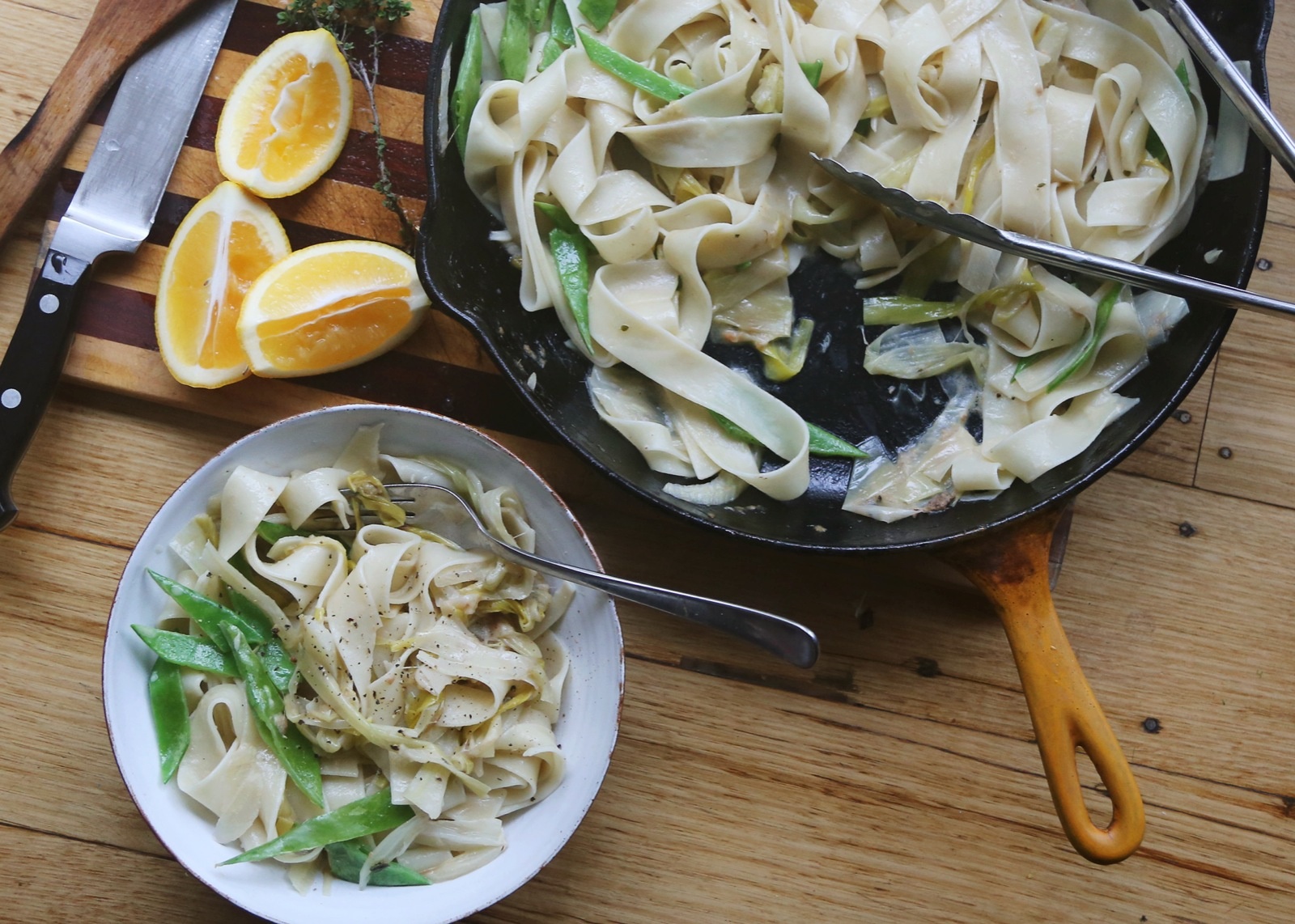 Serves 4
Ingredients
1 large leek, or 2 small
1 fennel
knob or two of butter
3/4 C water or stock
1 clove garlic, thinly sliced
1 sprig thyme or tarragon
couple of marinated anchovy fillets (optional)
2 tbsp cream (optional)
juice of half a lemon
handful snow peas, sliced
thick pasta, parpadelle or fettucini
salt and freshly ground black pepper
Method
Carbs, cream, butter. Look away now if you must. This is for winter, to warm and comfort like only creamy pasta can. A dairy free version would be to braise the veggies with olive oil and hold the cream. Or stir through a dollop of luscious cashew cheese for a cream alternative.
Trim and wash the leeks well. Slice them in half crossways, then slice them lengthways into long ribbons, like the pasta. Remove any bruised outer layers from the fennel, then wash and slice this also. In a heavy pan or saucepan, gently cook them in the butter, stirring only occasionally. They'll gently soften on low-med heat over about 30 minutes. Midway through this, add the water or stock, to keep them loose and simmering. Add the finely sliced garlic, a couple of anchovy fillets if you like, some chopped thyme or tarragon leaves and a tablespoon or two of cream. Mix together, breaking up the anchovies with a wooden spoon, and let all the garlic and flavours meld into the buttery cream sauce.
Finish it off with some sliced snow peas, which can warm through the sauce for a few minutes, it's nice if they are softened but still have some crunch. Add a squeeze of lemon, with all the rich sauce it'll need something bright, and give it a taste test for seasoning.
Cook the pasta in a generous pot of salted boiling water. Drain and combine with the creamy vegetables. Add some strong cheese to serve, some parmesan or pecorino.