Cherry Brownies
Cherries are back. Gosh it's good to see them again, little juicy miracles.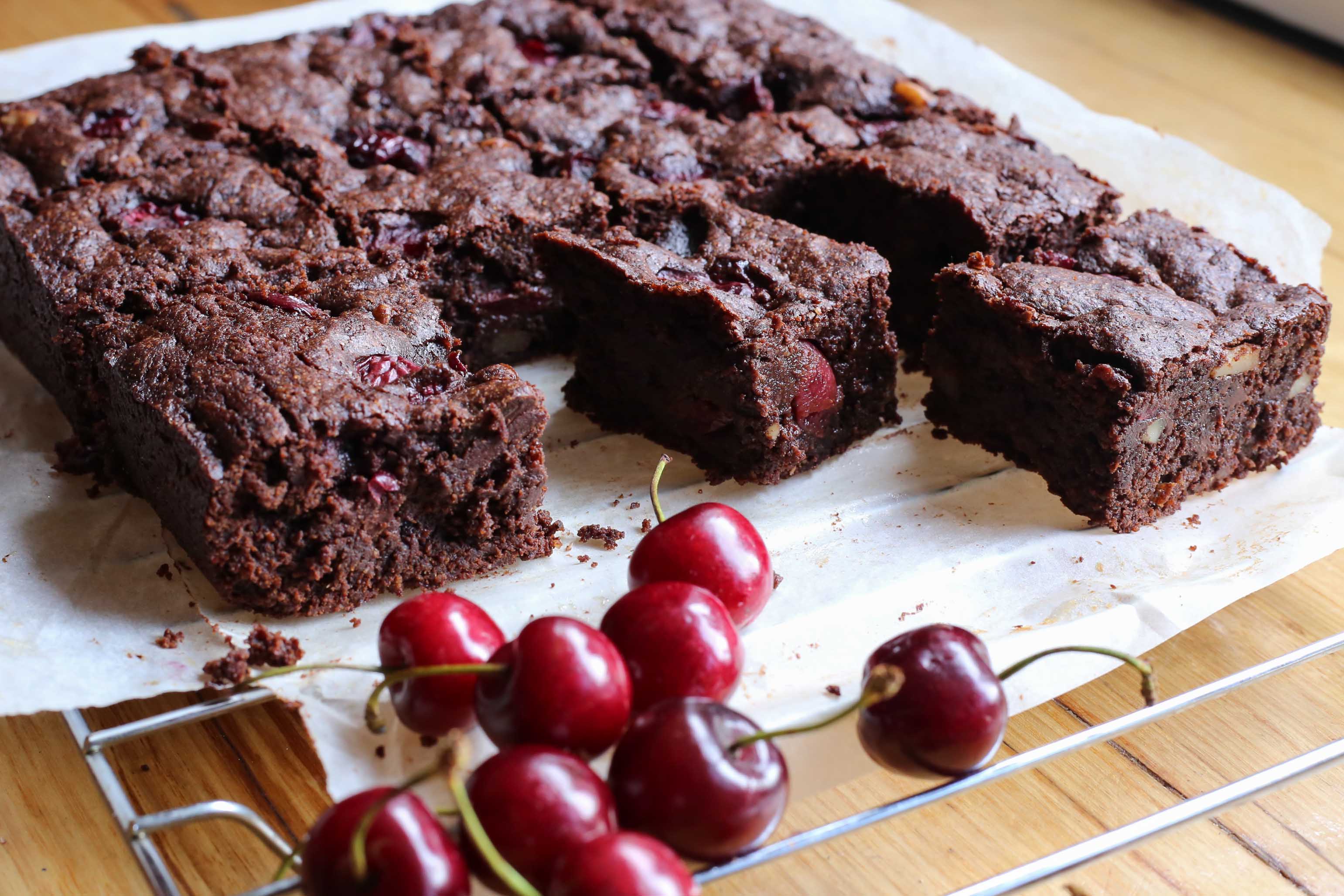 Ingredients
130g butter
150g 70%-cocoa chocolate
1 C fresh cherries, stoned and roughly chopped
1/2 C roasted nuts, roughly chopped
1 tsp vanilla essence
225g caster sugar
55g cocoa powder
75g plain flour
1 tsp baking powder
pinch salt
3 eggs, beaten
50g dark chocolate, roughly chopped (optional)
Method
Cherries are back. And isn't it good to see them again, little juicy miracles. Who needs a recipe for cherries, I thought. Don't we all just eat them by the handful until, oh look, they've gone. But you can't share a recipe for a bowl of cherries, so I went looking for something more decadent to make with them (quickly, before they were gone gone gone). And so thinking decadent, it was clearly time for a chocolate and cherry combination. This batch of cherry brownies is just as you would expect. Ridiculously rich. Fudgey. Very decadent. And a long way from these raw brownies (though also delicious) in terms of dietary disclaimers – this recipe has all the things you might be avoiding. I'll just leave it here …
(Recipe originally from a certain British chef's website. I've upped the cherries, and added vanilla and salt).
Preheat the oven to 180ºC and line a 20cm square baking tin (or the equivalent) with baking paper.
Melt the butter and 70%-cocoa chocolate in a bowl set tightly over a saucepan of simmering water. Don't let the water touch the saucepan or get in the mixture. Once melted, take off the heat and stir in the cherries, nuts and vanilla. In another bowl, combine the sugar, sifted cocoa powder, flour, salt and baking powder. Add to the chocolate mixture, along with the beaten eggs and stir until well combined. Mix in the chocolate pieces if you are using them (you come this far).
Transfer the mixture to the tin, then bake for 15 – 20 minutes until firm but still a little goey. Allow to completely cool in the tray before cutting into squares. Dust with icing sugar or cocoa if you like.