Big Breakfast: Homemade Hash Browns & Lime Butter Mushrooms
A Big Breakfast with Hash Browns & Lime Butter Shrooms will get you through wayward potatoes.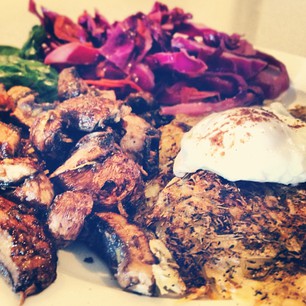 Serves 4
Ingredients
4 Eggs
5-6 Swiss Brown Mushrooms, sliced
2-3 Potatoes, grated
100g Spinach Leaves
¼ Red Cabbage, thinly shredded
2 Cloves Purple Garlic, chopped
Zest of ½ Lime, Lemon or Orange
1 Tbsp Butter
¼+ Cup Olive Oil
1 tsp Paprika and Oregano/Thyme
Salt & Pepper to taste
Salad dressing:
3 Tbsp oil to 1 Tbsp Red Wine Vinegar
½ tsp Dijon Mustard
1 roughly chopped clove of garlic
Salt & Pepper to taste
Method
To use up some wayward potatoes, think about cooking up a delicious big Sunday breakfast with Homemade Hash Browns & Lime Butter Mushrooms
Dressing: Make the salad dressing first by shaking the ingredients together. I like my dressing punchy, so I simply increase the vinegar/mustard content. You may also like to make a big batch so you're not fussed during the week if you want salad.
Cabbage Salad: Wash & finely shred the red cabbage, dress and put aside for serving.
Paprika & Oregano Hash Browns: First put a medium-sized pot of water to boil for the eggs. On another burner, cover the base of a frying pan with olive oil & put on medium heat. Wash & peel potatoes, then in four small piles grate them directly into the pan.
Sprinkle paprika, oregano or thyme, salt and pepper on top, then press down with a spatula to bind the hash browns. When one side is crispy, flip them over. Then put aside on paper towels to drain.
Mushrooms: While hash browns are draining, put remaining oil aside in a bowl to cool. Slice the mushrooms, place the pan back on medium heat with butter to melt.
Slowly sauté mushrooms with garlic, salt and pepper to taste. Once the mushrooms are browned, grate lime zest to taste at the end of the cooking, just enough to bring out aromas.
Poached Eggs: Turn heat down on pot of boiling water so only a few little bubbles are coming to the surface. Carefully crack your eggs one by one & lower them (plop!) gently into the hot water. Once they're settled, you may need to increase the heat a little to bring a few of those little bubbles back. Poach for just 2-3 minutes, and then remove with a strainer spoon & leave to drain on a clean dishcloth.
Spinach: Wash the spinach leaves, heat the pan with a little drizzle of olive oil & very lightly sauté the spinach. They will continue wilting even once they're off the heat; so don't leave them in there too long.