pearl barley salad
This simple summer salad is bulked up with the use of pearl barley, it's filling enough to eat as a light dinner, or bring it along to a bbq and serve as a side salad.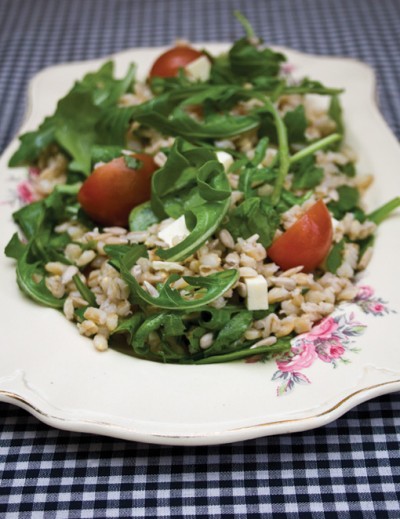 Serves 4
Ingredients
1 cup pearl barley
2 handfuls baby salad leaves
10-12 cherry tomatoes, halved
2 Tbsp sunflower seeds
2 Tbsp extra virgin olive oil
3 Tbsp white wine vinegar
100g goats feta
salt and pepper, to taste
Method
Cook barley in 6 cups of boiling water for 30-35 minutes or until tender. Drain, rinse with cold water and set aside to cool.
In a large salad bowl combine barley, salad leaves, tomatoes and sunflower seeds. Pour over olive oil and white wine vinegar, crumble in feta, season with salt and pepper and mix through. Enjoy your pearl barley salad.