Balsamic Glazed Button Mushrooms
These mushrooms make a tasty addition to a weekend big breakfast. Dry-frying the mushrooms is an easy, effective technique, and a good way to avoid slimy, overcooked mushies.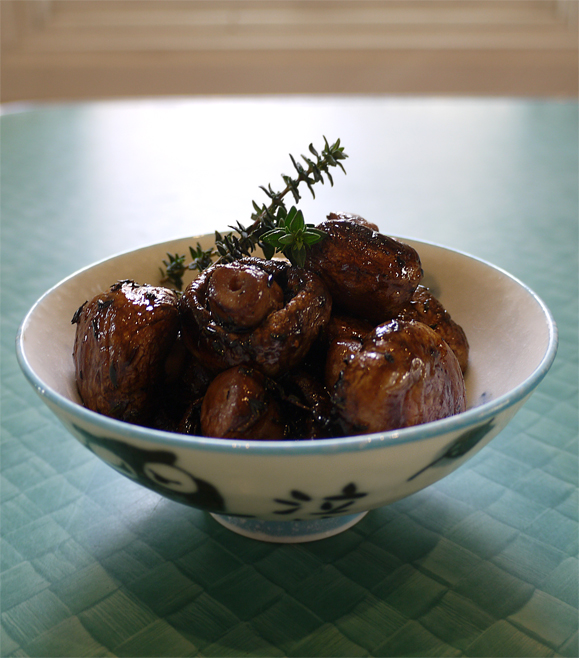 Serves 1-2
Ingredients
8-12 medium sized button mushrooms 1 clove of garlic 5-6 sprigs of thyme 1/2 tablespoon of unsalted butter/oil 1/2 tablespoon good quality balsamic vinegar
Method
Remove the hard bottoms of the mushroom stalks and dry brush or wipe the caps to remove any dirt from the surface. Peel and chop your garlic clove into 3-4 pieces.
Heat a large pan over a medium heat and resist the temptation to add oil or butter to the pan, we need a hot dry surface for this recipe.
Add the mushrooms, garlic and whole thyme sprigs to the pan and cook, shaking the pan every now and then to get the mushrooms moving about, for 6-8 minutes, or until mushrooms begin to release moisture and are soft to touch.
Add butter and season with a pinch of salt flakes and freshly ground black pepper. Shake the pan to get a good coating of butter on all of the mushrooms and cook until all the liquid has been absorbed. Add balsamic and cook for a further minute or so, until balsamic becomes a thick glaze coating the mushrooms.
Remove thyme sprigs and garlic pieces before serving.
You can order organic mushrooms when in season, along with many other groceries from our webstore.
Hints and Tips
Really small button mushrooms work beautifully in this recipe, if you happen to find them in your CERES box. If you have an excess, just double the number of mushrooms called for and decrease the cooking time by a few minutes. It's important not to add liquid until the recipe calls for it, otherwise your mushrooms will truly become mushies.