Serves 6-8
Ingredients
1 sheet of puff pastry, you can find a recipe here (omit the sugar and halve the quantities) otherwise, store bought is fine, we used Caréme spelt puff pastry, it's so delicious and is made without preservatives or additives.
Egg (for egg wash)
2 leeks (around 300g), trimmed, washed thoroughly and thinly sliced
30g butter
1tbsp olive oil
2 cloves of garlic, thinly sliced
2 bunches asparagus, woody ends trimmed. If asparagus is thick, blanch them for 1 min and refresh under cool water, if they are thin you can use as is.
150g soft goats cheese
150g cream
Zest of a lemon
1 tsp chilli flakes
2 tsp of honey
Salt
Pepper
Summary
Asparagus is synonymous with spring. Those tender stems bring hope for longer days, warmer weather and all things bright green! This tart, especially if you use store bought pastry, is easy breezy to put together.  Cut it into slabs for a party or add a fresh green salad to make it a meal.

Asparagus and Leek Tart   
Preheat oven to 200°C.
Line a baking tray with baking paper. Place pastry sheet on prepared baking tray. Using a sharp knife gently score a border 2cm from the edge, being careful not to cut through the pastry. Using a fork, dock (prick) the centre of the pastry all over. Using a pastry brush carefully brush the border and centre with egg wash and refrigerate for 30 minutes.
Meanwhile, heat butter and olive oil in a large fry pan over a medium heat. Add leeks and garlic and cook for 5 minutes or until leeks are soft (but not browned). Remove from heat and allow them to cool.
Place the prepared tart shell in preheated oven and cook for 15 minutes.
While the tart shell is cooking, combine goats cheese, cream, lemon zest, chilli flakes, honey and cooked leeks in a medium bowl. Season with salt and pepper, set aside.
In a separate bowl toss the asparagus with the a drizzle of olive oil and season with salt and pepper.
Remove pastry from the oven. Carefully cut around the scored border, gently push the centre down and spread the leek mixture evenly over the centre. Top with the asparagus. Return tart to the oven and cook for a further 20 minutes or until the filling is cooked through and the the edges are deliciously browned.
Allow the tart to sit for 10 mins before topping with chopped parsley a generous squeeze of lemon and some flakey salt.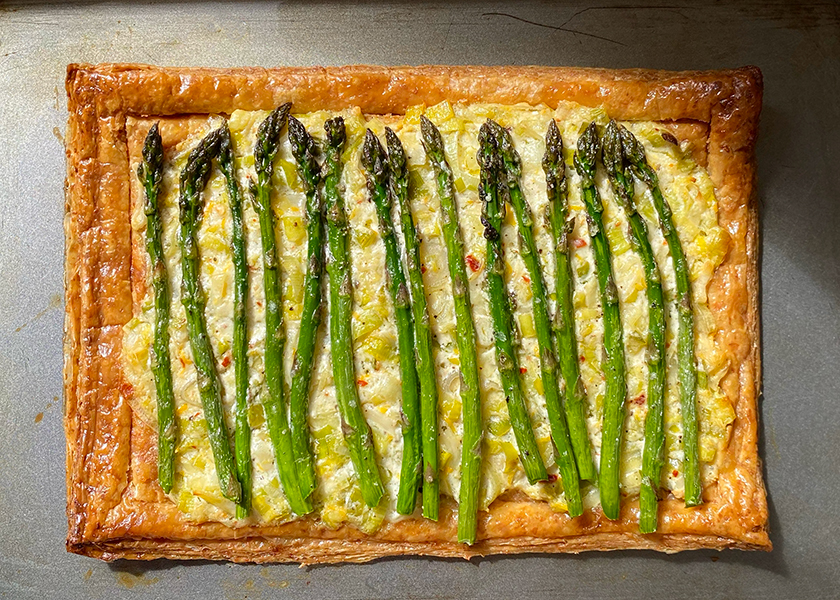 Hints and Tips
This recipe was adapted from one by Adelaide Central Market and Pete Baxter, find it through the link in our bio!