Lebanese Amaranth Greens from Amne
Three big-hearted ways to enjoy your wild greens this week.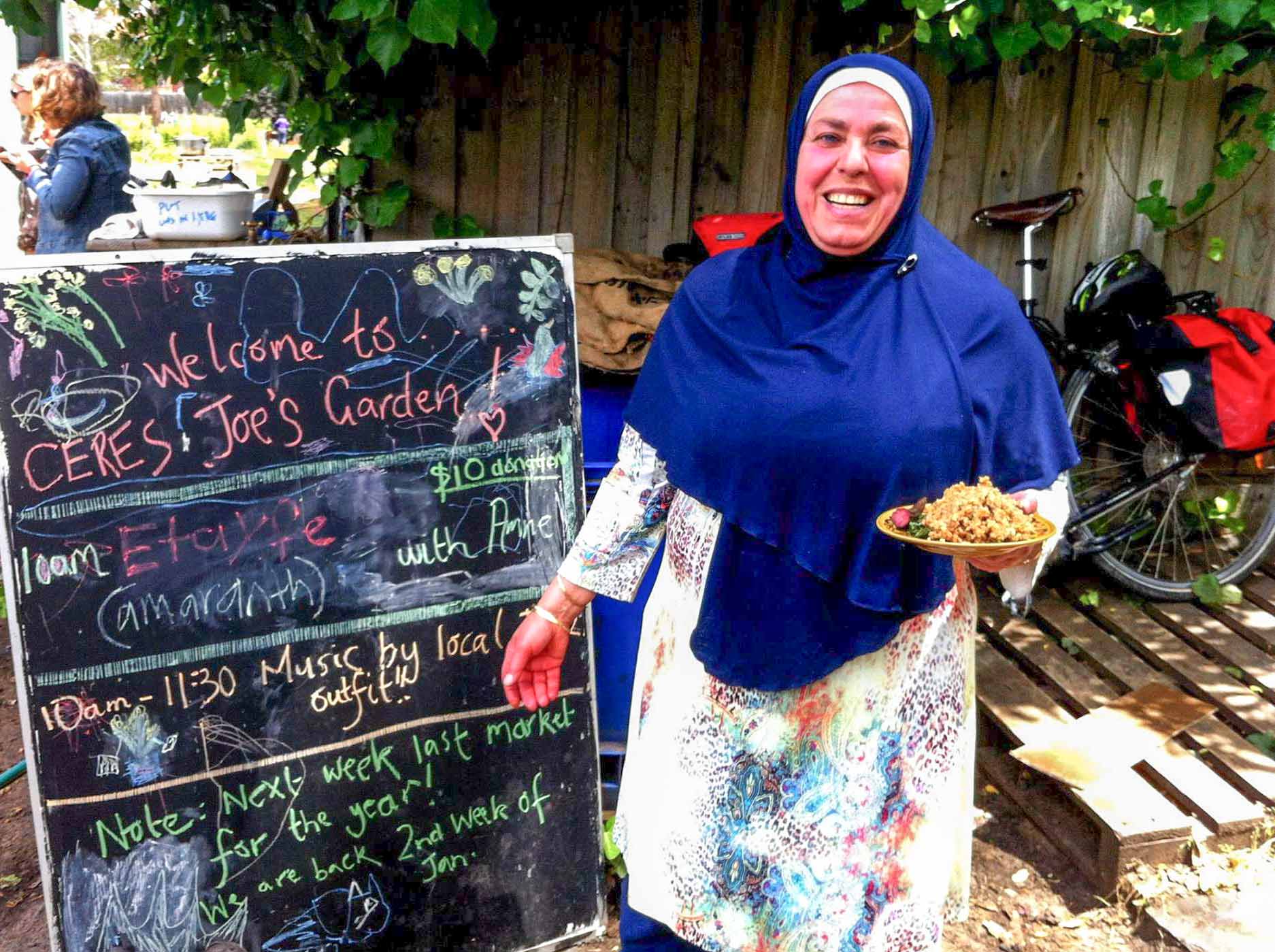 Method
Speaking to Amne last week about cooking young amaranth from Joe's Garden, she tells me she has 3 traditional dishes we could share with customers, things she has made recently at the farm gate cooking demos. But it's hard to narrow it down so soon. I ask her which is her favourite. "Everyone always loves the tomato dish, they're always wanting more", she says, "but when I cook, I cook with my whole heart, so I will tell you all three!" Well, when you put it like that, Amne!
Amne is a local resident of Coburg who grew up in a village in northern Lebanon, and is an expert when it comes to eating edible weeds. For a number of years she's been involved in organising various community and social activities including a Lebanese women's excursion group as well as cooking events such as with the fabulous Open Table. Amne has been down at Joe's Garden recently, teaching Em and the Coburg locals how to prepare and cook the fresh leaf amaranth, or Etayfe in Arabic, making the most of its high protein and minerals.  Her burghul mujadarra is also wonderful, come down to the garden next time she is running a Saturday morning workshop!  Thanks Amne, hopefully my run-down here is true to your generous instructions.
Amaranth braised with tomato and coriander
Take the leaves off the amaranth stems and wash them well to remove any dirt. Chop them up a little, it doesn't need to be fine. In fact if they leaves are small they can remain whole, otherwise a rough 1cm chop is good.
Heat some vegetable oil in a pan or heavy based pot, and gently sauté the chopped onion. When the onion is getting towards golden, add garlic and fresh coriander and stir for a few seconds.  Add the diced (and peeled) tomatoes, the chopped amaranth and a pinch of salt, then simmer for 5 minutes.
Add a drizzle of fresh olive oil just before you turn off the heat, to make it all taste extra wonderful. Enjoy with fresh bread (homemade Lebanese pide of course*), and fresh radishes and onion on the side.
Amaranth and Burghul two ways
Wash and chop the amaranth as above. You can also include some of the soft lower stem here, but not the top of the stem as it will be too tough.
Bring a pot of salted water to the boil, and simmer the amaranth with a cup or two of burghul (depending on your greens to grain ratio preference and amount of greens you have to cook). After about 10 minutes the burghul will be soft, just test it by pinching it between your fingers.
Drain and rinse in fresh cold water to keep the amaranth green. Squeeze the excess water out with your hands.
Here you have two options, both are to be eaten straight away, either cold or warm:
A) with cooked onion, or B) with fresh garlic and lemon. I know, it's hard to decide.
A) Sauté onions in a pan with garlic and oil, and once they are golden combine with the amaranth and burghul along with a dash of fresh olive oil on top.
B) Crush garlic until it is really smooth – Amne recommends giving it a seriously good bash with a hammer, I'd use salt and crush with a heavy knife but will try the hammer trick for sure – and stir it in to the amaranth with good olive oil, salt and lemon juice.
Again, enjoy with pide* and fresh radishes and spring onions on the side.
—-
*Amne will be doing more cooking workshops soon at Joe's Garden, hopefully complete with her pide demonstration! Her generosity, kindness and joy are surely as nourishing as the wild greens themselves, get on down there.