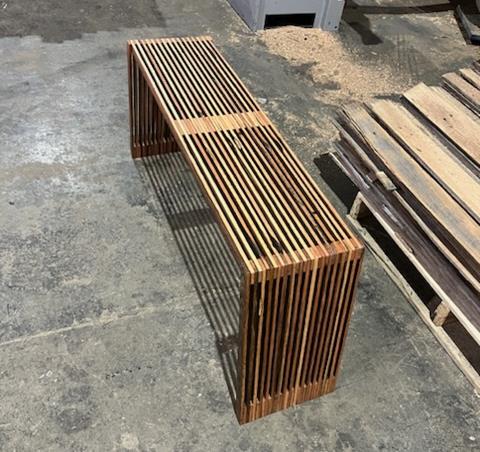 The secret in Floyd's seat
This week in CERES ReBoxCo's workshop tucked at the rear of Fair Wood's warehouse, a lyrically named furniture-maker, Floyd Quinlan-Baskett, emerged from his workbench with a brand new bench seat.
With its fine joins and slotted lines Floyd's seat had a delicate Scandinavian spareness that hid its inner strength.
As Floyd brought the new seat out to be put on display it drew oohs of admiration from the Fair Wood sales staff and the carpenters coming in to pick up timber.
Just a few hours later a customer popping in to pick up some other items bought the seat on the spot.
It all happened so quickly that the photo above was the only one Floyd took before his seat disappeared in the back of the customer's car.
The wonderful secret that many who sit on Floyd's seat will never know is that it was made entirely from an old hardwood fence destined for the tip.
This is what CERES ReBoxCo is all about – a creative response to timber we throw away when we build or package things.
This has manifested in Floyd's beautiful bench seats as well as planter boxes, raised garden beds, dog houses, storage boxes, seating pods and café parklets.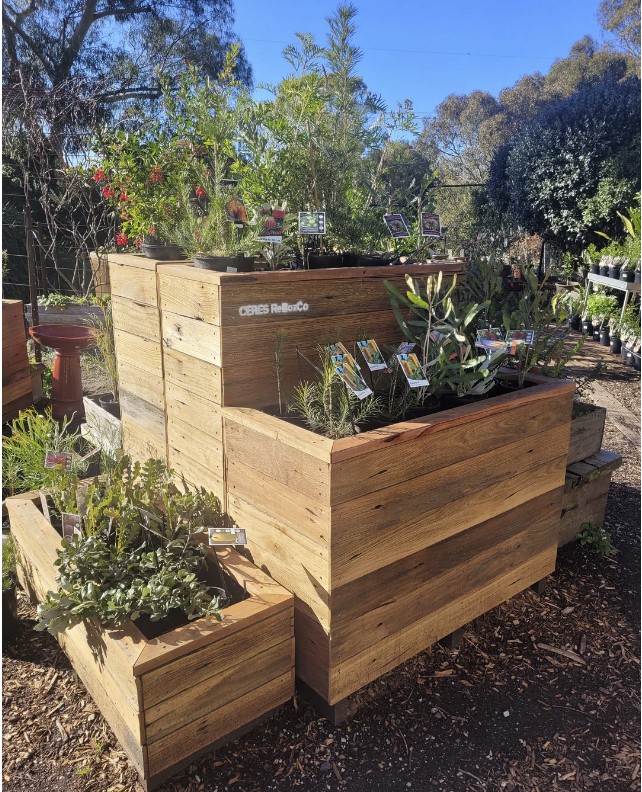 Old hardwood fences once dumped into landfill are dropped off by local contractors at ReBoxCo, the palings sanded and oiled back to life will be used as cladding.
More timber is salvaged from end-of-life macrocarpa windbreaks that were once heaped up into piles and burned.
Pine framing studs that hold together packs of PVC drainage pipes are saved from a neighbouring plumbing supply business who used to throw them in the skip.
Even waste from ReBoxCo's own furniture-making is repurposed into exquisite trellises.
Recently, a man from Volvo called Lee Amundsen, ReBoxCo's manager – he was regularly receiving shipments of car parts in new Baltic pine packing crates and he couldn't stand seeing this beautiful wood being smashed up and thrown away.
This week Lee began using Volvo's Baltic pine to make planter beds.
The great thing about the beds Lee says is the wood is heat, not chemical treated, insects won't eat it and if the planters are kept above the ground they'll last 15-20 years.
Now we're transitioning to living in smaller spaces this is the way we are going to garden.
Instead of sprawling veggie patches more of us grow our tomatoes, greens and herbs in planter boxes and raised garden beds.
Knowing people want not only to garden sustainably but to have their gardens built in the same way, Lee Amundsen has started dotting ReBoxCo's furniture, planters, raised beds and seating pods in the CERES Nursery and around the park to demonstrate what's possible.
You can find Lee and Floyd at CERES ReBoxCo or in person at the CERES Fair Wood warehouse – 33 Raglan St, Preston.
Have a great week
Chris