The wet weekend wrap up
So far the feeling is of general relief after warnings of an unprecedented dump of rain although it's not looking the best for grain farmers .  After a quick check in around the state Joe Sgro out West in Colac reports an underwhelming 8mm, although they have had 4 weeks of soaking thunderstorms over the last month.  Rather than any damage Joe says everything is growing so quick in the warm and humid weather they've struggled to harvest it all.
John Mustafa at Petty's Orchard in Templestowe says he didn't have to shift his pump up from the river and although they've lost a few early peaches, he feels like we've dodged a bullet in Melbourne.  With fingers crossed he's feeling good about late stone fruit, pears and apples – especially his summer reds, akane and gravensteins.
Meanwhile in Mildura Peter and Helen Kamavissis reported a very nice 40-50mm soaking on their sultana and menindee grapes, with no storm damage. And over Warragul way at Hazeldean Forest Farm, Jason and Marg Alexandra were happy to get a 50mm soaking on their newly enlarged veggie patch, especially after a hot week with their pump out of action.
Meanwhile in Brunswick East the parishioners from the Russian Orthodox Church, expecting something biblical, sandbagged the church back door yesterday.  Joining them in prayer, CERES farmer, Em Connors,  was home calling on the cloud busting powers of her beloved grandmother in between receiving creek level updates from her Joe's Market Garden neighbours.  Wonderfully the Merri stayed within its banks and the result is a crop of pumpkins jumping out of the ground, leek seedlings well watered and a field of Joe's wild amaranth seeds ready to burst forth.
The rain however did hit the Yarra Ranges, Craig and Shelley Heppell (that's them in the pic above) had 65mm Friday and 105mm Saturday at their Cocktoo market garden.  Trees are down everywhere but Shelley says they don't think there's too much damage apart from some seedlings being washed away.  She reckons it would have been lots worse if the Cockatoo Creek had burst its banks. 
I couldn't get in touch with Kane Busch in Lindenow – the Mitchell River, which his market garden sits beside, is due to flood tonight or tomorrow – hopefully it isn't severe.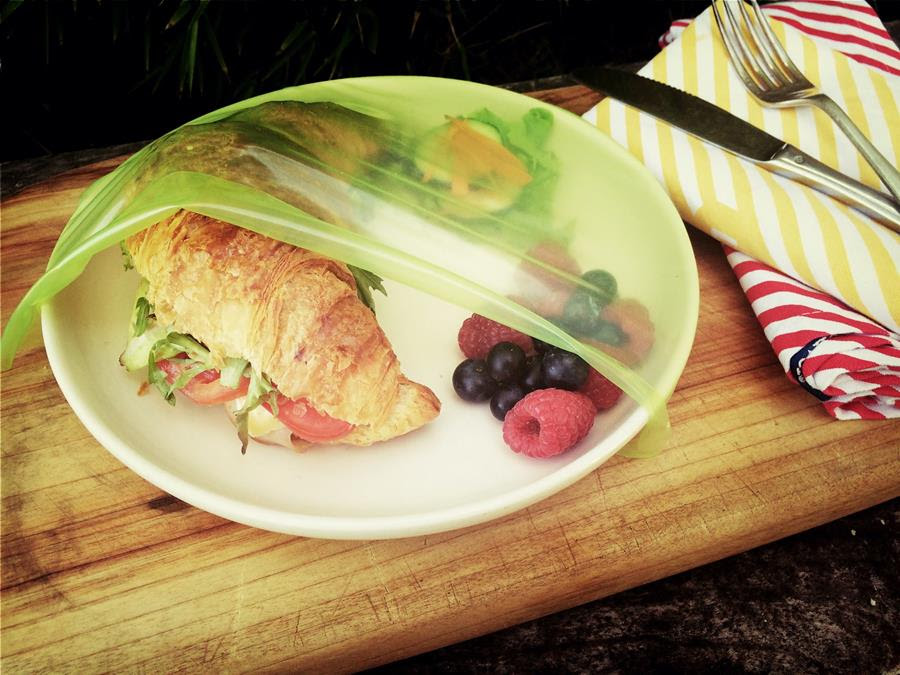 The great kitchen-wrap unwrapping
Three years ago, stumped by her school's no plastic/no foil policy, Mel Joy decided to make a lunch wrap alternative.  When Mel, who lives with her sheep and chickens on a block in the Yarra Valley, came across a big sheet of latex that clung to itself not unlike cling wrap an idea was born.
Latex was eventually replaced by silicone, the bonus being silicone's temperature-resistance in ovens, microwaves, fridges and freezer. But the most surprising thing for Mel as she got deeper and deeper into kitchen wraps was learning about the endocrine disrupters in cling wrap, the aluminium leaching off al-foil and the dioxin released when bleached baking paper was heated (what the!?). 
As Mel's wrap's got closer to becoming an actual thing, people were also becoming more and more aware of single use packaging filling up our landfill and oceans. The TV series The War Against Waste woke a lot of people up and so when Mel launched her crowdfunding campaign to raise $5000 to get her first batch of Agreena Wraps made, instead she received a whopping  $26,000 and a whole backlog of orders.
We're happy to see Mel has since caught up and are super stoked to have Agreena Wraps here and now at Fair Food
Have a great week
Chris