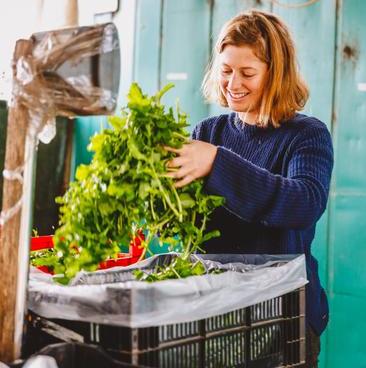 When it rains…
In a letter to her customers Chloe Fox, owner of Somerset Heritage Produce located on the banks of the Goulburn River in Seymour, observed that her farm was now located in the Goulburn River.
Being bordered on three sides by the river Chloe (that's her above) and partner Cam had been warned by the SES to expect minor flooding.
But when their road access was cut off they knew they were in for something bigger, peaking at 2.5 metres higher than predicted, the Goulburn broke its banks at the top end of the farm and the river simply poured in.
Battling strong currents Cam kayaked across the completely submerged 1.8 hectare market garden to rescue stranded chickens and then the next day a couple of goats that had spent the night up on tables in the packing shed
The flood swept away fences, wrecked a 35-metre polytunnel, picked up a coolstore and damaged the packing shed.
Their house was also partly flooded but the biggest loss was Chloe's spring plantings – rows and rows of salad greens, herbs and an entire garlic crop gone in an afternoon.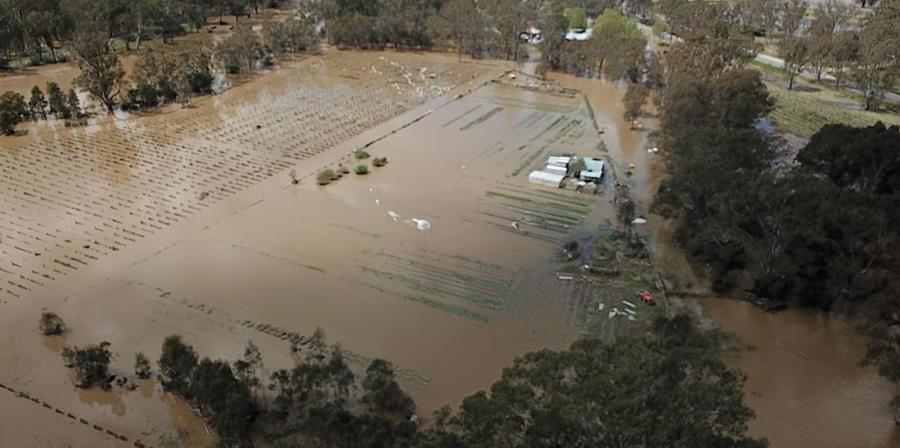 Five days later when the waters had receded enough to walk on the land Chloe wrote,
"It hurts to see the farm like this – the mud gives everything a sepia cast making it hard to remember how vibrant everything was."
A video shot from the kayak in the middle of their underwater farm was shared by friends and customers.
Support began to pour in (no pun intended) – first came help to look after animals, clean the house, sort out the power and secure the precariously perched coolroom.
Then yesterday, two weeks after the river came in, forty-five people – farmer friends, ex employees, customers, people from town, farmers market crew, blokes with big hearts and big machines – turned up to lend a hand.
They fixed fencing and recovered irrigation, rescued row covers, rehabilitated the rhubarb patch and cleaned out the masses and masses of grass and logs caught up in everything.
"All the jobs that seemed so daunting to us were just done. It was inspiring to see so many people so happy to come and help".
The workers' lunch made by talented cooks and bakers was almost as spectacular as the clean-up.
What now? Chloe says it's still wet – the Goulburn rose again over the weekend and cut off their access road again – but once things dry out the flood has given her an opportunity to change things up.
Now is the time Chloe says to reorient their row layout for better flow, a chance to introduce more efficient irrigation, plant perennial hedgerows that attract beneficial birds and insects – all the things that will help her farm better and repay the faith so many people have shown in her.
A friend of Somerset Heritage Produce has set up a Gofundme page to help get the farm back on its feet again.  You can find it here.
Have a great week
Chris
Because we can't do without each other or the Earth CERES Fair Food supports organic and regenerative growers, bakers, makers and suppliers and has given over $2 million to CERES environmental education programs.