Lucky we've got Dan
Four years ago Dan O'Farrell finished his studies in Brisbane and came down to join 
CERES

 as professional writing intern.  After a few weeks of working on Fair Food's Terms and Conditions page Dan confessed his dream to be a farmer…..
Dan: "Chris is there any sort of farming I could do here?"
Chris: "Hmmmm how about growing sprouts?
Dan: "Really? I've actually always dreamed of being a sprout farmer."
Chris: "Yeah?  Well, we have an insulated shipping container you could grow sprouts in."
Dan: "Okay, I'll give it a go then."
And that was pretty much how it happened.  Consequently Dan hasn't written a Term or Condition since.
In the beginning our expectations weren't high – because although many people feel called to farming few actually end up choosing  a farming life.
Luckily for CERES that even after experiencing the hard, repetitive, wet work of a professional sprouter Dan did choose a farming life.
Growing sprouts is systematic work; with a new crop being planted, raised, harvested and delivered every week everything has to be right every time.
Luckily for CERES Dan was a systematic kind of guy who loves working out….well systems.
Once Dan got the sprout farm systematised we wanted to make sure our sprout bags were as low impact as possible.
Luckily for CERES Dan loved researching sustainable biodegradable food packaging – sometimes for hours on end.
Then not long after that we started putting sprouts in Fair Food's fruit and veg boxes and organic shops started calling Dan to see if they could buy his sprouts too.
Before too long Dan was supplying a dozen shops, the Melbourne Wholesale Markets and employing new people to help him plant and harvest.
Luckily for CERES that even though Dan's shipping container was full he worked out a way to grow twice as many sprouts in his very, very small growing space.
The next step in Dan's evolving sprout journey is building a vertical sprout farm inside the Fair Food warehouse.
The vertical farm will double Dan's production area and also create a new training program for urban farmers wanting to learn how to grow food indoors under lights.
Luckily for CERES Dan can work out how to do pretty much any random thing we throw at him, no matter how complex and odd.
You can find Dan's organic sprouts and microgreens here in the Fair Food webshop and at all good sprout outlets.  Dan's vertical sprout farm will start producing microgreens in 2019.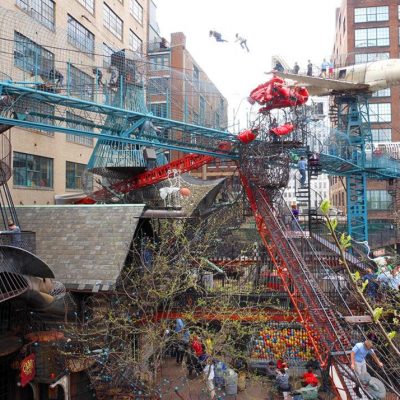 Big news on the Recycled Kinetic Electric Playground
Thank you if you voted in the Pick-My-Project for our Recycled Electric Kinetic playground
This week Pick-My-Project announced CERES was 1 of the 18 successful projects pitched in the Northern Metro region and will receive $200,000 to build our playground.
The playground will be implemented by the CERES Site Team and will include volunteer opportunities to help dream, design, recycle materials and construct.
Here's what we pitched……
Located at the much-loved CERES Community Environment Park – The Recycled, Electric, Kinetic Playground is constructed from "industrial junk" – cranes, planes and tractor wheels re-purposed into climbing frames, tunnels, swings and slides that not only challenge and delight but also generates electricity when played upon.
Based on the "ultimate urban playground " at the St Louis City Museum, this open to the public space is not just a place to engage children's imaginations and bodies it's a community-built facility allowing adults to gain sharing and learning skills such as group-work, playground design, salvage, welding and construction.
So if you'd like to be part of making a completely unique playground that will surprise and delight kids and adults for years to come – register your interest with project manager Nick Curmi.
Or if you have planning, general construction, electrical skills or any potentially joyful industrial equipment, materials or vehicles that might help in bringing this project to life  get in touch with Nick.
Have a great week
Chris