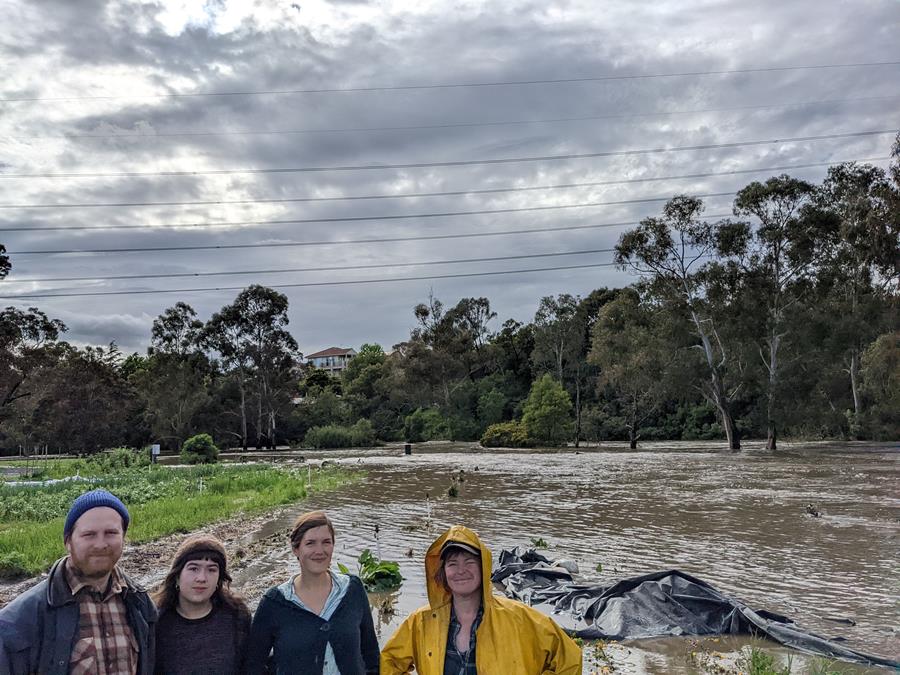 The creek that defines us
Flowing out of the foothills of the Great Dividing Range the Merri Creek makes its way to Melbourne through the grasslands and into the Northern suburbs picking up Wallan Creek, Aitken Creek, Malcolm Creek, Merlynston Creek, Central Creek and Edgars Creek as it flows south.
Over the concrete wall at Coburg Lake it rolls down under the Bell St bridge into a broad right hand arc alongside Joe's Market Garden before abruptly running into the high bank below the Harding Street swing bridge where it's forced almost back onto itself through a brutal left-hand turn.
Late on Thursday after days of rain Joe's Garden farmer Em Connors could sense the Merri rising and tows the Farmgate coffee van out of the farm onto higher ground in Edna Grove.
Overnight the swelling creek, now too big to get around the corner below the swing bridge, begins backing up and spreading sideways over the bike path and into the parklands.
By the time Em returns the next morning, about a quarter of Joes' 2.5 acres is under fast-flowing water.
The Merri Creek defines Joe's Garden; it's the deliverer of its deep brown topsoil and also its defence against hungry-eyed developers.
Tears are shed as Joe's farmers and farmgate workers arrive and see the devastation.
While the creek surges over the rows of produce nothing can be done so focus shifts and within half-an-hour coffee is being served and a makeshift farmgate stall has been pulled together.
The ground is muddy and produce sales are slow, but word has gotten out and by Saturday dozens of people are offering help to clean up the farm.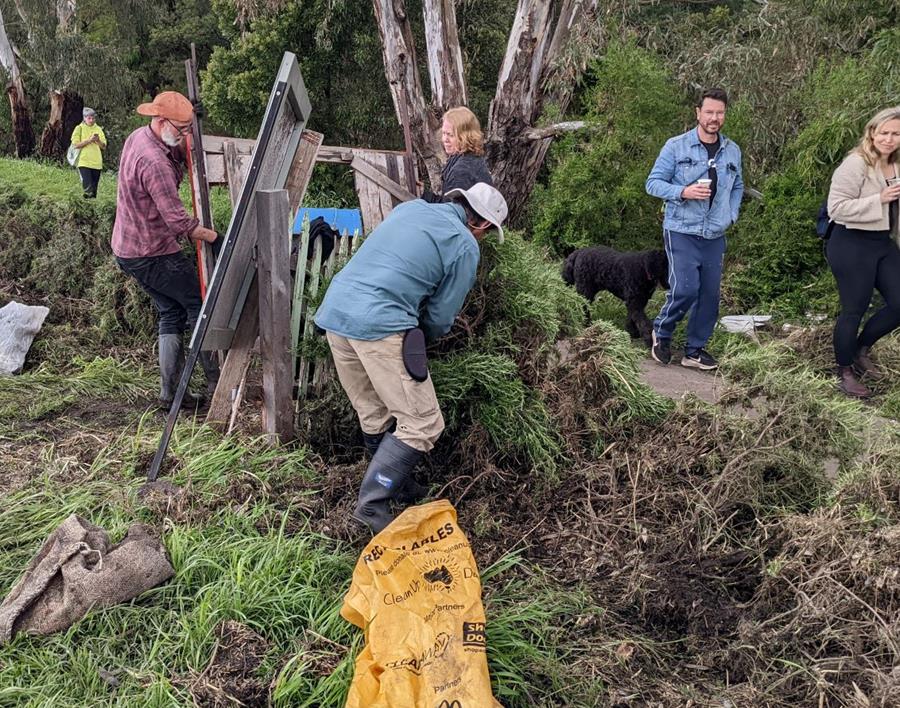 On Sunday morning 35 volunteers turn up for a working bee – others promise to come through the week.
Ruined crops are chopped out, weed-matting rescued from trees, snapped off sprinklers repaired and piles of plastic bottles, bags and cans are pulled out of the rosemary hedge that runs along Joe's perimeter.
People who can't lend a hand ask if they can donate and a fundraiser page is set up. Em Connors says if you'd really like to help out head down for a coffee, some produce and say "hi" – it'll make the farmers' day.
Our thoughts also go out to Chloe at Somerset Heritage Produce who was kayaking across her market garden in Seymour over the weekend.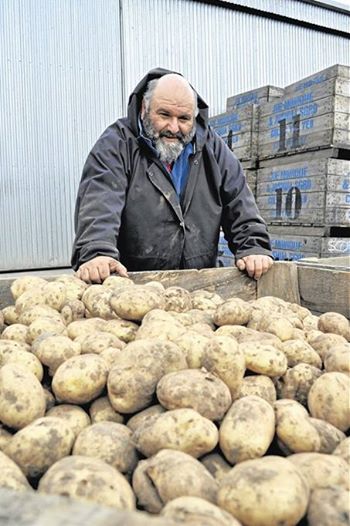 Where have all the taters gone?
Wondering where all the potatoes have gone lately?
The answer is nowhere, which is the problem.
It's not that potatoes are in short supply, there are actually heaps of them. It's just that with all the rain potato fields are so wet it's been impossible to get machines in to harvest.
This week there are a few dutch cream and sebago available and as things dry out over the next month the potato situation will get back to normal.
And while some things will be short because of the floods there's always something else in plentiful supply. Maurie Cafra, used to farming in the swamps of Koo Wee Rup, has been cutting lots of asparagus this week.
Meanwhile, in the fruit section I cannot recommend tangelos highly enough – surely they are the citrus-family's best kept secret – no fruit is more sweet, tart, juicy or as intensely orange coloured as the overlooked and underrated tangelo.
Have a great week,
Chris