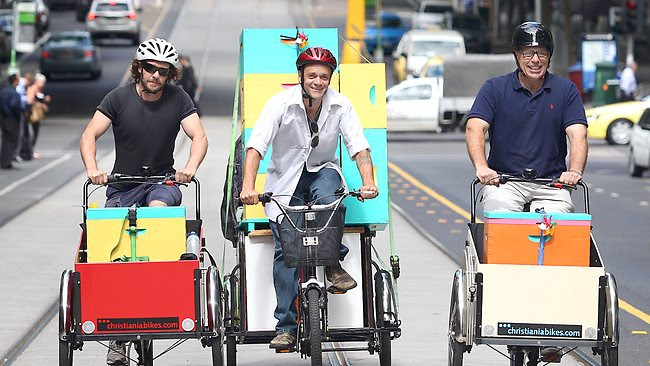 Bee-longing
Fifteen years ago Lyndon Fenlon had so many beehives stashed around his Footscray rental he was becoming paranoid that someone would dob him into the Department of Primary Industries.
Needing to find a home for his beloved bees before the government officers him shut down Lyndon had been desperately asking local councils, churches, schools, green groups, anyone for a space.
Lyndon couldn't understand why it was so hard – all he wanted to do was share the joy that he had found keeping bees with other people.
Back in those days however, people were terrified of bees – there were the swarms, the stings, the anaphylaxis, the inevitable lawsuits.
Everyone he asked said, "No".
Losing hope for his urban beekeeping dream Lyndon walked into CERES expecting the usual response.
To his astonishment CERES said, "Yes".
But, Lyndon would need to do something in return.
He could bring his bees to CERES and in exchange he would set up a free monthly bee group to teach backyard beekeeping to the local community.
Lyndon smiled and relaxed for the first time in a very long time.
A week later in the middle of the night Lyndon's bees arrived at CERES. The hum of the colonies could be felt through the sides of the wooden hives as they were unloaded into the aptly named Honey Lane Farm.
Not long after that, on the 3rd Sunday of October 2007, Lyndon opened up the first CERES Bee Group to the community.
One person came.
But slowly, and then very quickly an odd thing happened – people stopped being afraid of bees and started falling in love with bees.
Once the word got out everyone wanted to get to know bees.
Lyndon would teach over 1000 student beekeepers and start free-to-learn bee groups all over Melbourne.
He introduced bees into primary schools, ran workshops and developed gentle beekeeping techniques that inspired urban honey businesses in Australia, America, India and the UK.
And he did it all travelling about on his locally-made 3 wheeler bee-bike (that's Lyndon in the middle of the picture above delivering hives to the Rialto).
Then, after seven years of sharing his joy and making his urban beekeeping vision real, Lyndon wrote a beautiful goodbye email and pedalled 21 hours straight to a new home in East Gippsland.
The CERES Bee Group Lyndon began still runs on the third Sunday of each month and this coming Sunday the 27th there's a Backyard Beekeeping for Beginners workshop at CERES in Brunswick East.
These days people enjoy backyard bees all over Melbourne and maybe while you're working your hive this spring give Lyndon and his fellow pioneer urban beekeepers a little appreciative nod.
Have a great week
Chris
CERES has been nurturing thinkers, doers and dreamers and helping them share their knowledge, wisdom and vision for 40 years.
CERES Fair Food donates 100% of its profits to help this sort of thing happen more often.