Sweet potato and lentil soup
A flavorsome and hearty soup for those cold autumn and winter days.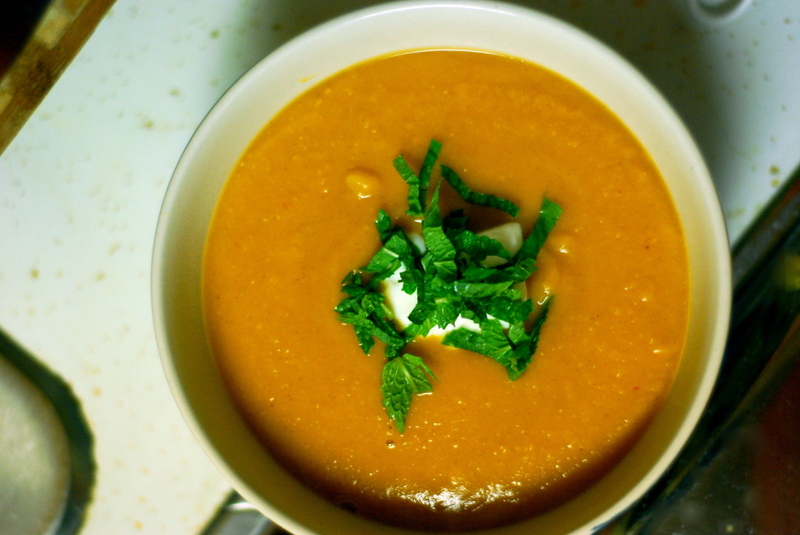 Ingredients
30g butter
2 tablespoons olive oil
2 onions peeled and chopped
1 green chilli
1 large sweet potato peeled and chopped
1 medium carrot chopped
2 celery sticks chopped
150g lentils (I use puy)
½ teaspoon tumeric
2 teaspoons sugar (I use brown or raw)
1 teaspoon ground cumin
a decent pinch of ground cinnamon
3 cm piece ginger peeled and finely chopped
3 garlic cloves peeled and chopped
¾ x 400g can tomatoes
1 litre chicken stock (or more if you want a thinner consistency)
juice of one lemon
Method
1. Combine butter and oil over medium heat then add onion and saute for 10mins without colouring.
2. Add the sweet chilli, potoato, carrot, celery and lentils and coat in the oil.
3. Add the sugar, tumeric, cumin, cinnamon, ginger and garlic – toss so they are well coated and cook for 2-3 mins stirring every so often.
4. Add tomatoes and stock and season with the lemon juice and salt and pepper to taste.
5. Cook for 30mins or until the sweet potato is tender.
6. Puree briefly on a very low power so it stays chunky. Check the seasoning then reheat and serve with plenty of coriander and a good dollop of natural yoghurt (or sour cream).
I think this tastes even better the day after. I have also added (after the soup has been blended) 2 chopped chicken breasts fried with olive oil and salt and pepper – you can add anything really if you want to bulk it up – prawns, fish, lamb etc. Enjoy your sweet potato and lentil soup!