Spicy Sweet Corn and Jalepeno Salsa
Grilling the corn and jalepeno peppers in this salsa adds a depth of flavour to this spicy sweet combination. Perfect served as a simple dip with corn chips, it will work equally well in a burrito, on top of a bean or quinoa salad, or alongside pan fried white fish fillets.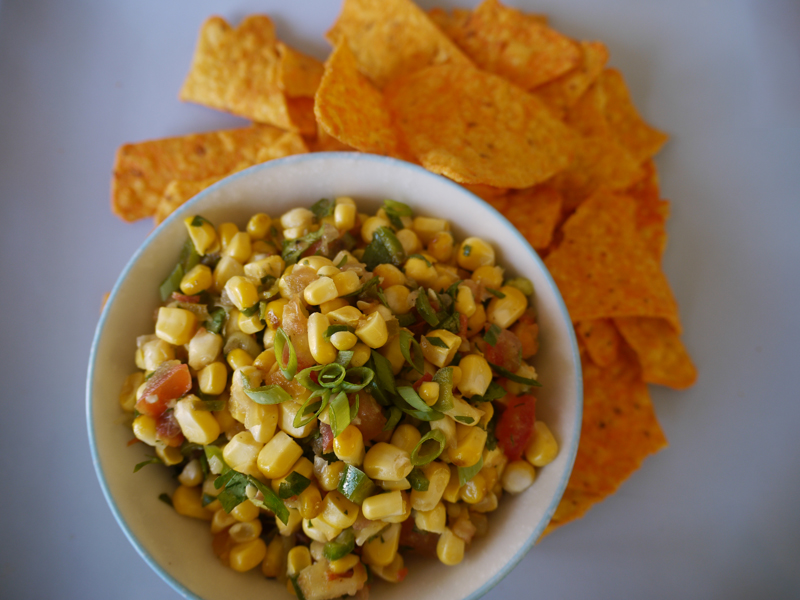 Ingredients
2 corn cobs, husks and threads removed 1 tablespoon olive oil salt and black pepper 2 fresh green jalepeno peppers* 1 medium sized tomato, deseeded and chopped 2 spring onions, finely sliced small handful of chopped fresh coriander leaves juice from 1 lime
Method
Coat corn and jalepenos in olive oil and season with salt and pepper.
Place a skillet on medium-high heat and add the corn and jalepenos. Alternatively, place the corn and jalepenos over a hot barbeque grill.
Turn the corn every couple of minutes, until all sides are bright yellow and slightly charred, remove from pan and strip the kernels from the cob using a large sharp knife. Turn the jalepenos more regularly, remove after a few minutes, and roughly chop. You can remove some of the charred skin if it ends up a bit too black.
Combine corn, jalepenos and remaining ingredients and serve.
Hints and Tips
* This results in a fairly spicy salsa. For a milder version use only 1 jalepeno pepper.