Simple pasta primavera
Simple comfort food with plenty of lemony greens. Good for any season!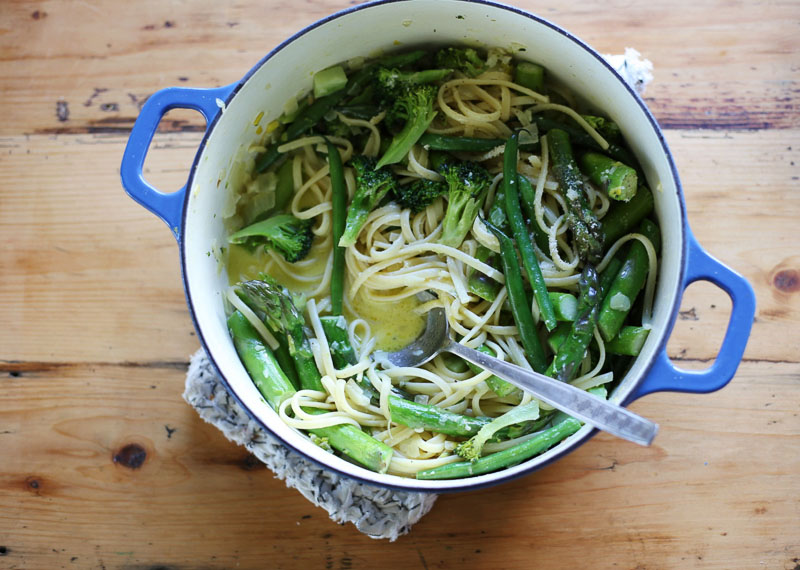 Ingredients
500g dried fettuccine
½ C extra virgin olive oil
6 cloves garlic, roughly chopped
1 small brown onion, finely diced
1 C small broccoli florets
handful of asparagus spears, cut into 5cm lengths
handful of green beans, trimmed
½ C green peas (fresh or frozen)
salt, to season
½ cup stock or water
150ml thickened cream
1 C baby spinach leaves
¼ C grated parmesan cheese, plus extra to serve
freshly ground black pepper
juice of a lemon
Method
Essentially, this is a simple creamy pasta loaded up with all the greens you can get your hands on.  Douse with juicy lemon, add plenty of cheese, and tuck in with thanks for the season.
This version comes from Adam Liaw's recipe, found here!
Simple pasta primavera
Boil up a large pot of water, salt well and cook the linguini. Packet instructions may help!
Meanwhile, heat your largest frying pan or a heavy pot and get the olive oil, onion and garlic going., stirring frequently until soft and smelling delicious (about 4 minutes!). Add all your greens and toss to coat them in that yummy oil. Add the stock or water, and soften the veggies for a couple of minutes before adding the cream and giving it all a good stir.
Drain the al dente pasta, but keep a half cup of the water just in case you need the extra liquid later. Tip the drained pasta in to the pan/pot of veggies, include the spinach leaves and a handful of Parmesan, and stir to coat everything well.  Serve with black pepper, more cheese, and a wedge of lemon for the lemon addicted!
Hints and Tips
Gluten free if using GF pasta!