Roasted Potato Salad with Avocado & Herb Mayonnaise
When the days are warm enough, this variation of a classic potato salad is the perfect companion to any picnic or outdoor barbeque. Made with a creamy egg-free soy mayonnaise and a blend of avocado and fresh dill, this can be served as a side dish or puffed up with handfuls of fresh spinach, watercress or rocket for a more substantial main dish.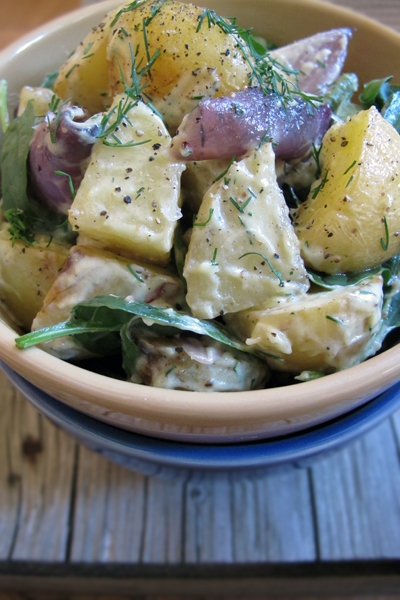 Serves 3-4
Ingredients
mayonnaise
makes 1  1/4 cups
1  1/4 tbsp apple cider vinegar
1/2 cup good quality soy milk
1/2 tsp salt
1 tsp mustard powder
1/2 avocado
1 tbsp chopped fresh dill
1 cup mild flavoured vegetable oil, such as sunflower or grapeseed
salad
1.5 kg (approx 12-15) small or baby potatoes (such as desirree or kipfler),  cut into bite sized chunks
2 red onions, halved lengthways and cut into thick wedges
8 cloves garlic, ends cut off, skins on
olive oil, to lightly coat
1  1/2 tsp sea salt flakes
1  1/2 tsp pepper
handful of fresh green beans
2- 3  handfuls of baby spinach, watercress or rocket
extra chopped dill to garnish
Method
Preheat oven to 200℃. Place cut potatoes, onion and garlic into a roasting dish. Lightly coat with olive oil, salt and pepper. Roast for 30-40 minutes or until tender and golden. Turn two or three times to ensure an even roast.
While potatoes are roasting, prepare mayonnaise.
To make mayonaise, add vinegar to soy milk and wait for 5-10 minutes until curdled. Place curded soy milk, salt and mustard powder in a food processor or blender and blend until combined.
With the motor still running, drizzle oil in very very slowly. After a few minutes the mixture should reach a thick and creamy consistency. Add avocado and fresh dill and blend until just combined and refrigerate until ready to use.
Once potatoes, onion and garlic are roasted, allow to cool and squeeze garlic cloves from skins and cut in half.
While potatoes are cooling, blanch green beans. Bring a small pot of water to a boil and add beans for two minutes. Remove beans and add to ice cold water for a few minutes. Drain beans.
Transfer to a large bowl along with cooled potatoes, onion and garlic and mix through avocado mayonnaise.
Lightly fold spinach, watercress or rocket just before serving to retain the freshness of the greens and avoid bruising.
Season with additional salt and pepper if desired and garnish with extra chopped dill.
Hints and Tips
This makes quite a lot of mayonnaise dressing so if you prefer a lighter salad, just use less mayo and store the rest in an airtight container in the fridge. It should last a few days and makes a tasty spread for sandwiches, burgers or as a dip for chopped carrots, celery or other summer vegetables.  To make a roasted garlic mayonnaise, blend a few of the roasted garlic cloves through the mayonnaise. Also avoid using too much oil to roast the potatoes as excess oil can prevent the mayonnaise from sticking properly.