Ratatouille
Summer meets Autumn, equals Ratatouille.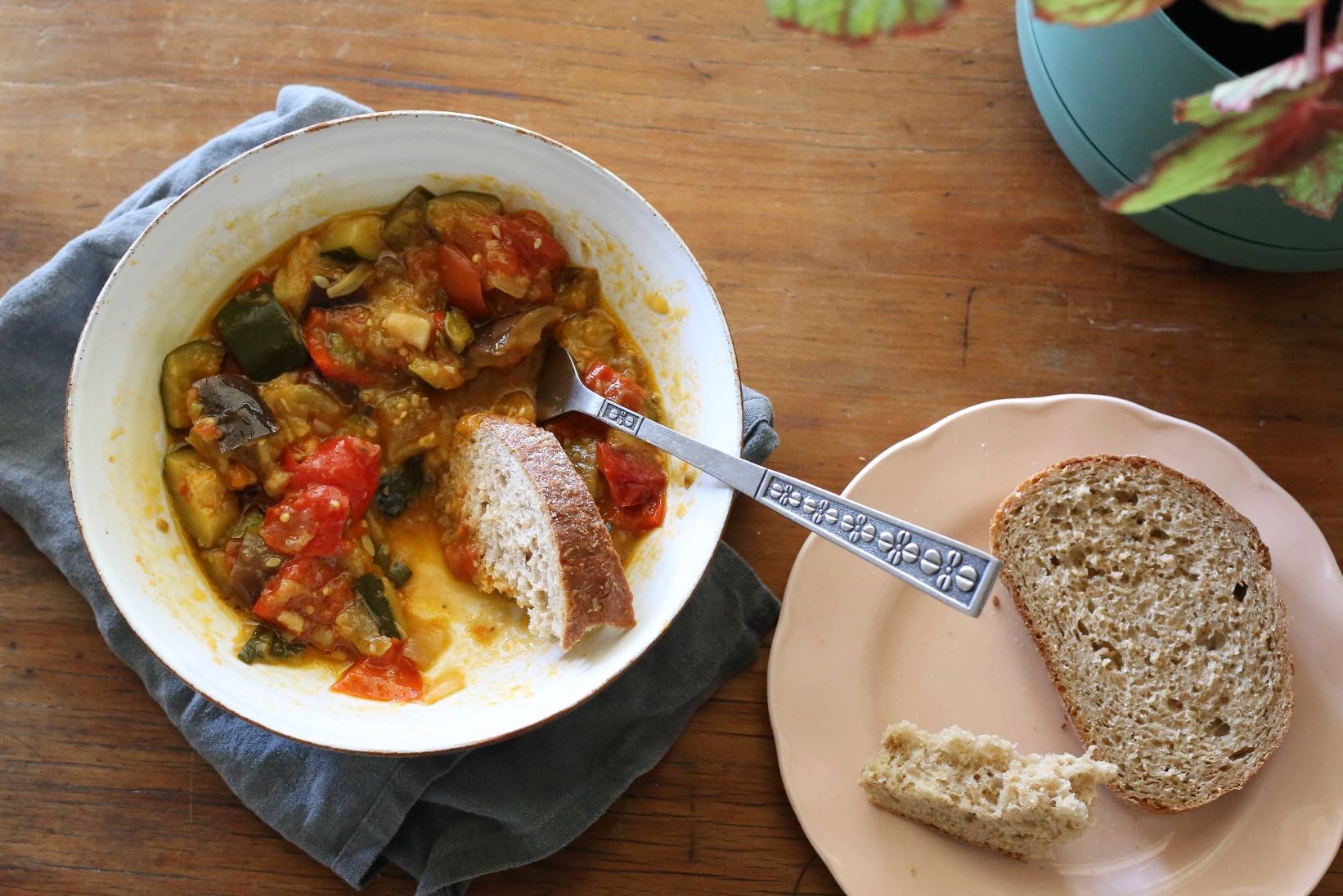 Ingredients
2–3 tbsp olive oil
2 onions, roughly chopped
1–2 garlic cloves, crushed
1 red capsicum, seeded and diced
1 green capsicum, seeded and diced
1 large eggplant, diced
2 medium zucchini, diced
2 strips lemon rind, thinly sliced
125g mushrooms, quartered
400g tin chopped tomatoes or fresh equivalent, peeled
Method
Q. What do you get when Summer's peak of eggplants, red caps, tomatoes and zucchini plough headlong in to Autumn's chilled 'can we all just slow down a bit' vibe?
A. We suspect, like many have done before us, you get out a heavy pot, put the oven on low, and transform a roughly chopped pile of colour in to an oozing, delicious ratatouille to be enjoyed all week.
Classic Ratatouille
from The Gourmet Farmer
Preheat the oven to a low 120°C.
Warm a large, heavy-based saucepan (lidded and oven safe), heat the oil and fry the onion over low heat. While that's gently cooking, roughly chop the rest of the veggies. If you have a handful of fresh tomatoes to use, put the kettle on and peel them by scoring each with a cross at the top then covering with boiling water.
Add the garlic to the softened onions, then the diced veggies and lemon rind. Add the tin of tomatoes or the peeled fresh tomatoes, and season well. Lid on and in the oven it goes for as many hours as you can – anywhere from 2 hours to 6 – it will just get meltier and more delicious but 2 hours on low will suffice.
You could make this one evening, turn the oven off when you go to bed and enjoy over the following days as the flavours meld together even further. Ratatouille is great as a light meal, with an egg, with good bread to mop it up, or as a part of a bigger feast.